The Swiss franc  was relatively unchanged against the dollar  this week,  closing at 0.9186. The upcoming week has four releases.  Here is an outlook for the Swiss events, and an updated technical analysis for USD/CHF.
Retail sales sparkled in February, jumping up 4.4%, a seven-month high.
Updates: USD/CHF continues to hover near the 0.92 level, trading at 0.9192. Markets are awaiting the PPI release. PPI  sizzled as it climbed  0.8%. This was  well above the market forecast, and the highest reading since 2007. ZEW Economic Expectations hit 0.0%, the first reading outside of negative territory in 11 months. LIBOR rate remains unchanged at between 0% and 0.25%. SNB pledged to maintain minimum EUR/CHF of 1.20.
USD/CHF daily graph with support and resistance lines on it. Click to enlarge: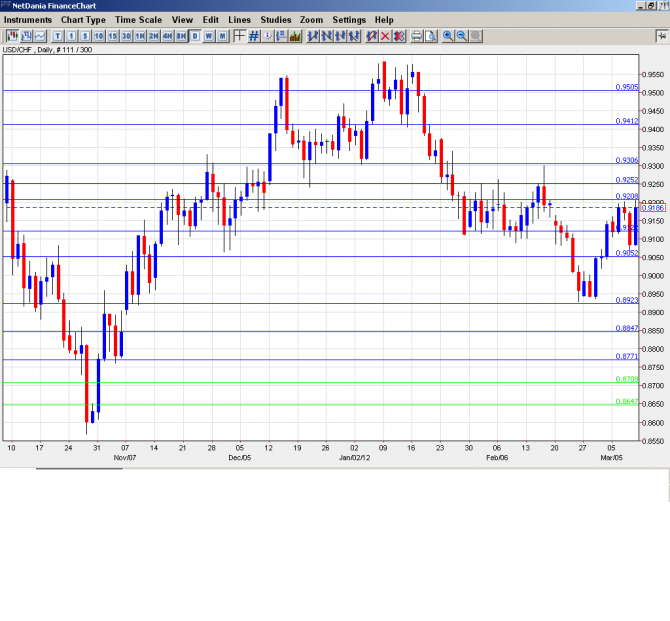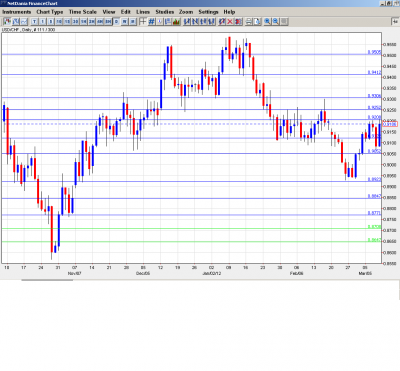 PPI: Tuesday, 8:15.  The Producer Price Index is a leading indicator of consumer inflation. The index was flat at 0.0% in February, and the market forecast for March calls for a 0.4% increase.
ZEW Economic Expectations: Wednesday, 10:00. This diffusion index is based on a survey of institutional analysts and investors. The index has been moving upwards, and posted -21 in February, a nine-month high.  
Libor Rate: Thursday, 8:30.  The Libor rate was below the 0.25% level in February, and no change is expected in March.
SNB Monetary Policy Assessment: Thursday, 8:30. This interest rate statement by the central bank is carefully scrutinized by analysts for any clues as to future interest rate policy. A hawkish statement is bullish for the Swiss franc.
USD/CHF Technical Analysis
USD/CHF opened at 0.9147, and reached a  high of 0.9207.  The pair dropped to a low of 0.9071, but recovered,  bouncing back to close at 0.9186, close to the strong resistance level of 0.9204 (discussed last week).
Technical lines from top to bottom:
We begin with resistance at 0.9510, which was tested in January and is providing strong resistance. Below, is the line of 0.9412, which acted as support last month, and is now in a resistance role. Next is the resistance line of 0.9306. This is followed by the line of 0.9250, which was last tested in February. Below, 0.9204 was briefly breached by USD/CHF this week, and could be further tested on any upswing by the pair.
The line of 0.9120  is a weak support line, and was breached as the pair moved downwards. The next line of support is at 0.9050, followed by 0.8924.   Below is 0.8850, which  has acted in  a strong support role since November. Next is the line of 0.8768. This is followed by support at 0.8710. The final support line for now is 0.8637.
I am  neutral on USD/CHF.
USD/CHF has been choppy in recent trading. Although the US economy has been showing stronger signs of growth,  the  swissie continues to hold its own against the dollar.  If the markets are  convinced that the Greek debt crisis is  indeed behind us, the Swiss  franc could benefit at the expense of the dollar.    
Further reading: