The Japanese yen reversed directions last week, as USD/JPY climbed 120 points. The pair closed at 101.78. There are nine events this week. Here is an outlook for the highlights of this week and an updated technical analysis for USD/JPY. 
In the US, new home sales beat expectations and durable goods reports also beat their estimates. Preliminary GDP matched the forecast while Janet Yellen remained cautious in Jackson Hole. In Japan, deflation continues to hamper the economy, as Tokyo Core CPI posted an eighth straight decline.
do action="autoupdate" tag="USDJPYUpdate"/]
USD/JPY graph with support and resistance lines on it. Click to enlarge: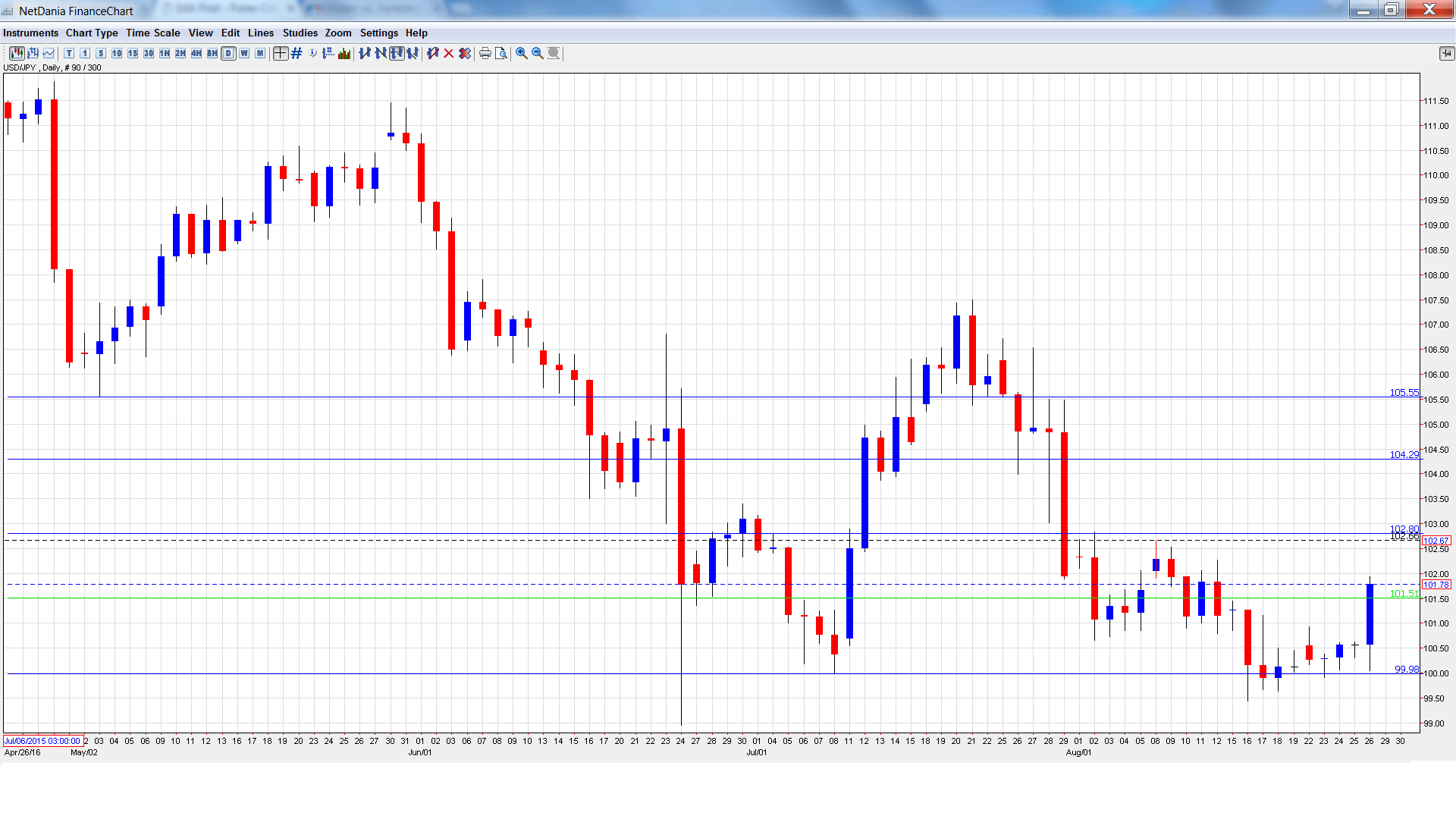 Household Spending: Monday, 23:30. The indicator is in the doldrums, reeling off four straight declines. The June reading of -2.2% was much weaker than the forecast of -0.4%. Another decline is expected in the July report, with an estimate of -1.3%.
Retail Sales: Monday, 23:50. The Japanese consumer continues to hold tight to the purse strings, posting four consecutive declines. The markets are braced for yet another drop in July, with an estimate of -0.9%.
Preliminary Industrial Production: Tuesday, 23:50. This manufacturing indicator rebounded in June with a strong gain of 1.9%. well above the forecast of 0.6%. The estimate for the July release stands at 0.7%.
Housing Starts: Wednesday, 5:00. This indicator provides a snapshot of the level of activity in the housing sector. The indicator disappointed in June, with a decline of 2.5%. This followed a positive streak of five straight gains. The markets are looking for a sharp turnaround in July, with an estimate of 7.6%.
Capital Spending: Wednesday, 23:30. This important indicator is released every quarter, magnifying the impact of each release. The indicator has been softening, and dropped to 4.2% in Q1, stronger than the forecast of 1.9%. The estimate for Q2 stands at 5.6%.
Final Manufacturing PMI: Thursday, 2:00. Japanese manufacturers expect the sector to continue to contract, as it has for most of 2016. In July, the PMI came in at 49.6 points, and the August estimate stands at 49.6 points.
10-year Bond Auction: Thursday, 3:45. 10-year yields remain in negative territory, and the August yield came in at -0.05%. Will we see another negative yield at the September auction?
Monetary Base: Thursday, 23:50. Monetary Base has softened for five straight readings and dropped to 24.7% in July. This trend is expected to continue, with the August estimate standing at 23.1%.
Consumer Confidence: Friday, 5:00. The Japanese consumer remains pessimistic about the economy, with recent readings hovering just above the 40-level. In July, the indicator dropped to 41.3 points, short of the forecast of 42.2 points. The August forecast stands at 41.6 points.
* All times are GMT
USD/JPY Technical Analysis
USD/JPY opened the week at 100.55 and touched a low of 99.91, testing support at 99.98 (discussed last week). The pair had an uneventful week until Friday, when the pair posted strong gains, touching a high of 101.94. USD/JPY closed the week at 101.78.
Live chart of USD/JPY: [do action="tradingviews" pair="USDJPY" interval="60″/]
Technical lines from top to bottom:
105.55 was a cushion in May and June.
104.25 has held in resistance since late July.
102.80 is next.
101.51 remains busy and is currently a weak support line.
99.98 was tested in support for a second straight week.
98.95 has held in support since late June.
97.61 was last tested in November 2013. It is the final support line for now.
I am neutral on USD/JPY 
The Fed is playing it cautious, but a December rate hike remains a solid possibility. If the BoJ remains on the sidelines and refrains from further easing, the yen could post gains and move closer to the round 100 level.
Our latest podcast is titled Time to inflate inflation targeting and the suspicious oil rally
Follow us on Sticher or on iTunes
Further reading:
Get the 5 most predictable currency pairs