The Japanese yen had a rough week, as  USD/JPY  climbed 125 points. The pair closed the week at the 115 line.  This week's key event is Household Spending.  Here is an outlook for  the highlights of this week and an updated technical analysis for USD/JPY.
All eyes were on US Advance GDP, the first GDP report for Q4.  GDP dipped to 1.9%, weaker than the third quarter but close to the  estimate of 2.1%. Unemployment Claims and Existing Home Sales missed expectations, but consumer confidence moved slightly higher, beating the forecast. In Japan, inflation numbers remain anemic, as Tokyo Core CPI posted a decline of 0.3%.
[do action="autoupdate" tag="USDJPYUpdate"/]
USD/JPY graph with support and resistance lines on it. Click to enlarge: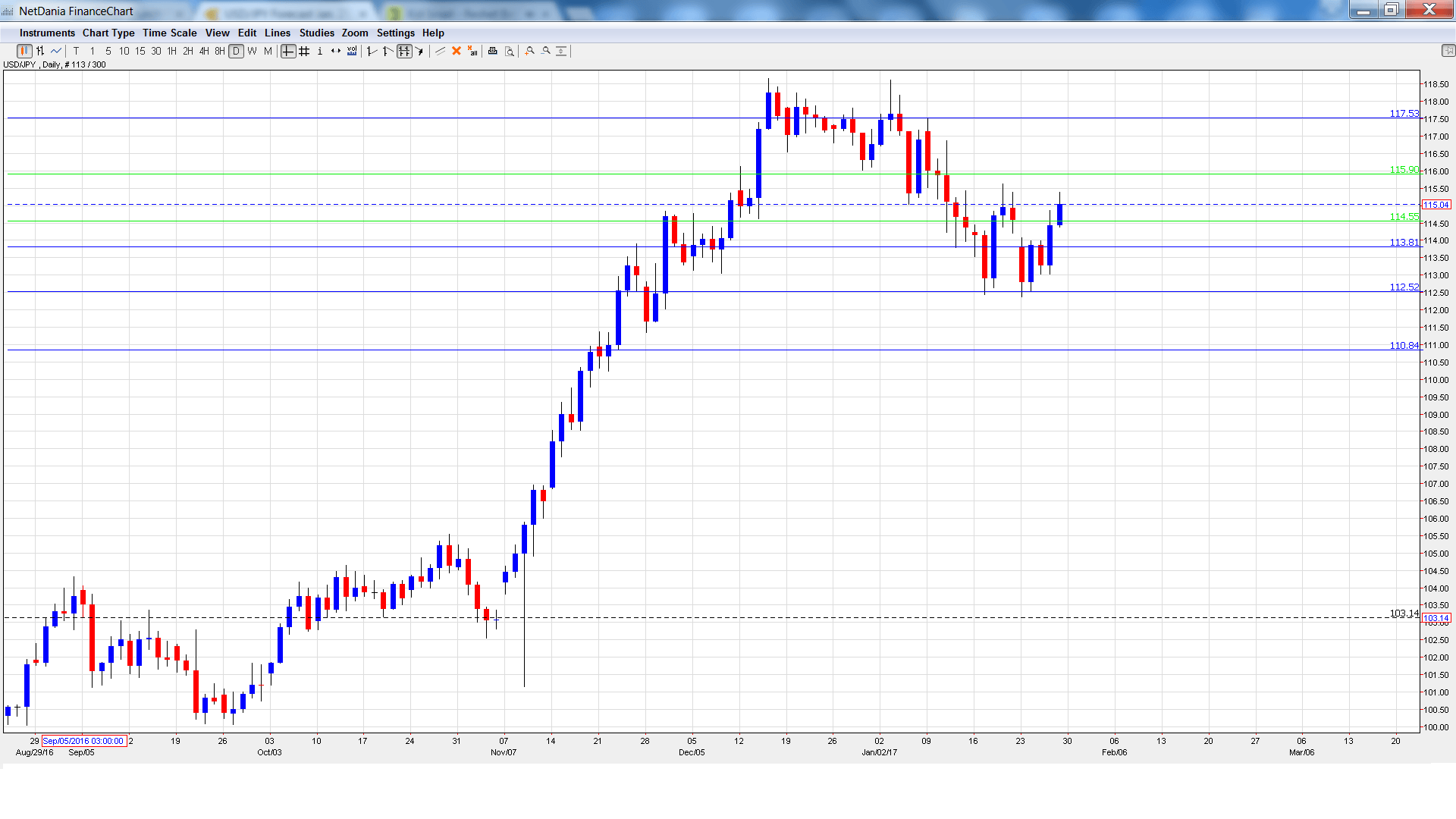 Retail Sales: Sunday, 23:50. Retail Sales surprised analysts with a sharp gain of 1.7% December, well above the estimate of 0.9%. This ended a nasty streak of eight consecutive declines. Another strong gain is expected in January, with an estimate of 1.6%.
Household Spending:  Monday, 23:30.  This is the primary gauge of consumer spending and should be treated as a market-mover. The indicator slipped 1.5% in December, much weaker than the estimate of +0.2%. The estimate for January stands at -0.8%.
Preliminary Industrial Production:  Monday, 23:50. The indicator rebounded sharply in December with a strong gain of 1.5%. Still, this fell short of the estimate of 1.8%. The markets are expecting a weaker report in January, with an estimate of 0.4%.
BoJ Outlook Report:  Tuesday, Tentative. This report provides the bank's outlook on monetary and economic conditions, including inflation. Analysts will be looking for clues of future monetary policy.
BoJ Policy Rate:  Tuesday, Tentative. The BoJ maintained interest rates at -0.10% throughout 2016. No change is expected in the January rate, which will be released in a monetary policy statement.
Housing Starts:  Tuesday, 5:00. Housing Starts continue to show strong fluctuation from month-to-month. In November, the indicator dipped to 6.7%, short of the estimate of 9.6%. The indicator is expected to improve to 8.5% in December.
Final Manufacturing PMI:  Wednesday, 00:30. This manufacturing PMI improved to 52.4 in December, above the forecast of 51.9. Better news is expected in January, with an estimate of 52.8.
Monetary Base: Wednesday, 23:50. The indicator improved to 23.1% in December, above the estimate. The upward is expected to continue in January, with a forecast of 24.2%.
10-year Bond Auction:  Thursday, 3:45. The yield on 10-year bonds has edged higher and hovered above the zero level for the past two releases. Will this continue in the January auction?
Consumer Confidence:  Thursday, 5:00. The Japanese consumer remains pessimistic, as the indicator remains close to the 40-level. The estimate for the January report is 43.7 points.
USD/JPY opened the week at 113.80 and quickly dipped to a low of 112.53, as support was tested at 112.38 (discussed last week). The pair then reversed directions and climbed to a high of 115.38. USD/JPY closed the week at 115.04.
Live chart of USD/JPY:
Technical lines from top to bottom:
118.79 was last breached in February 2016.
117.52  is the next resistance line.
115.90 is an immediate resistance line.
114.55 has switched to support following strong gains by USD/JPY. It marked a high point in March 2015.
113.80 is the next support level.
112.53 was a cap in April 2016. It was tested early in the week.
110.83 was the start of a rally in June which saw USD/JPY drop below the 102 line. It is the final support line for now.
I am bullish on USD/JPY
Just a week into his new job, Donald Trump has not shied away from controversial moves, leading to some nervousness in the markets. The new president withdrew the US from the Trans-Pacific Partnership and has escalated tensions with Mexico. However, the economy is strong and if inflation levels move higher, we could see the Fed step in with additional rate hikes which is bullish for the US dollar.
Our latest podcast is titled  Trumping Trade and the Donald Dollar
Follow us on Sticher or iTunes
Safe trading!
Further reading: