The US dollar was broadly stronger last week, and USD/JPY  jumped 260 points. The  pair closed just above the 123 line. The upcoming week has  eight events on the schedule.  Here is an outlook on the major events moving the yen and an updated technical analysis for USD/JPY.
The yen suffered sharp losses late in the week, courtesy of outstanding US job numbers.  Non-Farm Payrolls report, which  more than beat expectations, with 271K jobs gained and a 2.5% y/y gain in wages. In Japan, the BOJ Monetary Policy  Meeting minutes left open the door for further easing measures, as  policy makers expressed concern that  weak Asian  demand for Japanese products continues to hurt the economy.
do action="autoupdate" tag="USDJPYUpdate"/]
USD/JPY graph with support and resistance lines on it: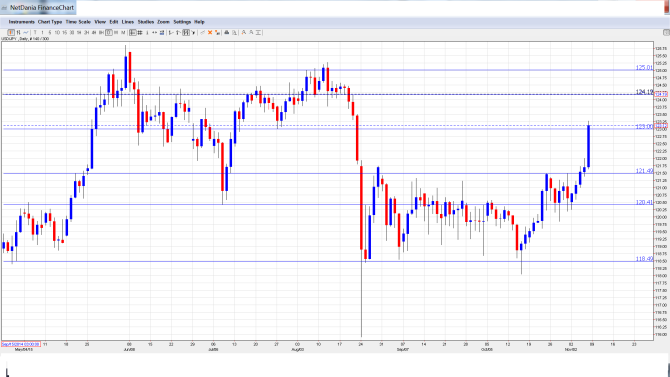 Average Cash Earnings: Monday, 1:30. The indicator has been steady and posted a gain of 0.5% in September, shy of the forecast of 0.7%. Another reading of 0.5% is expected in the October report.
Current Account: Monday, 23:50. The current account surplus jumped to JPY 1.59 trillion in August, easily beating the estimate of JPY 1.28 trillion. This marked a 3-month high for the indicator. The markets are expecting a softer reading in September, with an estimate of JPY 1.50 trillion.
Economy Watchers Sentiment: Tuesday, 5:00. This indicator is based on a survey of workers, who were asked to rate economic conditions. The indicator slipped to 47.5 points in September, pointing to pessimism over the economy. This figure was shy of the forecast of 48.6 points. The markets are expecting better news in October, with an estimate of 48.2 points.
M2 Money Stock: Tuesday, 23:50. The indicator slipped in September, coming in at 3.8%, well off the estimate of 4.3%. An identical reading of 3.8% is expected in October.
Preliminary Machine Tool Orders: Wednesday, 6:00. The indicator has posted sharp declines for two straight months, with a reading of -19.1% in September. Will we see an improvement in the October reading?
Core Machinery  Orders: Wednesday, 23:50. This important manufacturing release has struggled, with three straight declines. The September reading of -5.7% surprised the markets, which had forecast a reading of +3.3%. The markets are expecting a stronger October, with an estimate of 3.4%.
30-year Bond Auction: Thursday, 3:45.
Revised Industrial Production: Friday, 4:30. This minor event is based on 11 economic indicators. The indicator has been on a downward trend in recent readings, and dipped to 103.5% in September. This trend is  expected to continue, with the October  estimate  standing at 102.1%.
* All times are GMT
Live chart of USD/JPY: [do action="tradingviews" pair="USDJPY" interval="60″/]
USD/JPY Technical Analysis
USD/JPY  opened the week at 120.50 and  dropped to  a low of 120.25.  The pair then reversed directions, and climbed to high of 123.27, breaking above resistance at 123.00 (discussed last week). USD/JPY closed the week at 123.12.
Technical lines from top to bottom:
With the dollar posting sharp gains, we start at higher levels:
There is strong resistance at 127.74.
126.59 has remained intact since May 2002.
The very round number of 125 remains an important resistance line.
124.16 was an  important cap in late June. It is an immediate resistance line.
The round number of  123 was a swing low in July and has switched to a support role. It is currently a very weak line.
121.50 was  the high in September and a key resistance line.
120.40, which  was a swing low in July, is next.
118.50 has held firm since early October. It is the final support level for now.
I am  bullish  on USD/JPY
With a Fed rate hike  in December looking more likely,  the  US dollar has become  more attractive to investors  and could make gains against its rivals.  In Japan,  a weak economy  and lack of inflation may force the  BOJ to  implement  additional easing measures in an attempt to kick-start the economy, and this would hurt the struggling yen.
In our latest podcast we explain how to trade the euro printing machine:
Follow us on Sticher or on iTunes
Further reading: