Against the will of Japanese policymakers, the yen is strengthening. Will USD/JPY challenge the extreme lows'; Retail sales, Inflation data and household spending are just a few of the events awaiting forex traders this week.  Here's an  outlook  for the Japanese events and an updated technical analysis for  USD/JPY.
Last week the adjusted trade balance showed a deficit of 191.2 billion yen in June much better than the 250.4 billion predicted by analysts and the 450 billion deficits in May. Exports dropped 1.6% on a yearly base a lot better than the 4.1% decrease predicted and the 10.3% plunge in the prior month. This is a big step forward for the Japanese economy and a firm indication of real recovery.  Will this positive shift continue?
USD/JPY  daily chart with support and resistance lines on it. Click to enlarge: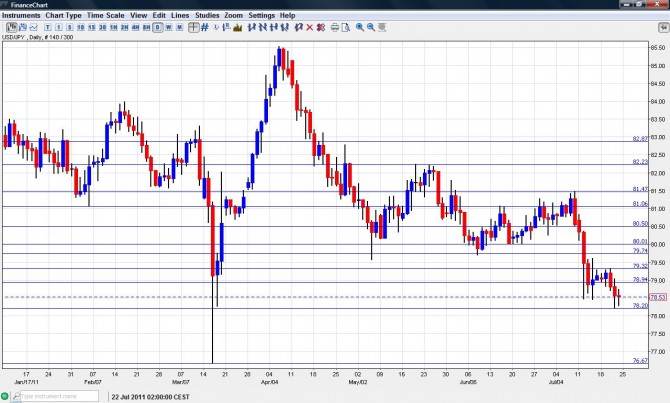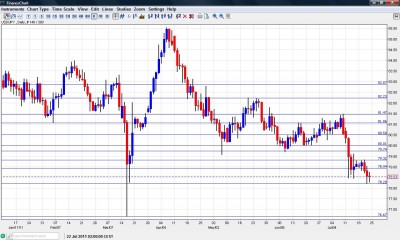 Let's Start:
Masaaki Shirakawa speaks: Sunday, 2:30. Masaaki Shirakawa BOJ Governor is scheduled to speak in Tokyo. His words may affect the yen and provide info regarding interest rates.
CSPI: Monday, 23:50.Japan's corporate service price index dropped in May by 0.9% on a yearly base the 31st consecutive drop. April's figures showed a decrease of 0.7%. The Large drops are due to a reduction in international transportation fees. The same drop of 0.9% is predicted now.
Retail Sales: Wednesday 23:50. Japanese retail sales increased 2.4% in May after a 4.1% gain in April.   This is the second consecutive rise indicating recovery is underway with stronger consumer spending. A smaller decrease of 0.6% is forecasted.
Manufacturing PMI: Thursday, 23:15. Japanese manufacturing activity was sluggish in June reaching 50.7 from51.3 in May amid fewer business orders although production was advanced by companies fearing power shortages during the summer.  Nevertheless, this reading still indicates growth in the manufacturing sector.
Household Spending: Thursday, 23:30. Japanese household spending dropped 1.9% in May from a year earlier indicating a gradual pickup in consumer confidence. The decrease was broadly within expectations. A drop of 2.2% is forecasted now.
Tokyo Core CPI / National Core CPI: Thursday, 23:30.  Japan's national core consumer prices increased on a yearly base by 0.6% in May. This is the second consecutive increase amid higher energy prices offsetting drops in electronics prices. Meanwhile, Tokyo core CPI rose 0.1% in June following 0.1% gain in May. Tokyo Core CPI is expected to gain 0.2% while National Core CPI is expected to increase by 0.5%.
Unemployment Rate: Thursday, 23:30.Japan's unemployment rate unexpectedly dropped in May to 4.5% from 4.7% in April. This reading was below the 4.8% rise expected and can be inaccurate since it does not include areas affected by the March 11 earthquake. A small increase to 4.6% is expected.
Prelim Industrial Production: Thursday, 23:50.Japan's industrial production jumped by 5.7% in May the sharpest rise in nearly 60 years but still below pre-quake levels. This positive reading indicates that the world's No. 3 economy us rebounding from the March 11 earthquake. An increase of 4.6% is forecasted.
Housing Starts: Friday, 5:00. Housing starts in Japan increased 6.4% in May well above the 3.3% rise expected and following 0.3% gain in the previous month indicating recovery in the housing market. A gain of 4.9% is predicted.
*All times are GMT
USD/JPY  Technical Analysis
Dollar/yen traded in a narrow range throughout most of the week, between the 78.90 and 79.30 lines (discussed  last week). It then dropped and reached 78.20, a level unseen since March, before bouncing back up to close at 78.53.
Technical lines, from top to bottom:
82.87 was the trough before the BOJ intervention in September 2010 and also played an important role in recent weeks as the peak of a recovery attempt.  82.20 capped the pair in a very stubborn way a few weeks ago and remains a strong line now.
81,50 was a peak before the recent fall and is a new line in the graph.  81.06 was a weak line of support in May and slowed down a second move upwards.
80.50 held the pair several times in recent weeks and remains a strong and immediate line of resistance.  The round number of 80 is only a minor line now.
79.75 is the historic low of 1995 and played a critical role when the pair collapsed in March. After the pair fell below this line, it quickly switched to strong resistance.  Below, 79.30 proved to be a persistent cap for dollar/yen, holding down recovery attempts. also just now. An attempt to break higher resulted in a drop lower.
78.90 now has a different position, as a resistance line. At least as support, it was very strong.  Further down, 78.20 is the new low, and is a minor line of support.
The swing low after the collapse in March is still far, but it is getting close.
I am neutral on USD/JPY.
The failure to cut a deal around the debt ceiling in the US will weigh on the pair. This is the key for the upcoming week.
Further reading: