$/yen continued moving down as global worries come from all the world, and the yen is enjoying safe haven flows. BOJ Governor Masaaki Shirakawa's speech and Japanese trade Balance are the major events this week. and. Here's an  outlook  for the Japanese events and an updated technical analysis for  USD/JPY.
Last week encouraging figures were registered for the Japanese economy with a better than predicted Current Account surplus of 0.85T for January and a 4.8% jump in Core Machinery Orders  for January. But it was mostly weak Chinese growth, the deterioration of the debt crisis in Spain and also the soft US data that sent money to the "safety" of the yen.
Updates: USD/JPY rose over the 81 level on the weekend, but has dropped slightly, and is trading at 80.78. The markets are waiting for the releases of Revised Industrial Production and Household Confidence on Tuesday. After two consecutive readings in positive territory, Revised Industrial Production plummeted to -1.6%. The markets had predicted a more modest drop of -1.2%.  Household Confidence posted a reading of 40.3, almost exactly matching the market forecast of 40.1. Once practically unthinkable, trade balance deficits have become part of the Japenese lexicon. The forecast for the indicator's release later on Wednesday calls for a worsening figure of -0.43T, sharply higher than the deficit of -0.31T last month. USD/JPY is back above the 81 level, trading at 81.37. Japan posted a record trade deficit of -0.62T. This was well below the market forecast of -0.44T. The yen  is sliding  after  the disappointing news, trading at 0.8169.
USD/JPY  daily chart with support and resistance lines on it. Click to enlarge: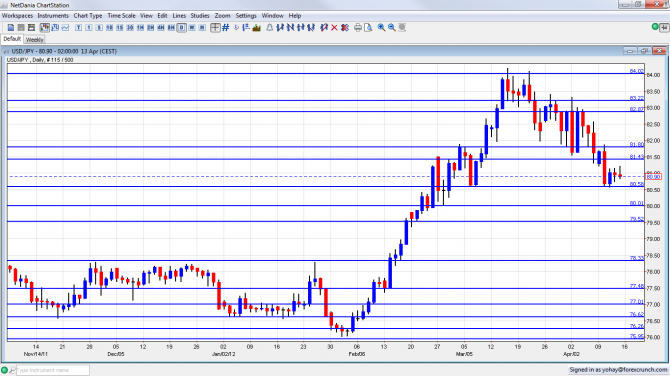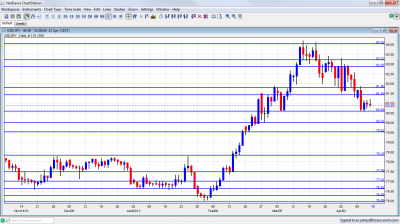 Revised Industrial Production: Tuesday, 4:30. Japanese industrial production increased 1.9% in January, less than the 2.1% rise predicted following 2.0% increase in December. Shipments dropped 0.9% in January and the increase in inventory was revised down to 3%. A drop of -1.2% is expected now.
Household Confidence: Tuesday, 5:00. Japanese consumer confidence declined further in February dropping 0.5 points to 39.5, still far from the 50 point line indicating optimism. The BOJ's economic outlook was unclear creating further worries among Japanese consumers concerned about salaries and the employment market. A rise to 40.1 is anticipated.
Masaaki Shirakawa speaks: Wednesday, 22:30.  BOJ Governor Masaaki Shirakawa is scheduled to speak. His wards may cause volatility in the market and may provide hints concerning the future monetary policy.
Trade Balance: Wednesday, 23:50 Japan's adjusted merchandise trade balance decreased its deficit to ¥-313.2 billion in February from ¥-490 billion in January. Exports are still stumbling on a year-over-year basis however the fall is more moderate. Exports were low due to the strengthening of the yen and weaker foreign demand. Imports were boosted by energy products. Another rise to ¥-430 billion is expected this time.
Tertiary Industry Activity: Thursday, 23:50. Japanese service sector decreased its activity in January by 1.7% contrary to expectation for a 0.4% rise. The main declines occurred in finance, retail trade, communication, accommodations, scientific research, health care and personal services. A rise of 0.8% is expected now.
 * All times are GMT
USD/JPY  Technical Analysis
Dollar/yen started the week with a brief challenge of the 81.80 line (discussed last week), before changing  course and dropping towards the support at 80.60. It then traded a bit higher and closed at 80.90.
Technical lines from top to bottom
We move to lower ground. 86.27  was a distinct line of support and resistance in the summer of 2010 and is the next line if 85.50 is crossed.  85.50 is a key line. This was a peak after a strong move in March 2011. It held for more than one day.
84.50 capped the pair at the end of 2010 and at the beginning of 2011 and is a bit weaker now. An important line of resistance is found at 84, which capped the pair back in February 2011 and provided some resistance in March 2012. It proved its strength for a second week in a row.
It is closely followed by the minor line of 83.50, which was a glass ceiling for the pair during March 2012. 82.87 was the line where the BOJ intervened in September 2010, and also worked in both directions afterwards. It worked as support when the pair traded higher and remains a cap.
81.80 is an update of the 82 line. It served as support for the pair at the end of March 2012 and is now strong support. Close by, 81.30 was the bottom the pair reached in in April 2012, and also resistance in February.
80.60 provided support for the pair around the same time, and served as a bouncing spot for the next moves. The round number of 80, which provided strong support in June, is the next line, and it is of high importance.
79.50, was a battleground on the way up. This is the line that was reached after the last non-stealth intervention. 78.30 capped a second recovery attempt in November, after the intervention and had an important role earlier as well, working as support. After it was broken, the rally intensified. It now switches to support.
I remain neutral on USD/JPY.
While the current dark clouds from all over the world can push more flows to the yen, the 80 line seems like a line in the sand where the BOJ might intervene to stop the moves. It's also important to remember that the US dollar also draws safe haven flows.
Another note: USD/JPY so far justifies its title as the most predictable currency pair for Q2.
Further reading: