Dollar/yen broke down to levels last seen in February as safe haven flows outweighed all other factors. Current account and Final GDP are the main events this week.  Here's an  outlook  for the Japanese events and an updated technical analysis for  USD/JPY.
Also US weakness contributed to the pair's fall: the Non-Farm Payrolls report was terrible, with a small gain in jobs and significant downwards revisions. Japan's household spending surprised in April with a third straight year-on-year rise of 2.6%, thanks to a revived government subsidies for buying low-emission vehicles. However retail sales rose below forecasts growing 5.2% while expected a bigger climb of 6.2%. Nevertheless this is an impressive figure indicating growth in the Japanese economy. Let's Start:
Updates: Monetary Base posted a strong 2.4% increase, easily surpassing the market forecast of 0.2%.  BOJ Gov Shirakawa delivered a speech in Tokyo on Monday. The yen is calm, as USD/JPY was trading at 78.10. The yen edged up amid the uncertainty in the EZ. USD/JPY was trading at 0.7824. The yen weakened, as USD/JPY climbed above the 79 line. The pair was trading at 79.16. We could see some movement by the pair late in the week, as five releases will be published on Thursday, including Current Account. Leading Indicators declined, but almost matched the market forecast, posting a reading of 95.1%. The yen edged upwards, as USD/JPY was trading at 79.37.
USD/JPY  daily chart with support and resistance lines on it. Click to enlarge: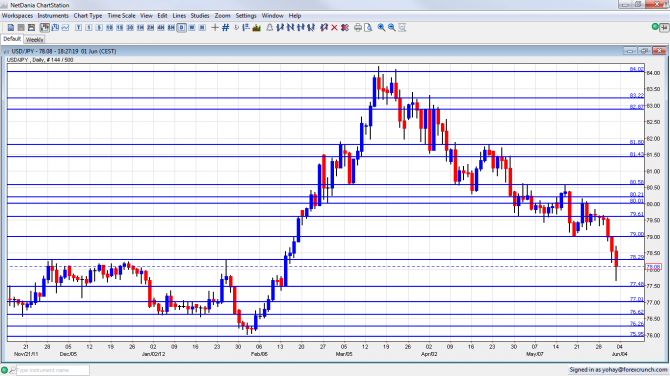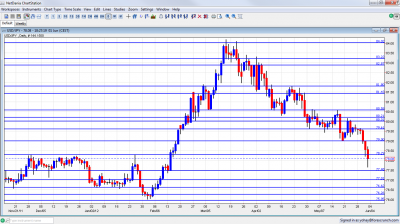 Monetary Base: Sunday, 23:50. Japan's monetary base dropped 0.3% in April from a year earlier to 121.50  trillion  yen, declining for the second straight month. The release of fund supply by the BOJ caused a downward pressure on the year-on-year change, but the average daily balance of the monetary base was the second highest, a  BOJ  official said.  An increase of 0.2% is predicted now.
Leading Indicators: Thursday, 5:00. Leading indicators expanded by 0.6 points to96.6 in March rising for the third consecutive month. Analysts predicted a higher score of 97.0. Nevertheless this is an improvement suggesting consumer spending is stronger and industrial productivity is also stabilizing. A small drop to 95.2% is anticipated.
Current Account: Thursday, 23:50. Japan's current account surplus dropped less than predicted in March reaching 7.893 trillion yen compared to 8.60 trillion yen in February. However in the 2011-12 fiscal year to March, surplus was halved down 52.6% from a year earlier as a result of March 2011 quake-tsunami disaster destroying the nation's nuclear energy. Another decline to 6.2 trillion is predicted.
Final GDP: Thursday, 23:50.Japan's gross domestic product dropped 0.2% in the fourth quarter of2011 in line with predictions following preliminary forecasts of 0.6% contraction. For all of 2011, GDP was upwardly revised to -0.7% from -0.9% after a 4.4% expansion in 2010. Japan's economy is predicted to expand by 1.1% in the first quarter of 2012.
* All times are GMT
USD/JPY  Technical Analysis
Dollar/yen kicked off the week capped under the 79.60 line (mentioned last week). Afterwards, it was all downhill. The pair lost the critical 78.30 line and returned to the lower range of 77.50 – 78.30.
Technical lines from top to bottom
We start from lower ground this time.  81.43 is stronger after serving as resistance for a recovery attempt. 80.60 provided support for the pair around the same time, and served as a bouncing spot for the next moves.
80.20 separated ranges in May 2012 and remains another barrier after 80 on the upside. The round number of 80 is psychologically important, even though it was crossed several times in recent months.
79.60 was a double bottom in May 2012 and proved to very tough resistance. The round number of 79 served as a bottom in May 2012 but is now weaker after the fall.
78.30 capped a second recovery attempt in November, after the intervention and had an important role earlier as well, working as support. This is a key line after the fall.
77.50 was the bottom border of a range the pair had at the end of 2011. It is followed by 77, which is only minor support.
76.60 was a cushion for the pair at the beginning of the year and is rather strong. 76.26 is the next line on the downside after working as a support quite some time ago.
75.95 was an all time low and was the catapult for the pair's rally during 2012. The current all-time low of 75.57 is the last line for now.
I am neutral on  USD/JPY.
The BOJ seems to be too weak in light of the current events, which are quite dramatic. The immense stress around Spain and also the loss of momentum in the US drive money to the "safety" of the yen, despite the Japanese debt mountain.
Another note: USD/JPY continues to justify its title as the  most predictable currency pair for Q2.
Further reading: