The Canadian dollar  enjoyed another strong week, as USD/CAD posted gains of 120 points. The pair  closed  at  1.2552. This  week's key event is Employment Change.  Here is an outlook on the major market-movers and an updated technical analysis for USD/CAD.
As expected, the  Federal Reserve  remained on the sidelines and did not raise interest rates. US Advance GDP came in at 0.5%, short of the estimate. The Canadian dollar shrugged off a weak GDP of -0.1%.
[do action="autoupdate" tag="USDCADUpdate"/]
USD/CAD daily graph  with support and resistance lines on it. Click to enlarge: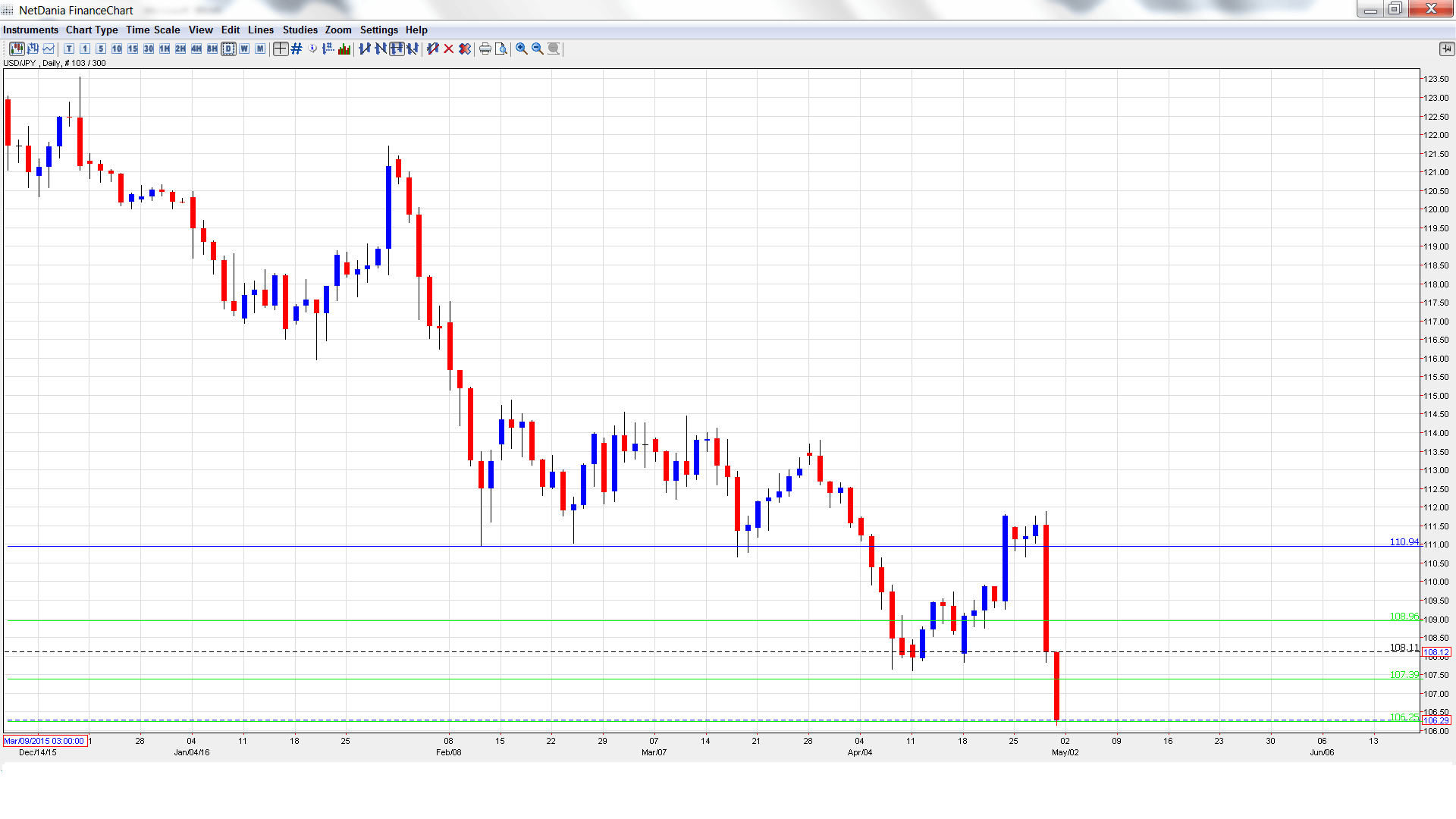 RBC Manufacturing PMI: Monday, 9:30. The PMI pushed  above the 50-line in March, the first sign of expansion since June 2015. Will the upturn continue in the April report?
BOC  Governor Stephen Poloz  Speaks: Tuesday, 12:30. Poloz will deliver remarks at an event in Los Angeles. The markets will be looking for hints as to the BOC's future plans  regarding interest rate policy.
Trade Balance: Wednesday, 8:30.  Canada's trade deficit widened to C$1.9 billion in March. This reading disappointed the  markets, which  had expected a gain of C$0.9 billion. The estimate for April stands at C$-1.2 billion.
Building Permits: Thursday, 8:30. The indicator continues to alternate between gains and declines. In February, the indicator surged 15.5%,  crushing the estimate of 4.7%.
Employment Change: Friday, 8:30. This is one of the most important economic indicators, and an unexpected reading can have a sharp impact on the direction of USD/CAD. The unemployment rate is expected rise to 7.2% in April, compared to the rate of 7.1% a month earlier.
Ivey PMI: Friday, 10:00. The PMI sparkled in January, with a reading of 66.0 points. However, the indicator has dropped sharply since then, and dipped to 50.1 points in March. Will we see a rebound in the April release?
BOC Deputy Governor Lawrence Schembri Speaks: Friday,11:00. Schembri will speak at a panel discussion in Ottawa. A speech which is more hawkish than expected is bullish for the Canadian dollar.
USD/CAD Technical Analysis
USD/CAD opened the week at 1.2670 and  quickly touched  a  high of 1.2717. The pair then reversed directions and dropped to a low of 1.2494, testing support at 1.2538 (discussed last week). USD/CAD closed the week at 1.2552.
Live chart of USD/CAD: [do action="tradingviews" pair="USDCAD" interval="60″/]
Technical lines, from top to bottom
We start with resistance at 1.3064.
The round  number of 1.2900 was active in mid-April.
1.2780 is next.
1.2646 has switched to resistance after USD/CAD lost ground.
1.2538 is a weak support line and could see action earlier in the week.
1.2410 has held firm in support since June 2015.
1.2302 is the next line of support.
1.2215 is the final support level for now.
I am  neutral on USD/CAD
With the Canadian dollar continuing to post strong gains, we could see an upward correction in USD/CAD. At the same time, with the Fed policy statement out of the way, the markets may focus on the strong US economy, which could help the US dollar rebound.
In our latest podcast we ask: is China out of the woods?
Follow us on Sticher or on iTunes
Further reading: