The Australian dollar  had another successful week, enjoying upbeat data, global optimism, and the downfall of hte US dollar. The jobs report and China's GDP stand out in a busy week. Here are the highlights of the week and an updated technical analysis for AUD/USD.
Retail sales increased by 1.2%, triple the early expectations. Building approvals also came out well above early projections: a jump of 11.7%. Apart from positive Australian data, AUD/USD advanced also thanks to the weakness of the US dollar, partly fuelled by a report that China intends to diversify away from US  Treasuries. Despite a denial, the dollar remained on the back foot. The US dollar was unable to recover despite rising inflation. AUD/USD topped 0.79 at the end of an excellent week.
[do action="autoupdate" tag="AUDUSDUpdate"/]
AUD/USD daily graph with support and resistance lines on it. Click to enlarge: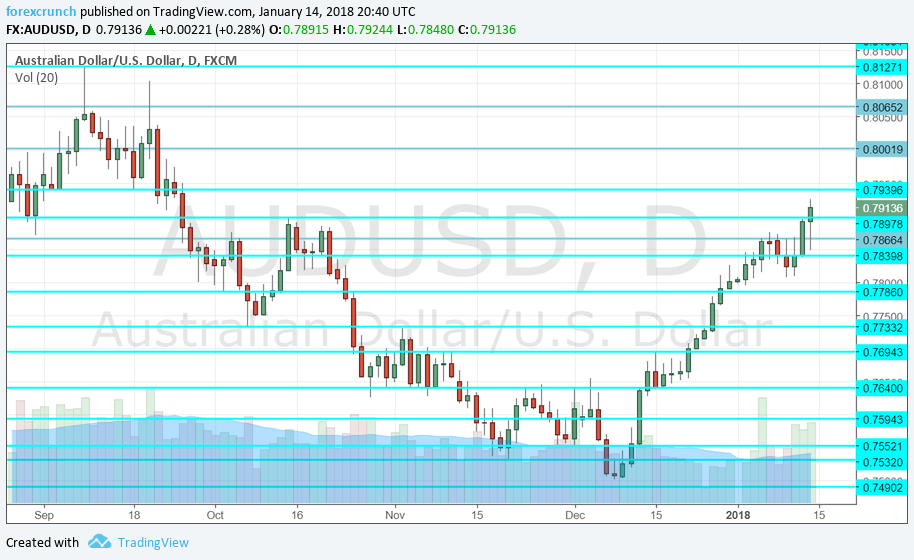 MI Inflation Gauge: Monday, 00:00. The Melbourne Institute provides two measures that provide information about price development. This is useful as the government only releases CPI reports on a quarterly basis. A rise of 0.2% was seen in November, lower than 0.3% beforehand.
New Motor Vehicle Sales: Tuesday, 00:30. Sales of cars, trucks, and other vehicles are usually correlated with the wider economy. A small increase of 0.1% was reported in November. The data for December will likely be similar.
Westpac Consumer Sentiment: Tuesday, 23:30.  Westpac, a big Australian bank, has shown a big jump in consumer confidence in December: 3.6%. We will now see if it was only the holiday season that kept people happy.
Home Loans: Wednesday, 00:30. The volume of loans dropped by 0.6% in October, but this beat expectation for a bigger drop. Will loans rise now? A rise of 0.1% is projected now.
HIA New Home Sales: Thursday, 00:00. The Housing Industry Association showed a rise of 1.6% in sales of new homes in October. This was a relatively small change in a very volatile indicator.
MI Inflation Expectations: Thursday, 00:00. The second inflation indicator from MI looks 12 months into the future. Inflation expectations are above inflation figures: 3.7% y/y. However, this is lower than the peak of 4.4% seen in June.
Jobs report: Thursday, 00:30. Australia enjoyed an excellent gain in jobs in November: 61.6K, a big jump after a very modest rise in October. The unemployment rate remained at 5.4%, pausing after two consecutive drops. Another gain is likely for the month of December. A more modest gain of 15.2K is on the cards now with no change expected in the unemployment rate.
Chinese GDP: Thursday, 2:00. China is the world's second-largest economy and the development of its economic growth impacts the whole world. Back in Q3, the Middle Kingdom grew 6.8% y/y, in line with the government's wishes and market expectations. While many doubt the numbers, released relatively shortly after the quarter ends and with no revisions, the publication is watched by the whole world. A marginally slower growth rate of 6.7% is forecast now. Note that China also releases other data with industrial output standing out. It rose by 6.1% y/y last time and the same rate is expected now.
AUD/USD Technical Analysis
Aussie/USD continued the uptrend and passed at 0.7860 (discussed last week) before moving to higher ground.
Technical lines from top to bottom:
0.8130 was the 2017 high and remains a top line. It is followed by 0.8065, which capped the pair's rise beforehand.
The psychological round level of 0.80. Below, we find 0.7940, which capped the pair in August.
Quite close by, we find 0.79, a round number that capped the pair in October and also in January.  0.7860 served as support during September and is another line to watch.
0.7810 worked as a cushion for the pair in January.  Below, we find 0.7730, that was a high point in June 2017 and also beforehand, working as resistance in November.
The round number of 0.77 capped the pair in mid-December. 0.7640 worked as resistance in November.  0.7595 was a swing high in early December and capped the pair.
I am bullish on AUD/USD
Is there some fuel left in the tank for another rally? Perhaps. A lot depends on the jobs report. If we get another great figure, the ongoing weakness of the US dollar could pave the way toward 0.80.
Follow us on Sticher or iTunes
Further reading:
Safe trading!