AUD/USD suffered a poor GDP read and is pressured to the downside by China in general.
What do the technical levels tell us? Here is the view from SocGen:
Here is their view, courtesy of eFXnews:
Having breached a multiyear upward channel, AUD/USD is now breaking below a steeper descending channel and is currently probing 2006 lows of 0.70/0.6950 which also happens to be a projection for the fifth wave, notes SocGen.
"Daily RSI is holding a support however signs of stabilization will emerge only after the pair is able to break above the descending trend at 0.7270. 0.70/0.6950 is an important level, SocGen adds.
A sustained move below the later, according to SocGen, will mean further correction towards 1999 highs of 0.6750.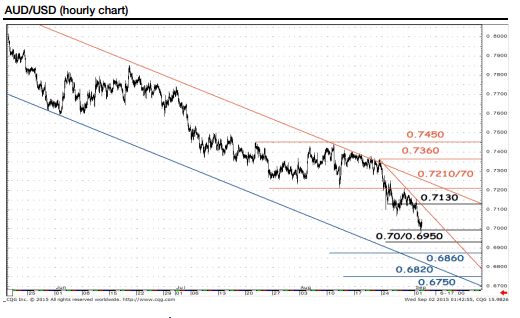 For lots  more FX trades from major banks, sign up to eFXplus
By signing up to eFXplus via the link above, you are directly supporting  Forex Crunch.