AUD/USD  was  almost unchanged this week  closing at 1.0335. The upcoming week is very busy, with 12 releases. Here is an outlook of the Australian events, and an updated technical analysis for AUD/USD.
Australian data was mixed this past week. Building Approvals was very strong, but this was offset by a drop in New Home Sales. Commodity Prices continues to nosedive, reflecting weak global demand for Australian exports. The aussie lost ground at the end of the week, as investors  rushed to  the safe-haven of the greenback prior to the US elections on Tuesday.
Updates: Retail Sales was up 0.5%, a notch higher than 0.4%. The Trade  Deficit narrowed to 1.46 billion dollars, better than the estimate of -1.60B. ANZ Job Advertisements declined 4.6%, a major disappointment. HPI rose 0.3%, well below the market estimate of 1.1%. The RBA surprised  the markets  by maintaining the Cash Rate at 3.25%.  Many analysts had expected a  0.25% cut,  to 3.0%. The Construction Index will  be released later on Tuesday. The RBA explained its decision, stating  the Australian  currency and inflation are higher than expected, the global outlook has  improved and the economy continues to respond to the RBA's more accommodative monetary policy. The aussie  continues to push  higher since the RBA announcement. AUD/USD was trading at 1.0441.  Obama is re-elected and the announcement is met with high volatility. AUD/USD rises to resistance at 1.0480 before descending. Additional technical analysis: AUD/USD Bullish Breakout Continues Month-Long Uptrend. Construction Index jumped to 35.5 points, its best showing since April.   Employment figures for October were solid. Employment Change came in at 10.2 thousand, surprising the markets, which had expected a negligible gain of 0.2K. The Unemployment Rate edged down, from 5.5 % to 5.4%. The RBA will release a Monetary Policy Statement on Friday. The aussie is steady, as it remains just above 1.04. AUD/USD was trading at 1.0409.
AUD/USD graph with support and resistance lines on it. Click to enlarge: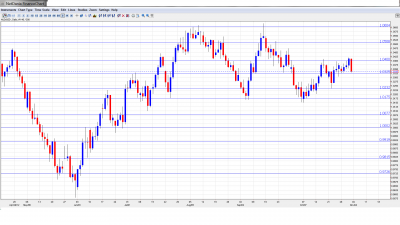 AIG Services Index: Sunday, 22:30.  This index has cracked the 50 line only once this year, indicating ongoing contraction in  the services sector.  The past two releases have been only slightly above the 40 level, and no major change is expected in the November release.
MI Inflation Gauge: Sunday, 23:30. This inflation index is published each month, and gives analysts an additional tool to follow inflation trends. The index posted a modest gain of 0.2% in October.

Retail Sales: Monday, 00:30. Retail Sales has been improving of late, after posting a decline in the September release. The markets are predicting another gain this month, with an estimate of 0.4%.

Trade Balance: Monday, 00:30. Australia has recorded monthly deficits since February, with just one exception. The forecast calls for a slight improvement this month, with an estimate of -1.60 billion dollars.

ANZ Job Advertisements: Monday, 00:30. This employment indicator has posted declines since May, which is a source of concern  with regard to  the employment sector. The markets will be hoping for some improvement in the November release.

HPI: Tuesday, 00:30. This housing inflation index recorded a gain in Q2, the first gain in six quarters. The markets are anticipating a stronger Q3, with an estimate  of 1.1%.

Cash Rate: Tuesday, 3:30. The markets were caught off guard when the RBA lowered rates to 3.25% in October. Most analysts are now expecting a further drop, with expectations of another 0.25% cut, to 3.0%. Given that the RBA is expected to lower interest rates, analysts will be carefully combing through the  RBA's accompanying Rate Statement. If the central bank does indeed slash the rate, we could see the aussie lose some ground.

AIG Construction Index: Tuesday, 22:30. The construction sector is in a deep freeze, and the index has been on a steep slide throughout 2012. Little change is expected in the November release.

Employment Change: Thursday, 00:30. After a sparkling release last month, the markets are expecting a very modest gain in the November release, with an estimate of 0.2K. The Unemployment Rate is expected to edge up to 5.5% from the present 5.4%.

RBA Monetary Policy Statement: Friday, 00:30. Analysts will be reviewing the report for hints about the RBA's future monetary policy. A report which is more hawkish than expected is bullish for the aussie.

Chinese CPI: Friday, 1:30. The inflation index has hovered around the 2.0% level, and the markets are expecting a similar reading this month.

Chinese Trade Balance: Saturday, Tentative. Trade Balance has been on the rise, but the markets are bracing for a sharp drop in the November release, with an estimate of 27.7 billion. This release can impact on AUD/USD,   as China is Australia's number one trading partner.
* All times are GMT
AUD/USD Technical Analysis
AUD/USD opened at 1.0352. The pair touched a low of 1.0325, breaking resistance at 1.0326 (discussed last week). The pair but then rebounded, to reach a high of 1.0417. AUD/USD  lost ground at  the end of the week, closing  at 1.0335, as the resistance line at 1.03
We start with resistance at 1.0874. This line has held firm since July 2011. We next encounter resistance at 1.0718, which has not been tested since March. Next, there is strong resistance at 1.0605, just above the round figure of 1.06. This is followed by resistance at 1.0508, which has held firm since mid-September. Next, there is resistance at 1.0402. This line was breached as the pair moved upwards, but remained in place by week's end.
AUD/USD continues to receive support at 1.0326.  However, this  is a weak line, and  could see more action this week.  The next line of support is at 1.0230. Next, there is support at 1.0174, which has held firm since early October. This is followed by 1.0080, which is protecting the psychologically important parity level. The parity line, last tested in June, is the next line of support. We next encounter support at 0.9917.
This is followed by 0.9815, which has held firm since June. Next, there is support at 0.9726. The final line for now is at 0.9673. This line was last tested in early June, when the Australian dollar started a strong rally.
I am  neutral on AUD/USD.
Many analysts predicted that the Australian dollar would drift back to parity, especially after the surprise rate cut by the RBA. However, the aussie has shown some grit and remains in the mid 1.03 range. The outcome of Tuesday's US presidential election could have a major affect on the currency markets, and the  polls continue to predict a super tight  race.  The RBA may  cut  rates again  this week, and the Australian dollar could lose  some ground as a  result.
The Aussie sometimes moves in tandem with gold. You can trade binary options on gold using this technical analysis.
Further reading: