AUD/USD  continued to gain ground as it  moved up about 70 pips this week, closing at 1.0373.  The upcoming week  is quite busy, with  nine  events. Highlights include Building Approvals and PPI. Here is an outlook of the Australian events, and an updated technical analysis for AUD/USD.
The aussie continued to improve against the greenback, as CPI was higher than expected, indicating renewed activity in the economy. As well, Chinese Flash Manufacturing PMI posted its best performance since April.
Updates: HIA New Home Sales fell for a third straight month, falling 3.7%. RBA Deputy Governor Philip Lowe will address a banking forum in Sydney later on Tuesday. The aussie continues to push towards the 1.04 line. AUD/USD was trading at 1.0379. Building Approvals improved, climbing to 7.8%. This strong performance surprised the markets, which had expected a much smaller gain of 1.1%. Private Sector Credit rose a modest 0.3%, a notch above the estimate of 0.2%. The Manufacturing Index rose slightly, posting a reading of 45.2 points. The index has not cracked the important 50 level since February. Import Prices disappointed, declining by 2.4%. The estimate stood at a drop of 1.2%. Commodity Prices continued their steep drop,  as the indicator plunged  by 16.9%. The Chinese Manufacturing PMI pushed above the 50 line for the first time since August. The index posted a figure of 50.2 points, a notch below the estimate of 50.3 points. PPI will be released on Friday. The markets are expecting the inflation index to climb by 1.0%.
AUD/USD graph with support and resistance lines on it. Click to enlarge: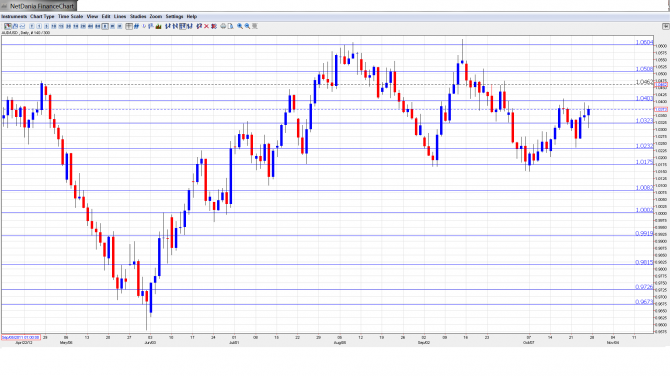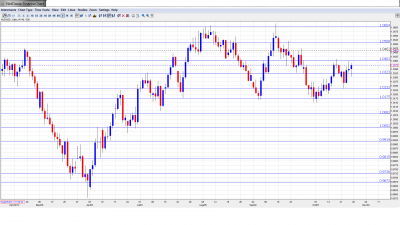 HIA New Home Sales: Tuesday, tentative. New Home Sales  is an excellent indication of consumer spending and confidence in the economy. The indicator has posted two consecutive declines of over 5%, and the markets will be hoping for a rebound in the upcoming release.
RBA Deputy Governor Philip Lowe Speaks: Tuesday, 8:55. The Deputy Governor will be addressing a financial forum in Sydney. A speech  which is more hawkish than expected is bullish for the aussie.

Building Approvals: Wednesday, 00:30. Building Approvals tends to be quite volatile, and the indicator posted a solid 6.4% gain last month. The estimate for the upcoming release is a modest 1.1% increase.

Private Sector Credit:  Wednesday, 00:30. The indicator posted   0.2% gains  in the past two releases, and the markets are not expecting any  change.

AIG Manufacturing Index: Wednesday, 22:30. This index has  been below the 50.0 point level since February, indicating sustained weakness in the  manufacturing sector. More of the same is expected in the upcoming release.

Import Prices: Thursday, 00:30. Import Prices were well above the market forecast in the October release, posting a 2.4% gain. However, the market forecast is calling for a 1.0% decline this month. Will the indicator surprise the markets with another gain?

Chinese Final Manufacturing PMI: Thursday, 1:45. This key PMI has spent most of 2012 above the key 50 level, although the index has dipped below 50  in the past two releases. The markets are expecting a small improvement, with a forecast of 50.3. Chinese Final Manufacturing PMI is an important release which can impact on AUD/USD, as China is Australia's number one trading partner.

Commodity Prices: Friday, 00:30. The downward spiral continues for this trade balance indicator. Commodity Prices looked awful last month, as the indicator plunged 14.9%. The markets are bracing for another poor showing in the November release.

PPI: Friday, 00:30. This key inflation index is released each quarter. In Q2, PPI  posted a gain of 0.5%, and the estimate for Q3 stands at 1.0%. Higher inflation is an indication of  increased economic activity, so a strong PPI release this month would be good news for the aussie.
* All times are GMT
AUD/USD Technical Analysis
AUD/USD opened at 1.0304. The pair touched a low of 1.0236, but then rebounded, climbing all the way to 1.0397, as the resistance line of 1.0402 (discussed last week), held firm. AUD/USD closed the week at 1.0373.
We  begin with  resistance at 1.0874, which has held firm since July 2011. We next encounter resistance at 1.0718. This line has not been tested since March. Next, there is strong resistance at 1.0605, just above the round figure of 1.06.
This is followed by resistance at 1.0508, which has held firm since mid-September. Next, there is resistance at 1.0402. This  line held firm as the pair tested  1.04 on its upward move.
AUD/USD  continues to receive  support at 1.0326. This line was breached as the pair dropped early in the week, but remains  in place.  The next line of support is at 1.0230, which  has strengthened as the  pair trades at higher levels.  Next, there is support at 1.0174, which has held firm since early October.  This is followed by 1.0080, which is protecting the psychologically important parity level. The parity line, last tested in June, is the next line of support. We next encounter support at 0.9917.
This is followed by 0.9815, which has held firm since June. Next, there is support at 0.9726. The final line for now is at 0.9673. This line was last tested in early June, when the Australian dollar started a strong rally.
I am bullish on AUD/USD.
The aussie has enjoyed a strong October, buoyed by solid releases such as Home Loans and New Motor Vehicle Sales. In addition, Chinese data  has been generally positive, which has  helped the Australian currency. As well, signs of improvement in the US economy could lead to investors having more of an appetite for risk. If the economic  data  continues to look good, there is room for the pair to continue moving upwards.
The Aussie sometimes moves in tandem with gold. You can trade binary options on gold using this technical analysis.
Further reading: