The AUD/USD enjoyed a strong rally, as the pair climbed about one cent  on the week, closing at 1.0325. The upcoming week  has five  events, with CPI the highlight.  Here is an outlook of the Australian events, and an updated technical analysis for AUD/USD.
The Australian dollar benefited from   some solid releases this week, as  Home Loans and New Motor Vehicle Sales looked sharp. As  well, Chinese numbers were positive, as GDP matched the market  forecast, and Retail Sales and Industrial Production beat the estimates.
Updates: RBA Assistant Governor delivered remarks at a  financial forum in Sydney. CB Leading Index dropped by 0.8%, its sharpest decline in  four months. CPI, a key release, will be published on Wednesday. The aussie continues to lose ground, as has fallen below the 1.03 level. AUD/USD was trading at 1.0271. CPI jumped 1.4% in Q3, easily exceeding the estimate of 0.9%. Trimmed CPI rose 0.7%, a notch higher than the forecast of 0.6%. The aussie rally continues, as the pair was trading at 1.0385.
AUD/USD graph with support and resistance lines on it. Click to enlarge: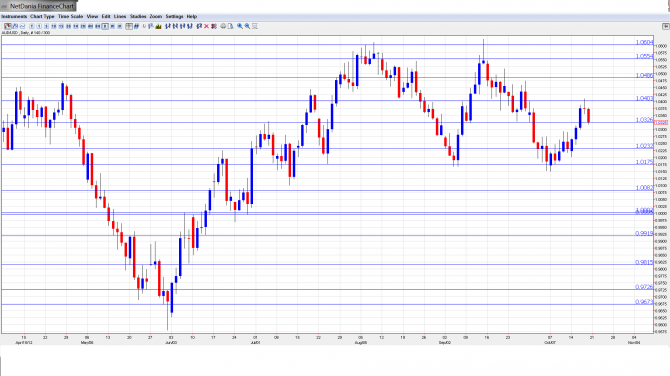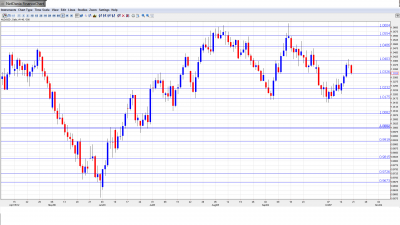 RBA Assistant Governor Guy Debelle  Speaks: Monday, 3:50. The Assistant Governor will be addressing a financial forum in Sydney. Analysts will be searching for clues as to the central bank's future monetary policy.
CB Leading Index: Monday, 23:00. This important index is based on seven economic indicators. The index has been falling of late, and dropped to a flat 0.0% in the previous reading. The markets will be hoping for a rebound back into positive territory.

CPI: Wednesday, 00:30. This key  inflation index is released each quarter, and is the highlight of the week. The index jumped to 0.5% in Q2, its best reading since 2011. The estimate for Q3 is unchanged, at 0.5%.

Trimmed Mean CPI: Wednesday, 00:30. This inflation index excludes the most volatile 30% of items measured. The index has been moving higher, and rose to 0.5% in Q2. The markets are predicting that the uptrend will continue, with an estimate  for Q3 of 0.6%.

Chinese Manufacturing PMI:  Wednesday, 1:45. Traders should pay attention to this key indicator, as Chinese data can quickly impact on the the movement of the Australian dollar. This PMI has  been under the 50.0 level since October 2011, indicating ongoing contraction in the manufacturing sector. No major change is expected in the October reading.
* All times are GMT
AUD/USD Technical Analysis
AUD/USD opened at 1.0222. The pair touched a low of 1.0202, but then rebounded, climbing all the way to 1.0411, as the resistance line of 1.0402 (discussed last week),  was briefly breached. The pair then retracted, and AUD/USD closed the week at 1.0325.
With  AUD/USD posting  sharp gains this past week, we  start at higher levels.  There is resistance at 1.0874, which has held firm since July 2011. We next encounter resistance at 1.0718. This line has not  been tested since March. Next, there is strong resistance at 1.0605, just above the round figure of 1.06.
This is followed by resistance at 1.0557, which has held firm since the pair started a downward turn in mid-September. This is followed by 1.0482, which saw action in mid-September. Next, there is resistance at 1.0402, just above the round number of 1.04. The pair pushed across this line on its upward move.
AUD/USD is receiving support at 1.0326. The next line of  support is at 1.0230, which is the line that the pair  was located at the end of this  past trading week. Next, there is support at 1.0174. This line has strengthened as the pair trades at higher levels. This is followed by 1.0080, which is protecting the psychologically important parity level. The parity line, last tested in June, is the next line of support. We next encounter support at 0.9917.
This is followed by 0.9815, which has held firm since June. Next, there is support at 0.9726. This is followed by support at 0.9673. This line was last tested in early June, when the Australian dollar started a strong rally. The final support level for now is 0.9537. This line has held firm since October 2011.
I am  bullish on AUD/USD.
Following the unexpected rate cut by the RBA, many analysts felt that the aussie was back on its way down to parity. However, strong data out of Australia and China has invigorated the Australian dollar, which crossed above 1.04 last week. Will the rally continue? If releases out of Australia and China can meet or beat the market estimates, there is room for further upward movement.
The Aussie sometimes moves in tandem with gold. You can trade binary options on gold using this technical analysis.
Further reading: