The Australian dollar sparkled  last week as  AUD/USD gained around 250 points. The pair closed slightly below the 0.92 line. This week's key releases include AZ Job Advertisements and Employment Change.  Here is an outlook of the events and an updated technical analysis for AUD/USD.
The Australian dollar took full advantage of strong Chinese Manufacturing data as well as a  positive Australian GDP release. In the US, PMI numbers were solid, but Non-Farm Payrolls missed the  estimate and this hurt the US dollar.
[do action="autoupdate" tag="AUDUSDUpdate"/]
AUD/USD graph with support and resistance lines on it. Click to enlarge: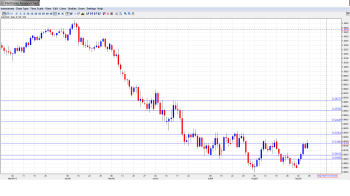 Chinese Trade Balance: Monday, 1:51. Chinese Trade Balance jumped from 17.8 billion dollars in June  to 28.8 billion dollars in July, easily beating the estimate of 20.3 billion. China is Australia's number one trading partner, so the strong release is good news and could lift the Australian dollar.
ANZ Job Advertisements:  Monday, 1:30.  This key employment indicator continues to post declines, although the readings have been improving. The July reading of -1.1% was the best reading since March. The markets are hoping for a stronger release for August.
Home Loans: Monday, 1:30. Home Loans provides an important gauge of activity in the housing sector. The indicator improved to 2.7% in the July release, surpassing the estimate of 2.2%. The markets are expecting a weaker reading for August, with an estimate of 2.2%.
Chinese CPI: Monday, 1:30. Chinese CPI is one of the most important Chinese releases and can have a strong impact on AUD/USD. The index has been steady in recent readings, and has posted two straight gains of 2.7%. Little change is expected, with a forecast of 2.6%.
MI Inflation Expectations:  Tuesday, 1:00. This indicator helps analysts predict actual inflation numbers. The indicator has been fairly steady and posted an increase of 2.3% in the July release. No significant change is expected in the August reading.
NAB Business Confidence:  Monday, 1:30.  Business Confidence is an important release, as increased  business confidence translates into  more spending by businesses, which is crucial  for economic growth. The indicator  looked very weak in July, dropping to -3 points. This was an  eight-month low. Will the indicator rebound and post a stronger reading for August?
Westpac Consumer Sentiment:  Wednesday, 00:30. Consumer Sentiment provides a snapshot of the confidence level of the Australian consumer. It is a leading indicator of consumer spending, which is one of the most important engines of economic growth. The indicator has been quite volatile and posted a strong gain of 3.5% in July. The markets will be hoping for another strong release for August.
Employment Change:  Thursday, 1:30. Employment Change is the most important Australian employment indicator and can have a strong impact on the movement of AUD/USD. The indicator disappointed in July, posting a decline of -10.2 thousand. This was way off the estimate of 6.2 thousand and the worst showing since April. The markets are  expecting a strong turnaround for the August release, with an estimate of 10.2 thousand. Despite this rosy forecast, the Unemployment Rate is expected to rise from 5.7%, to 5.8%.
AUD/USD Technical Analysis
AUD/USD  started the week at 0.8936, which was also the low of the week. The pair then climbed sharply, breaking past the 0.92 line and touching a high of 0.9217. AUD/USD closed the week right on the resistance line of 0.9180 (discussed last week).
Live chart of AUD/USD:   [do action="tradingviews" pair="AUDUSD" interval="60″/]
Technical lines from top to bottom:      
With the Australian dollar posting  sharp gains, we begin from higher ground:
There is resistance at 0.9670. This line was a cap for the pair in late May.
0.9556 has provided resistance since mid-June. At that time, AUD/USD went on a spiral that saw it drop below the 0.92 line.
0.9428 had  played a support  role  since late 2011, but was breached in June and has provided strong resistance since then.
0.9283  saw  a lot of action in  the months of June and  July, alternating between resistance and support roles. It continues to provide strong resistance.
0.9180 is next. This line started the week as strong resistance, but AUD/USD  closed  the week right on this line.
0.9041  is providing support to the pair. It was easily breached this week as the pair posted sharp gains.
The  round number of 0.90 is next.  This psychologically important  level  has some breathing room as the pair trades at higher levels.
0.8893 has been a steady support line since August 2010, as the Australian dollar put together a strong  rally which saw it  climb  above the 1.10 line.
The final support line for now is 0.8747. This line  has remained in place since July 2010.
I  am  neutral on AUD/USD.
The RBA has clearly indicated that it wants a weaker Australian dollar, and  will not be pleased with last week's spike. At the same time, Opposition Leader Tony Abbott handily won Saturday's election, and his pro-business stance could  give a lift to the Aussie.  Over in the US, the Federal Reserve could taper QE as early as September and  continuing market speculation  about this  has been  bullish for the US dollar.
The Aussie sometimes moves in tandem with gold. You can trade binary options on gold using this technical analysis.
Further reading: