AUD/USD continues to lose ground at the beginning of the new week, continuing the trend from Friday. Will it find a bottom now? Here's a quick update on technicals, fundamentals and community trends.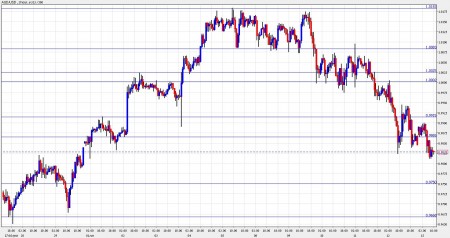 AUD to USD leaning lower.
AUD/USD Technicals
Asian session:  The Aussie traded around 0.9863 before heading lower.
Current Range: 0.9750 to 0.9863
Further levels in both directions: Below  0.9750, 0.9660. Above 0.9863, 0.9915, 1.0000, 1.0080, 1.0180, 1.0220, 1.03.
Parity returned to working as resistance.
Serious support is at 0.9660.
AUD/USD Fundamentals
All times are GMT. Most important events emphasized.
00:30 Australian New Motor Vehicle Sales -0.6%.
13:30 US Retail Sales. Exp. +0.7%. Core retail sales, exp. +0.4%.
13:30 US Empire State Manufacturing Index. Exp. 13.9 points.
15:00 US Business Inventories. Exp. +0.6%.
00:30 (Tuesday) Australian Monetary Policy Meeting Minutes.
AUD/USD Sentiment
Talks about China limiting foreign activity in China sent the Shanghai stock exchange 5% lower, hurting the Aussie as well.
European problems begin to weigh on the whole world and the Aussie finally reacted. The Irish crisis topped the G-20 agenda. Also weak European GDP added to fear. Ireland is now in talks about taking an aid package.
Currensee Community: 86% are short, 14% are long. 330 open positions in real accounts trading this pair at the moment. The community saw the correction, and sees more falls.
Want to see what other traders are doing in real accounts? Check out Currensee. It's free..