Aussie traders expect 6 market moving events in the week after Bernanke's blow. Here's an outlook for the Australian events, and an updated technical analysis for AUD/USD.
AUD/USD graph with support and resistance lines on it. Click to enlarge: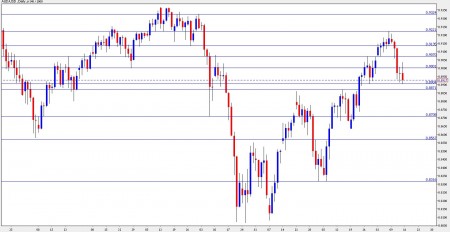 Australia's job data didn't exceed expectations as it did in previous month, yet it was still good and helped in stabilizing the Aussie. We have another job-related figure this week. Let's start:
New Motor Vehicle Sales: Published on Monday at 1:30 GMT. Sales of automobiles are a good consumer gauge in Australia, and tend to rock the Aussie. After two monthly drops in sales (3.2% and 1.2%) , a modest rise is predicted now.
MI Leading Index: Published on Wednesday at 00:30 GMT. The Melbourne Institute builds this indicator according to 9 economic indicators. After stalling in April, the indicator rose once again in May, by 0.2%. A similar rise is predicted now.
Monetary Policy Meeting Minutes: Published on Tuesday at 1:30 GMT. Yet again, the RBA decided to leave the interest rates unchanged at 4.5%. The release of the minutes provides an interesting insight about the bankers' views of the economy and usually contain hints for future rate policy – always rocking the Aussie.
Glenn Stevens talks: Starts speaking on Tuesday at 8:00 GMT. In a speech in Crawley, the head of the RBA will talk about the role of finance. Following a few storms in markets that didn't hurt Australia, it will be interesting to hear how he sees the economy, and if he joins Bernanke with modest expectations for the future.
Wage Price Index: Published on Wednesday at 1:30 GMT. This quarterly indicator combines both inflation and employment, and is closely watched by central bankers. The price of employment has risen by a strong rate of 0.9% in Q1 and is expected to show the same rise now.
Ric Battellino talks: Starts speaking on Friday at 2:45 GMT. Speaking in Redcliffe, the deputy governor of the RBA might relate to recent developments in the markets and future rate decisions. Battellino  tends to release interesting statements.
AUD/USD Technical Analysis
After holding above 0.9135 at the beginning of the week, AUD/USD gradually dropped, temporarily fighting on the 0.9135, 0.9070 and 0.90 lines mentioned in last week's outlook.
The Aussie currently ranges between the round psychological 0.90 level, and 0.89 – the bottom line it reached in the past week, which is now a minor line of support.
Below, 0.8870 is already a strong support line, being a double top in June and July. Lower, 0.8710 was a swing low in May and later played a role as a pivotal point.
It's followed by the veteran line of 0.8567 which was a double bottom in October and in February and later also worked as a resistance line. Lower, 0.8316 was the bottom line in July and serves as another support line.
Looking up, the support levels are now resistance – 0.9070 capped the pair a few weeks ago. 0.9135 worked as support last week and also in April.
Higher, 0.9220 was the peak it repeatedly failed to break in the previous week and now serves as strong resistance. Even higher, the long lasting 0.9327 is still waiting.
I am neutral on the Aussie.
The Australian economy is still doing well and after Bernanke's initial blow, I expect it to stabilize. This week's key is the important data about future policy regarding Australia's high interest rate.
Further reading:
Want to see what other traders are doing in real accounts? Check out Currensee. It's free..