After a week of big losses, Aussie traders now await an eventful week, with hints towards further moves on interest rates being the highlights. Here's an outlook for the Australian events, and an updated technical analysis for AUD/USD.
AUD/USD daily chart with support and resistance lines marked. Click to enlarge: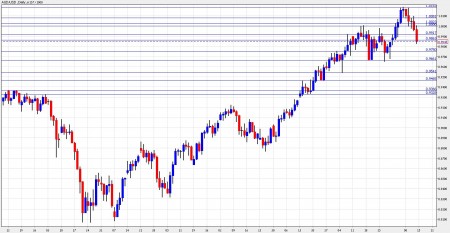 A big blow for the Aussie came on Friday's talks from China – the regular chatter about another rate hike in China and the talk about severely limiting foreign activity on Chinese soil sent the Aussie tumbling down below parity. Will this continue into this week, or is a recovery underway? Let's start:
New Motor Vehicle Sales: Monday, 00:30. Sales of cars and trucks serve as an excellent gauge for the whole economy, in Australia's vast lands. Last month saw a nice steady climb of 0.9% in vehicle sales, and a similar rise is expected now.
Monetary Policy Meeting Minutes: Tuesday, 00:30. Glenn Stevens surprised the markets with the rate hike to 4.75%, in a move that sent the Aussie above parity at the time. We'll now get to see what the different members of the RBA discussed at that meeting, and especially what the prospects are for another rate hike in the upcoming meeting. Any publication will rock the Aussie.
MI Leading Index: Tuesday, 23:30. The Melbourne Institute builds this composite index out of 9 economic indicators, most of them already released. Nevertheless, this figure always moves the Aussie. Last month was disappointing, as the index fell by 0.1%. A rise of the same scale is expected this time.
Wage Price Index: Wednesday, 00:30. This economic indicator combines inflation and employment and is released only once per quarter. A steady rise of 0.8% was recorded in Q2, after weaker quarters beforehand. Now, the strong job market will probably be reflected in rising wages – a rise of 1.2% is expected in Q3 of 2010 – this can push for a rate hike and a stronger Aussie.
Ric Battellino talks: Thursday, 5:05. The deputy governor of the RBA will attend a conference in Perth, and is likely to talk about the situation of the global economy after the G-20 summit, the Chinese talks about tightening and the recent rate hike in Australia. Battellino usually releases statements that shake the Australian dollar.
AUD/USD Technical Analysis
The Aussie traded between parity and the 1.0080 line (mentioned in last week's outlook) at the beginning of the week. It then dropped under parity, which turned into strong resistance, before making another big drop and closing the week at a low spot – 0.9845.
AUD/USD is now under 0.9863, which was a pivotal line on the way up, and now serves as minor resistance. Above, 0.9915 was a peak on the way up several times.
Above, parity is now a very strong line of resistance, after working as support beforehand. 1.0023 is a minor line very close by.
1.0080 was the bottom line of a high range the Aussie traded in after QE2 was announced. It's followed by the peak of 1.0180, which was also the top line of that high range.
Looking down, 0.9750 is a minor line of support after being a pivotal line in the past. Below,  0.9660 is a already a very strong line, as it provided strong support for two weeks  in a row. Lower, 0.9540 was a swing low and is the next minor line of support.
Looking lower, 0.9465 remains an important line of support, working both as support and as resistance a few weeks ago. The next cushions below are 0.9366, which was a peak back in April, and 0.9327, which worked as fierce resistance several times during the past year. The Aussie jumped above this line on a weekend gap.
I remain bullish on AUD/USD.
The good job figures, high interest rate, and China's strength, despite talks about limiting foreign activity, should provide support for the Aussie. After the strong falls, a correction seems likely.
Further reading:
Want to see what other traders are doing in real accounts? Check out Currensee. It's free..