After a roller coaster week, the upcoming week is all about the future rate decision, with inflation numbers being the highlights. Here's an outlook for the Australian events and an updated technical analysis for AUD/USD.
AUD/USD daily chart with support and resistance lines marked. Click to enlarge: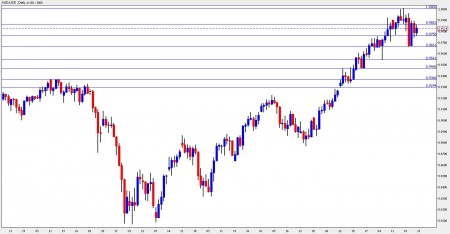 AUD/USD moved on Chinese news in the past week – a surprising rate hike hurt the Aussie, but growth figures boosted the Australian dollar. This week, there are no Chinese news, but there are very important Australian releases. Let's start:
Glenn Stevens talks: Monday, 00:25. The governor of the RBA will speak in  Canberra  and is likely to comment on the outcome of the G20 meetings regarding currencies, global imbalances, China and perhaps about future monetary policy. His speech promises a strong beginning to the week.
PPI: Monday, 00:30. Inflation figures are published only once a quarter in Australia, making this release very important. Producer prices serve as an important warm up towards consumer prices. PPI is expected to rise for the third quarter in a row. Last quarter saw a very tame rise, only 0.3%. This time, a rise of 0.6% is expected.
NAB Quarterly Business Confidence: Tuesday, 00:30. National Bank Australia publishes a quarterly report in addition the monthly one, and it tends to shake the Aussie. Q2 was very disappointing with a score of only 3 points, after three quarter around 17 points. A positive score means improving conditions. Q3 is likely to be positive as well.
CPI: Wednesday, 00:30. Inflation is a key for rate hikes, especially if it's released only once per quarter. CPI fell short in Q2, with a modest rise of 0.6%. The rise in prices is likely to be stronger this time – 0.8%. A rise above 1% will significantly increase the chances of rate hike, while a rise of less than 0.5% will reduce the chances. This release will definitely rock the Aussie. Also note the Trimmed Mean CPI, which will probably rise 0.7%.
CB Leading Index: Wednesday, 23:00. Most of the 7 economic indices that build up this report have already been published. Nevertheless, this release has an impact on the currency. Last month saw an acceleration in this composite index, with a rise of 0.8%. A smaller rise is expected now.
RBA Annual Report: Thursday, 6:30. While it's a late report, it often contains interesting pieces of information about the economy – information that can impact future policy. A positive outlook on the situation of the Australian economy is likely.
HIA New Home Sales: Friday. The Housing Industry Association reported 4 consecutive months of drops in sales of new homes – one of the outcomes of a high interest rate. This time, a rise in sales is expected, adding to the figures supporting a rate hike.
Private Sector Credit: Friday, 00:30. Growth in credit means more money circulating in the economy. In the past three months, the growth of credit was weak – 0.1% to 0.2%, falling short of expectations. A rise of 0.3% is expected this time.
AUD/USD Technical Analysis
After a struggle with the 0.9863 area, AUD/USD dropped as low as 0.9660, before recovering and eventually closing at 0.9824. Note that some of the lines have been modified since last week.
AUD to USD now trades between 0.9863, which was a pivotal line in the past week, and also supported the pair beforehand, to 0.9750, which capped the pair on the way up, and also worked as support at the end of the past week.
Looking down, 0.9660 is a very strong line, after supporting the Aussie in its recent fall. Lower, 0.9540 was a swing low earlier this month and is the next minor line of support.
Below, 0.9465 remains an important line on the way down, working both as support and as resistance a few weeks ago. The next lines below are 0.9366, which was a peak back in April, and 0.9327, which worked as fierce resistance several times during the past year. The Aussie jumped above this line on a weekend gap.
Looking up above 0.9863, further and significant resistance is found only at AUD/USD parity. The last peak before parity was touched was 0.9917, but it isn't significant anymore.
I remain bullish on AUD/USD.
Despite the Chinese rate hike, Australia has an excellent job market, strong growth and a high interest rate. If inflation figures are high, it could make another attempt on parity, even if the greenback will experience another positive week.
Further reading:
Want to see what other traders are doing in real accounts? Check out Currensee. It's free..