EUR/USD is consolidating in a tight range. Usually these quiet times are eventually followed by an eruption. Will Bernanke supply the fuel today?  Here's a quick update on technicals, fundamentals and community trends.
EUR/USD Technicals
Asian session:  Euro/Dollar found support at 1.3610..
Current range – 1.3610 to 1.37.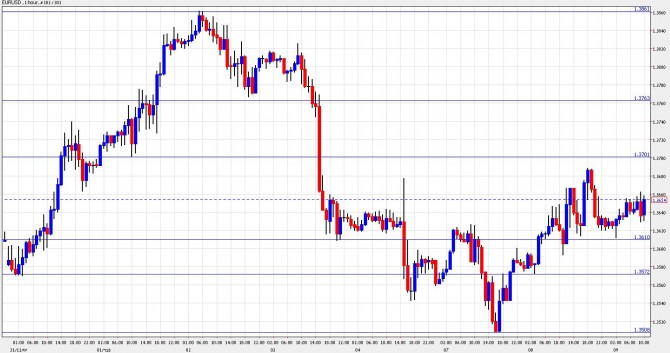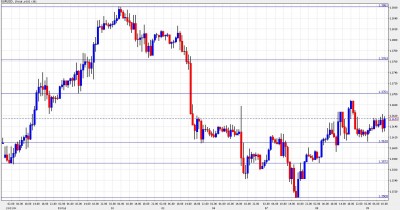 Further levels in both directions: Below    1.3610, 1.3576, 1.3440, 1.3334, 1.3267, 1.3180, 1.3080, 1.2970.
Above: 1.37, 1.3760, 1.3830,  1.3950, 1.4030, 1.4160 and 1.4230.
1.3760 is the key resistance line.
1.3440 is important support below, not so close at the moment.
Euro/Dollar small recovery- click on the graph to enlarge.
EUR/USD Fundamentals –
7:00 German Trade Balance. Exp. 11.9 billion. Actual 14 billion.
15:00 Ben Bernanke talks
* All times are GMT.
For more events later in the week, see the  EUR/USD forecast
EUR/USD Sentiment
Bernanke is expected to talk about QE2 – some members of the Federal Reserve think that the bond buying scheme should be stopped, as the economy is recovering. A hint in that direction will boost the dollar.
Chinese rate hike had very little impact on the markets.
Opposition party in Ireland, Fine Gael,  wants a haircut for senior bondholders. Now they have a precedent of a  default in Denmark to rely on.
The fall in US unemployment rate helped the dollar close the week positively.
Trichet didn't lift tone against inflation. This sent the Euro last week.
Egyptian crisis: There are talks that Mubarak will leave to Germany, aiding a safe transition of power to Suleiman and a resolution to the crisis.
Currensee Community: 62% are long , 38% are short. These are 1389 open positions in real accounts trading this pair at the moment.