After a week that saw a breakout and lots of choppy trading, another busy week expects cable traders. The highlights are final GDP and manufacturing PMI. Here's an outlook for the 10 events that will rock the pound, and an updated technical analysis for GBP/USD.
Another jump in inflation sent GBP/USD to levels unseen for a long time, but the grim picture of the budget and the hesitation about the rates still weigh on the pound.
GBP/USD chart with support and resistance lines marked. Click to enlarge: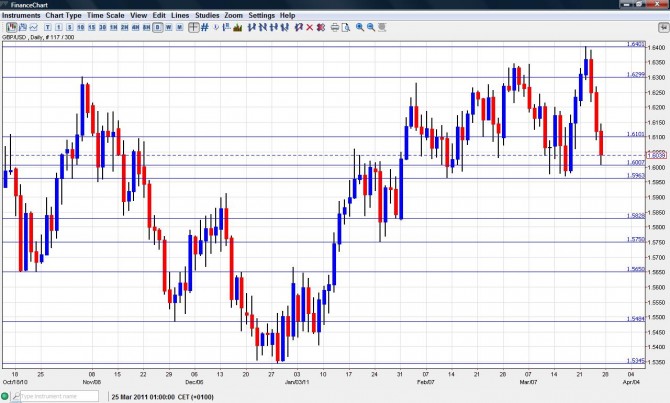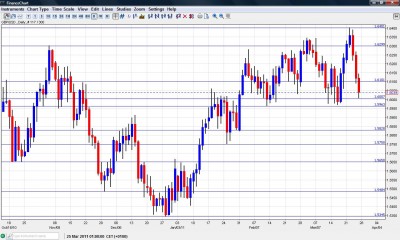 Nationwide HPI: Publication time unknown at the moment. According to the Nationwide Building Society, prices have risen by 0.3% last month, and continue to zig-zag. The reports about house prices in the UK are quite confusing, but they always rock the currency. A small drop is expected now.
Halifax HPI:  Publication time unknown at the moment. As aforementioned, house price indices are confusing, but this index is considered very accurate, as it is based on a wide array of real data – the internal mortgage figures of HBOS. And here, a rather sharp fall has been recorded last month – 0.9%. Another small drop is predicted.
Final GDP: Tuesday, 8:30. Britain, that lagged the economic recovery seen elsewhere in the world, has seen its economy shrink in the last quarter of 2010 – by 0.6%. This number will likely be confirmed now in the final publication. The second publication printed a downwards revision from -0.5% to -0.6%. This weighs on the pound.
Current Account: Tuesday, 8:30. While released late in comparison with the related trade balance figure, the release of current account data is important as it contains not only the goods data reflected in the trade balance number, but it is also published on a quarterly basis, having a wide scope. In Q3, Britain had a bigger-than-expected deficit of 9.6 billion, and this hurt the pound. A smaller deficit is likely in Q4.
Net Lending to Individuals: Tuesday, 8:30. While overshadowed by the other figures, the volume of extra money in the economy reflects economic activity and confidence. A big expansion of 1.5 billion was recorded last time, reflecting some improvement and also a correction of the previous month, that saw a squeeze. A small rise is expected now.
Index of Services: Wednesday, 8:30. This is an interesting indicator that measures economic success – it reflects the change in "return on investment". The past few months fell short of expectations, with an exceptionally disappointing drop of 0.7% last month. A significant rise is predicted now.
CBI Realized Sales: Wednesday, 10:00. The Confederation of British Industry has shown a sharp and alarming drop in its indicator. The figure fell from 27 to only 6 points. This is still a positive number, indicating expectations for higher sales volume, but the drop to a near zero figure is very worrying. There are fears that the result could be negative this time.
GfK Consumer Confidence: Wednesday, 23:00. Gfk's survey has been advancing for quite some time, reflecting some ease in consumer pessimism, but the past few months have been bad, showing a retreat. The index is now at -28, meaning increased pessimism. It's expected to remain unchanged and not get to a positive, optimistic number, anytime soon.
BOE Credit Conditions Survey: Thursday, 8:30. The Bank of England release its research only once per quarter, making this publication important. The British financial sector is still suffering from the global financial crisis, but this report is expected to be somewhat optimistic, aiding the pound.
Manufacturing PMI: Friday, 8:30. We get an important and very fresh figure to close the week. Purchasing managers in the manufacturing sector have been very bullish in the past two months, pushing the number above 60 points – meaning accelerated growth. From last month's 6.5 points, a small drop is expected now. A drop under 60 will hurt the pound.
* All times are GMT
GBP/USD Technical Analysis
After hesitating around the 1.63 line, GBP/USD broke higher and reached 1.64, a new line (didn't appear last week). But this was short lived. Cable fell quickly and found support only at 1.60, and finally closed at 1.6039.
Looking down, we find immediate and strong support at the round number of 1.60, that worked like a charm just now. This was the peak in August and a distinctive line since then. It's closely followed by 1.5960, that provided a further cushion when the pair did fall below in recent months.
Below, we meet 1.5820, which served in both directions before the pair moved higher.  It's followed by 1.5750 which is already a stronger line, that was support in recent months.
Another strong line of support follos – 1.5650. This was the upper border of wide range that GBP/USD traded before shifting to a higher range.  Further below, 1.5480 is a minor support line after being a swing low back in November.
The last and strong line for now is 1.5350 – which was a strong floor for the pair. There are plenty more lines lower, but they weren't reached in a long time.
Looking up, 1.6110 is minor resistance above, after being a peak in the past. Much more important resistance is found at the 1.6280 – 1.63 area, which capped the pair for a very long time, and was only temporarily breached.
The past week's peak of 1.64 is a minor line of resistance, and it's followed by a veteran swing high of 1.6450.
Above, important resistance is found at 1.67 which prevented further moves back in 2009. In the distance, 1.7040, the peak of 2009 is the last stronghold.
I remain bearish on GBP/USD.
The failure to hold on higher ground, with more signs of weakness from the British economy (consumer confidence being the latest), all point to more falls, especially now, as the US dollar is recovering.
Further reading: