Another Eurogroup meeting ended with disagreements. Greece will not receive aid, not yet. The only good news is that some kind of solution (still unknown) could be found to avert an immediate default.
However, this meeting exposed a wide range of disagreements and open questions, sending EUR/USD under 1.27. Update.
Let's start from the most burning issue: 5 billion euros of treasury bills that Greece needs to pay back on November 16th and continue to additional issues.
Magic trick for averting default:  Greece wanted to receive the 31.5 billion tranche of aid, however, this wasn't agreed by the Eurogroup.  The head of the Eurogroup, Jean-Claude Juncker said "I won't tell you how, but there won't be any problem on Nov. 16".  Is that comforting? Well, optimism can come from the revolving doors act of the ECB in August. When there's a will, there's a way. Is there a will?
Greek budget not fully endorsed: The Greek government scrambled to pass new austerity measures and the 2013 budget, as protests raged. The second bill was approved just before the Eurogroup meetings and Greece expected it to yield in the release of the next tranche of aid. However, the group decided that the budget law needs to be "reviewed a little bit", and that only "only a few additional prior actions to be verified in the coming days", said IMF MD Christine Lagarde.. More austerity? How far can Greece go? The budget was supposed to bring the next tranche. Can the government in Athens keep running?
More time is more money, but from where?: The Eurogroup did agree on giving Greece two additional years before reaching a budget surplus. So far, the illusion was that more time isn't more money, but the troika report says it will require 32.6 billion euros. Where will that money come from? More aid? Debt restructuring? No volunteers stepped up. This will be left for next week's meeting.
IMF /EU disagreement surfaces: The IMF and the Eurogroup clearly presented their differences: the IMF wants debt restructuring in order to achieve the 120% debt-to-GDP target in 2020, while the EU wants to push the deadline to 2022. "We have different views", said Lagarde. Indeed, Germany doesn't want to take a loss on loans to Greece. This may happen one way or the other.
If Greece doesn't default on Friday, November 16th, all the other issues will wait for the November 20th meeting.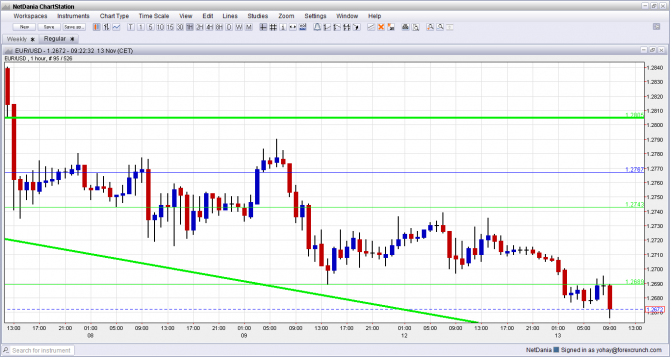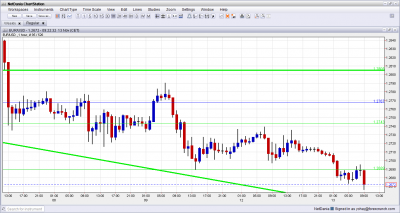 EUR/USD is now at 1.2660, breaking below previous lows. The press conference at the end of the meeting sent the pair to a lower range, and it is now pushing a bit lower in the European session.
Further reading: