The latest Q3 IMF COFER data adjusted for the changes in currency valuations, shows a large reserve allocation out of Euros on the quarter, notes Deutsche Bank.
"The data fits with the story that the difficulties in preserving capital after negative EUR deposit rates were imposed had a substantial impact on Central Bank's reserve holdings of EUR," DB adds.
Here is their view, courtesy of eFXnews:
"After adjustments for Q/Q changes in exchange rates, only the EUR saw declines in its allocation by EUR 56bn. The decline in EUR reserves then uniquely went beyond exchange rate valuations and reflected outright EUR sales," DB argues.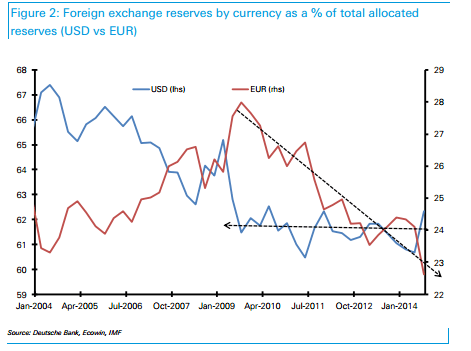 "The EUR reserves when adjusted for the exchange rate were still up modestly on the year. Nonetheless, since the EUR crisis, the EUR's share of total reserves has declined substantially on a medium-term trend basis, hitting a new low of 22.6% of total allocated reserves at the end of Q3. This is the lowest level since 2002, and down from a peak of 28% exactly 5 years earlier," DB explains.
For lots  more FX trades from major banks, sign up to eFXplus
By signing up to eFXplus via the link above, you are directly supporting  Forex Crunch.