A far better than expected jobs report in Canada: no less than 79.5K jobs were gained in November. The unemployment rate falls below 6% to 5.9%. All this, with the participation rate remaining high at 65.7%. The GDP report was upbeat as well: month over month, the economy grew by 0.2% and for Q3, the economy grew by 0.4% or annualized growth is 1.7%, this is +0.1% above predictions. All in all, truly great data.
USDC/CAD falls below 1.28, challenging support at 1.2790. Further support awaits at 1.2670. Resistance is at 1.2890.
Most of the jobs that were gained are part-time: 29.6K full-time and 49.9K part-time. Nevertheless, this is a huge jump in jobs. A caveat can also be found in the GDP report: exports fell by 10.2% annualized, and this isn't good news. Government investment and inventories contributed to growth, but also business investment did.
Here is the USD/CAD chart showing the move. An attempt to move below support is still running into bids. Will it crack?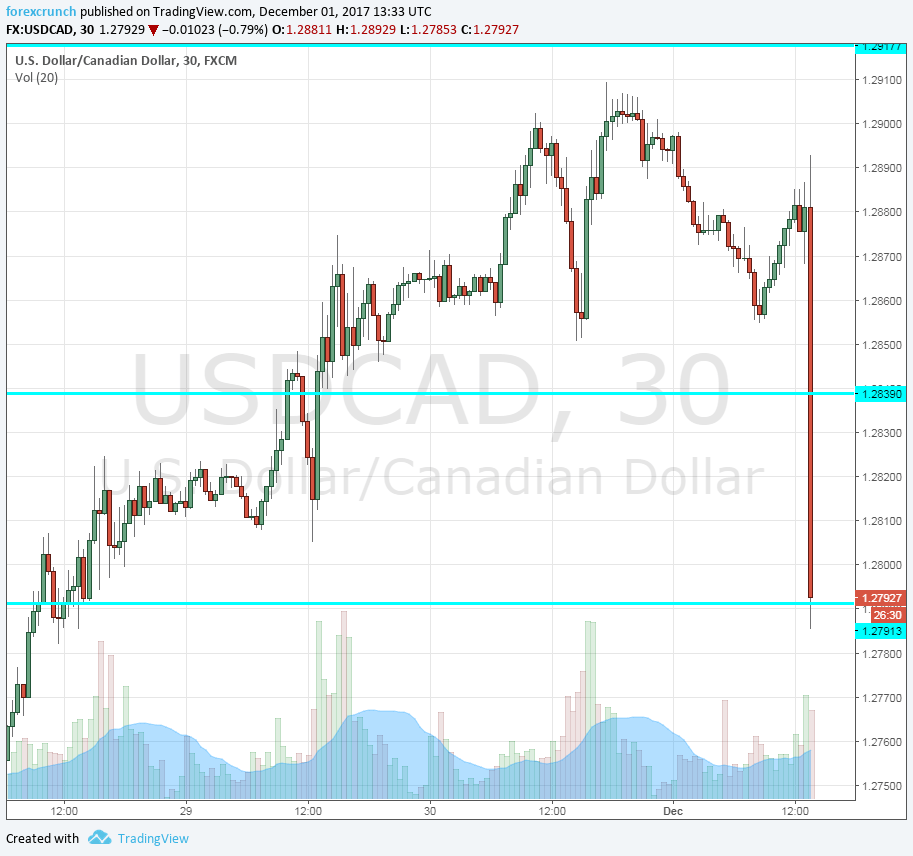 Canada was expected to report a gain of 10K jobs in November after a whopping 35.3K jump in October. The unemployment rate was forecast to slide from 6.3% to 6.2%.
GDP for September was projected to increase by 0.1% after a slide of the same scale last month. As September is the last month of Q3, we also get the quarterly rate and the annualized GDP growth rate, with the latter predicted to show slow growth of 1.6% after a superb 4.5% in Q2.
This is a rare event when GDP and the jobs report coincide. And, there is no US NFP today, so the loonie gets the full attention.
USD/CAD was trading around 1.2867, quite steady. The OPEC meeting in Vienna resulted in an extension of production cuts, as widely expected, so oil prices remained stable.
More:  USD/CAD: Targeting 1.33 in Q1 2017 – good reasons to sell the loonie
Dollar/CAD is bound by a double-top at 1.2920. Further resistance awaits at 1.33. Support is at 1.2840 and 1.2790.