Euro/dollar is below the launch date of 1.17 set in 1999. The low so far is 1.1565 but the pair bounces from these levels. This happens as the Swiss National Bank ends its 1.20 floor under EUR/CHF.
A huge drama in the forex markets.
EUR/USD falls to the lowest since November 2003 – guide to the next big levels
Update: EUR/USD makes a huge bounce back up above 1.17 in the counter reaction to this big surprise. EUR/CHF remains paralyzed.
It was too hard for the SNB to defend these levels.
Analysis:  What does the SNB know about ECB QE?  Can an unlimited QE3-style program be on the cards?
Update:  SNB also breaks the brokers – Some MT4 providers removing CHF quotes  – slowly coming back online.
More:  SNB move in ECB context – Reactions To SNB Move – JP Morgan, Deutsche Bank, SEB
Even more:  SNB governor: Cap end was not a panic move but needed to be a surprise
And even more:  3 hints from the SNB that ECB QE is going to be really big
The head of the Swiss National Bank Thomas Jordan has scheduled a press conference for 12:15 GMT.
Here is a quote from  the surprising SNB decision:(bolding mine)
Recently, divergences between the monetary policies of the major currency areas have  increased significantly – a trend that is likely to become even more pronounced. The euro has  depreciated considerably against the US dollar and this, in turn, has caused the Swiss franc to  weaken against the US dollar. In these circumstances, the SNB concluded that enforcing and  maintaining the minimum exchange rate for the Swiss franc against the euro is no longer  justified.

The SNB is lowering interest rates significantly to ensure that the discontinuation of the  minimum exchange rate does not lead to an inappropriate tightening of monetary conditions.  The SNB will continue to take account of the exchange rate situation in formulating its  monetary policy in future. If necessary, it will therefore remain active in the foreign exchange  market to influence monetary conditions.
Spreads on the Swiss franc have skyrocketed. The Swiss franc is surging across the board while the euro is falling, while it is rebounding.
Markets are certainly moving fast.
The aftershocks continue and EUR/USD is still battling 1.17.
EUR/CHF is 1.1757. The SNB lowers the interest rate to minus 0.75%. This was totally unexpected.
A big day in the markets is an understatement to this event.
more coming
3 reasons to sell EUR/USD targeting 1.10 – Deutsche Bank
Here is a chart that captures the bounce after the fall: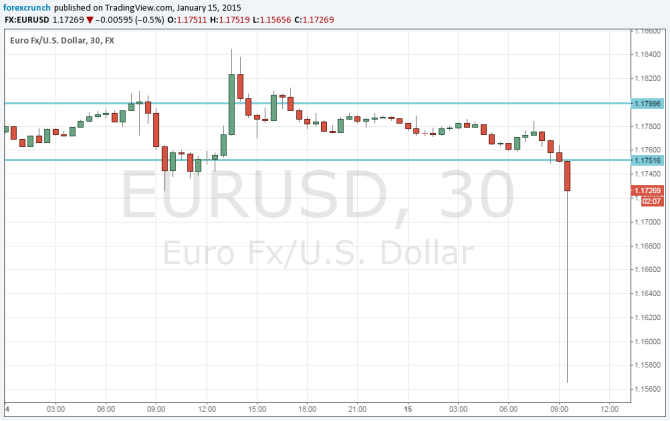 More:  SNB Action Hints At A Steady EUR/USD Drop From Here – Danske