Euro to dollar broke below uptrend support that accompanied it for the past two two months (see graph). It is now in a one month low and challenging the round and tough line of 1.30.  
Worries about Spain and other peripheral countries just refuse to leave the markets. Will it break below 1.30?
EUR/USD has been trading in a narrowing channel since mid February. Uptrend support has been more meaningful, being touched during two days in March and two days in April.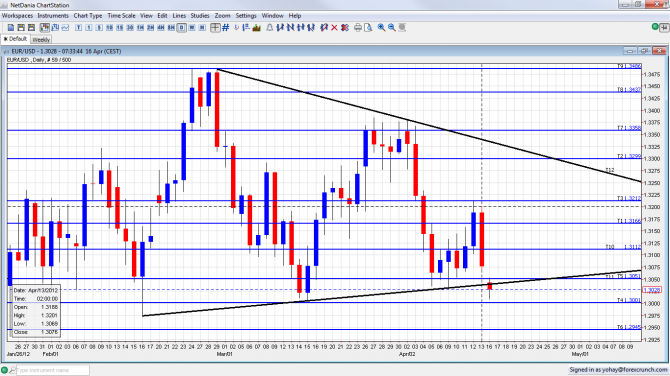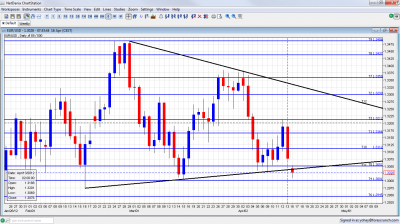 The start of the new week saw the pair break below this line, that stands on 1.3040 today. It also broke below the 1.3050 support line and fell as low as 1.3009 before bouncing back, yet it is still under 1.3050 and downtrend support.
Further lines are 1.3110 on the upside and 1.2945 on the downside. For more lines, events and analysis, see the EUR/USD forecast.
There is no light at the end of the Spanish tunnel for the moment. 10 year benchmark yields are around 6%, above normal levels. With no more large scale ECB LTRO moves on the way, bonds lack the necessary cash to keep going.
Spain is required to deliver on promised austerity measures in order to calm markets about the debt fears, but the new government is losing support and having a hard time enforcing cuts on the regions. Spain has an inconceivable unemployment rate of nearly 24%.
The paradox here is that this crisis indirectly helps Spain: Here's why Spain needs a weaker euro.
Also the Chinese widening of the yuan band is weighing a bit on the euro, although reactions are mixed.
More action will be seen later when the European session gets fully under way.