Euro/dollar  traded in a limited range as the markets received mixed news and still await a formal Spanish aid request. Spain will hold a closely watched bond auction that will serve as a barometer for the crisis. In addition, PMI figures will also get attention.  Here is an outlook for the upcoming events and an updated technical analysis for EUR/USD.    
The French economy managed to escape contraction, and Germany posted nice growth. On the other hand, an important German survey was rather depressing. Greece will easily meet the August 20th obligations using the revolving door trick by the ECB, but now faces firm German opposition for its requests for more money and more time.
Updates: There are no scheduled releases on Monday.  A report that  the ECB will set a cap on bond yields has supported Spanish bonds. The euro is dropping and is testing the 1.23 line. EUR/USD was trading at 1.2308. There are no releases scheduled on Tuesday. The euro benefited from rising speculation the the ECB will cap Euro-zone bond yields, despite a cataegorical denial by the ECB. The euro continues to rise, as EUR/USD was trading at 1.2434. It's another quiet day, as there are no scheduled releases on Wednesday. The markets will be waiting for  US Existing Home Sales and the FOMC Meeting Minutes.   Greek Prime Minister Samaras will meet with Euro-zone chief Jean-Claude Juncker in Athens. The Greek PM is expected to request a two-year extension to the Greek austerity package. The euro has lost some ground, as EUR/USD was trading at 1.2447. The euro continues to push upwards, as a host of PMI releases were mostly positive. German Final GDP came in at 0.3%, matching the forecast. French Flash Manufacturing PMI posted a reading of 46.2 points, well above the forecast of 43.7. French Flash Services PMI hit 50.2, just above the estimate of 50.0. German Flash Manufacturing PMI came in at 45.1, above the forecast of 43.5. German  Flash Services PMI disappointed, posting 48.3. The estimate stood at 50.1.  Euro-zone Flash Manufacturing PMI posted 45.3, beating the forecast of 44.2. Euro-zone Flash  Services PMI came in at 47.5, a notch below the estimate of 47.7 points. Euro-zone Consumer Confidence will be released later on Thursday. The markets are braced for a very weak release. The euro also received a boost from the minutes of the most recent Fed policy meeting, where the  Fed indicated that it remains supportive of more stimulus measures unless the economy shows signs of expansion. EUR/USD was trading at 1.2547.
EUR/USD daily chart with support and resistance lines on it. Click to enlarge: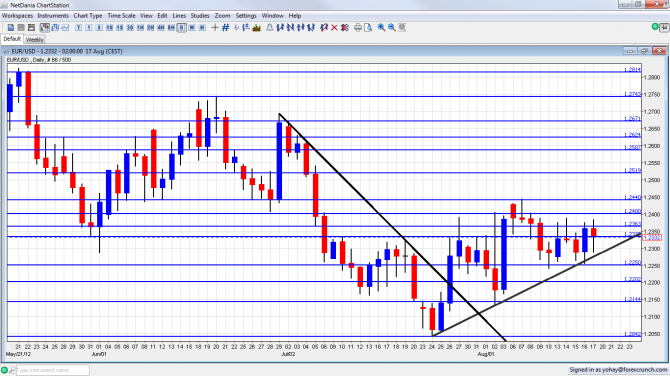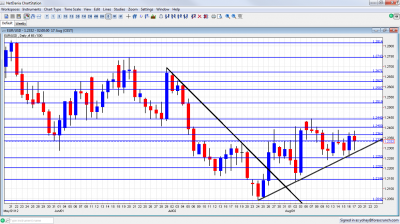 Spanish bond  auction: Tuesday. The current epicenter of the crisis will hold short term bond auctions: 12 and 18 months and will test the market's confidence. The ECB said that it wants to target the short end of the yield curve. Success will show that investors are anticipating an upcoming aid request and massive bond buying. A weak result will add to the pressure on Spain.
Greek PM Holds meetings: Wednesday with Eurogroup chief Juncker, Thursday with German Chancellor Merkel and Friday with French President Hollande. The Greek Prime Minister Antonis Samaras tours European capitals and is set to pitch for more time (up to 2016) and perhaps more money. Recent comments by German officials rejected providing Greece more aid, while France is more open to such ideas. The statements released by the leaders around the meetings will be interesting, including the meeting with Juncker, who recently said that a Greek euro-exit is "manageable but not desirable) and saw Greece staying "at least until the end of the autumn, and probably later as well". See how to trade the potential Grexit with EUR/USD.
German Final GDP: Thursday, 6:00. According to the first estimate, Germany grew at a significant rate of 0.3% in Q2 2012. This will probably be confirmed in the final call.
Flash PMIs: Thursday. Begins in France at 7:00, continues for Germany at 7:30 and ends with the all-European numbers at 8:00. Figures are released separately for the services and manufacturing sectors. The previous month showed another deterioration in the manufacturing sector, with Germany's 43 points being especially worrying for euro investors. However, the improvement in services,  especially  in Germany and France which aren't contracting, is good news. All 6 indices are expected to edge up or remain unchanged this time.
Consumer Confidence: Thursday, 14:00. This official Eurostat indicator disappointed by falling deeper into negative ground, reaching -22 points. The same score is likely now, indicating deep pessimism once again.
Belgian NBB Business Climate: Friday, 13:00. From the heart of the EU, this wide survey of 6000 business rose for a change: from -13.2 to -11.3 points. The negative number indicates worsening conditions, so there aren't reasons to be cheerful. A small rise to -10.8 points is likely now.
* All times are GMT
EUR/USD Technical Analysis
€/$ started the week on low ground and then moved higher, but couldn't break above the critical 1.24 level (mentioned last week). It then retreated and fell to just above 1.2250 before recovering.
Technical lines from top to bottom:
The very round 1.30 line is a very important line in case of huge rally. In addition to being a round number, it also served as strong support. 1.29 is also notable on the upside, followed by 1.2814.
1.2750 capped the pair after the Greek elections and also had a similar role in the past. It is now of higher importance. 1.2670 was a double bottom during January and was the high line of the recovery before the Greek elections in June. It also capped the pair at the beginning of July 2012.
1.2623 is the previous 2012 low and remains important despite recent battles over this line. Below, 1.2587 is a clear bottom on the weekly charts but is only a minor line now.
1.2520 had an important role in holding the pair during June, in more than one case, but it's much weaker now. 1.2440 provided support for the pair at the same time. and worked as double bottom.
It is closely followed by 1.24 that provided some resistance in June 2010 and switched to resistance in July.  It is now of higher importance after capping a recovery attempt at the end of July and also at the beginning of August. 1.2360 was temporary support in July 2012 but quickly switched to resistance. It is minor now.
Further below, 1.2330 is another historical line after being the trough following the global financial meltdown in 2008. It's stronger after working as strong support. It should be closely watched if the pair falls. 1.2250 proved to be significant support for the pair in August 2012 and is key support now.
1.22 is now a more serious support line, after serving as such in June 2010.  1.2144 is already a very strong line on the downside: it was a clear separator two years ago, when Greece received its first bailout. Also in July and August 2012, it worked as a separator.
The new 2012 low of 1.2043 is the next line, although it may prove to be weak on a downfall. Next we have the 1.20 line, which is a round psychological figure.
The post crisis low of 1.1876 is the final frontier before lines last seen in the good years.  The launch price of 1.17 is the next line.
Trading Above Uptrend Support
An uptrend support line can be seen on the graph. IT supports the pair since mid July and was challenged quite recently. The broken downtrend resistance remains on the graph. These lines are both bullish.
I turn from neutral to bullish on EUR/USD
Will we finally see a Spanish aid request? Two weeks have passed since Rajoy hinted about the move. Markets grew nervous and now optimistic once again. A formal request will boost the euro, that will forget the European economic squeeze  and Greece, which is on the back burner until September. Without a Spanish request, the euro will likely drift in range and slide a bit.
In the US, signs remain mixed, but there is a clear distinction between the weak manufacturing sector and the improving housing sector. Employment is OK for now.
If you have interest in a different way of trading currencies, check out the  weekly binary options setups, including EUR/USD, GBP/JPY and more.
Further reading: