EUR/USD  was under pressure as the tension towards the ECB's meeting, the main event of the upcoming week but certainly took advantage of the greenback's weakness. Will Draghi drag the euro down or will it bounce like in December?  Here is an outlook for  the highlights of this week and an updated technical analysis for EUR/USD.
The euro-zone is back to deflation and also core inflation does not look good. Leaks, reports and analysis towards the ECB helped the euro. In the US, figures  were good enough  at first but the worrying services sector report certainly weighed until the Non-Farm Payrolls report came around: they showed a mixed picture: job gains beat expectations with 242K but wages fell by 0.1%, well below predictions. This triggered choppy trading with a range worth  around 120 pips.
[do action="autoupdate" tag="EURUSDUpdate"/]
EUR/USD daily graph  with support and resistance lines on it. Click to enlarge: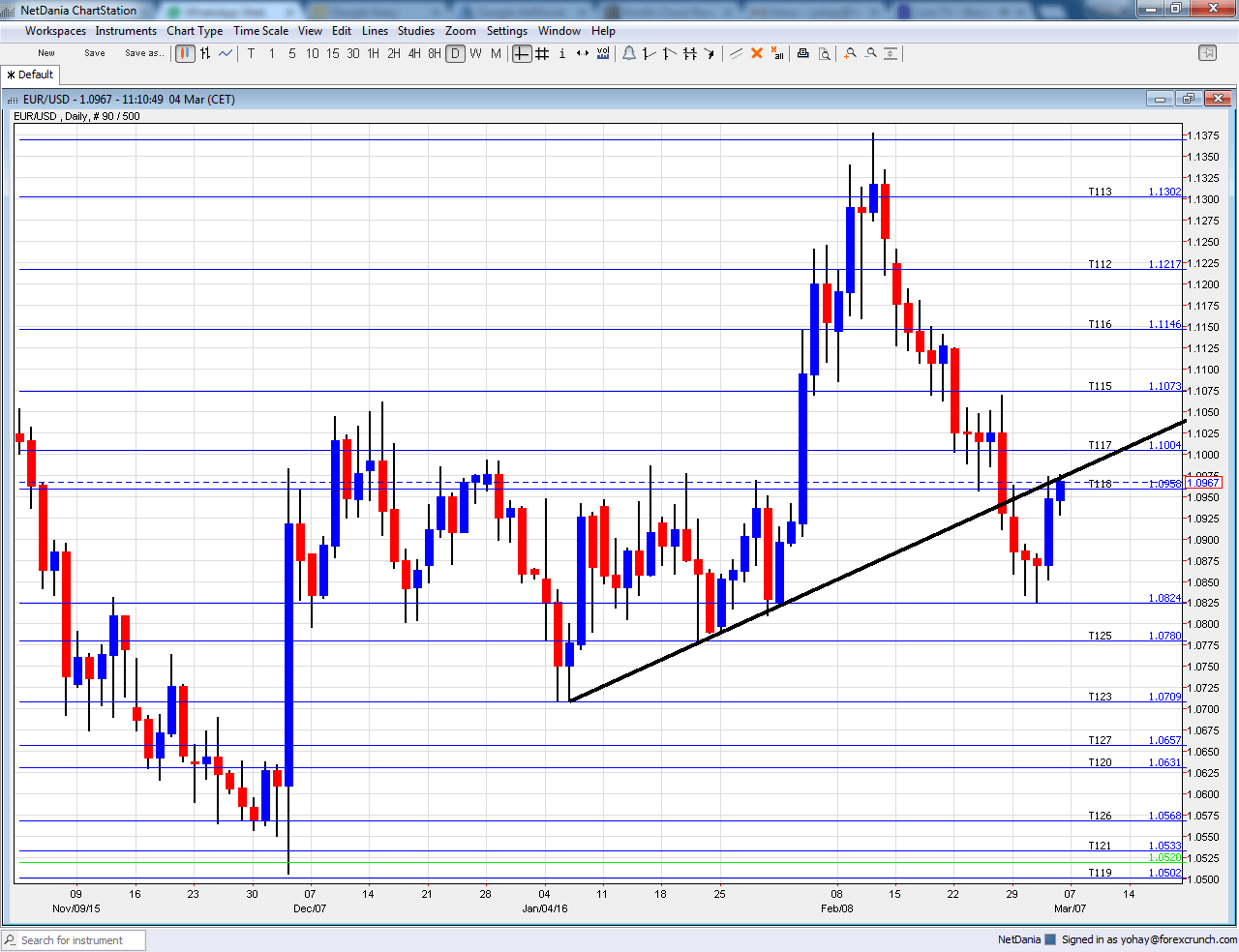 Eurogroup meetings: Monday, with the full EU-28 ministers meeting on Tuesday. Greece is still on the agenda with differences between the IMF and the EU regarding the sensitive topic of pensions. In the background,  everybody knows that Greece's debt is unsustainable and needs to be addressed, but this is kicked down the road. With the refugee crisis, things are even more complicated.
German Factory Orders:Monday, 7:00. Orders at factory gates dropped by a disappointing 0.7% in December, but this came after 2 consecutive rises. Another slide, this time of 0.4%, is expected.
Sentix Investor Confidence: Monday, 9:30. This survey of 2800 analysts and investors has disappointed in the past 3 months reaching a low of 6 in February, still in positive ground. A bounce back up to 8.8 points is predicted.
German Industrial Production:  Industrial output in  the euro-zone's locomotive have fallen below expectations for long months, including a drop of 1.2% in December. Will we see a bounce now? +0.6% is on the cards.
French Trade Balance: Tuesday, 7:00. The continent's second largest economy continues suffering from a trade deficit, reaching 3.9 billion in December. A similar deficit of 3.7 billion is estimated.
GDP (final): Tuesday, 10:00. According to the initial estimate, the euro-zone economies grew by 0.3% in Q4 2015. The final read is expected to confirm this growth rate.
German Trade Balance: Thursday, 7:00.  Contrary to France, Germany enjoys a trade surplus, standing at 19.4 billion in December. German exports keep the euro bid. A marginally narrower surplus of 19.2 billion is expected.
French Industrial Production: Thursday, 7:45.  Industrial output  slipped in the past two months, causing worries. The fall of 1.6% seen in December was especially painful. A bounce of 0.8% is predicted.
Rate decision: Thursday, 12:45, press  conference at 13:30. The ECB is set to introduce more monetary stimulus in this meeting. We  already got a heads up from  ECB President Mario Draghi in the previous meeting back in January, where he discussed further downside risks as well as intentions to "reconsider" policy now. In addition, he now has more support from his German colleagues, which are usually against further stimulus. The recent inflation figures cemented a move. But what will  the ECB announce? Yet another cut of the negative deposit rate is on the cards and estimates range from a 10bp cut to -0.40% and a 20bp cut to -0.50%. In addition, there are expectations for some  enhancement of the QE program: either by buying more bonds on a monthly basis, currently at €60 billion/month, extending the program beyond March 2017, perhaps to infinity and/or buying more types of financial instruments. The question for the market reaction is open: will the ECB over-deliver like it did in January 2015 and push the euro lower? Or will it  fall short of the huge expectations and trigger a huge short squeeze, sending the euro higher, like in December 2015? Communications and leaks in the days preceding the event will also contribute to the outcome. Reports on Friday suggested a limited  agreement between the members regarding a move. These lower expectations could lead to Draghi over-delivering and the euro sliding.
German Final CPI: Friday, 7:00. According to the initial estimate for February, prices rose by 0.4% m/m and this will likely be confirmed. Note that the HICP is negative year over year.
* All times are GMT
EUR/USD Technical Analysis
Euro/dollar  was under pressure in the wake of March, losing the 1.0960 level mentioned last week.However, it managed to recover later on.
Technical lines from top to bottom:
We start from higher ground this time: 1.1460 was a key resistance line in 2015 and 1000 above the multi-year lows. 1.1373 is a veteran line from 2003 that continued playing a role also in 2015.
1.13 worked as support back in October and is the high line at the moment. It is followed by the swing low of 1.1220 in September which is minor resistance now.
1.1140 cushioned the pair in October.  1.1070  served as a clear separator of ranges during February and also beforehand.
1.10 is a round number and  significant resistance. 1.0960, which worked in the past as resistance, provided a cushion for the pair in February. 1.0825 worked as support in early March 2015 and  should also be watched.
The post-Draghi low 1.0780 replaces 1.08 as support.  1.0710 is the  next support line on the  chart after temporarily capping the pair in April 2015.  1.0630 worked as nice support in November 2015 and then switched to resistance.
Uptrend support
As the thick black line shows, the pair is supported since early 2016 by uptrend support, originating from the low level of 1.0710.  EUR/USD slipped under the line but certainly made an attempt to recapture it..
I remain  bearish  on  EUR/USD
Draghi has probably learned the lesson from December and is ready to  announce significant measures and keep the euro depressed: a weaker exchange rate is essential for higher inflation, the ECB's target and to help exports, necessary for growth. In the US, fresh rate hikes are not coming soon, but  the bias remains towards tightening, and that's very different from the ECB.
Our latest podcast is titled Drum roll for Draghi
Follow us on Sticher or on iTunes