EUR/USD  dropped to lower ground, but gradually recovered, holding onto known ranges. The German elections provide a strong start to the week, which continues with inflation figures and other data. Here is an outlook for  the highlights of this week and an updated technical analysis for EUR/USD.
Economic sentiment remained upbeat in Germany ahead of the elections: the ZEW figures rose to 17 points. The upbeat sentiment was also echoed by the PMIs. Businesses are becoming more confident about the prospects of the old continent. The Federal Reserve announced the beginning of reducing its balance sheet as expected. More importantly, they still intend to raise rates in December and this sent the dollar higher. However, doubts about low inflation persist and the dollar's gains were eroded.
[do action="autoupdate" tag="EURUSDUpdate"/]
EUR/USD daily chart with support and resistance lines on it. Click to enlarge: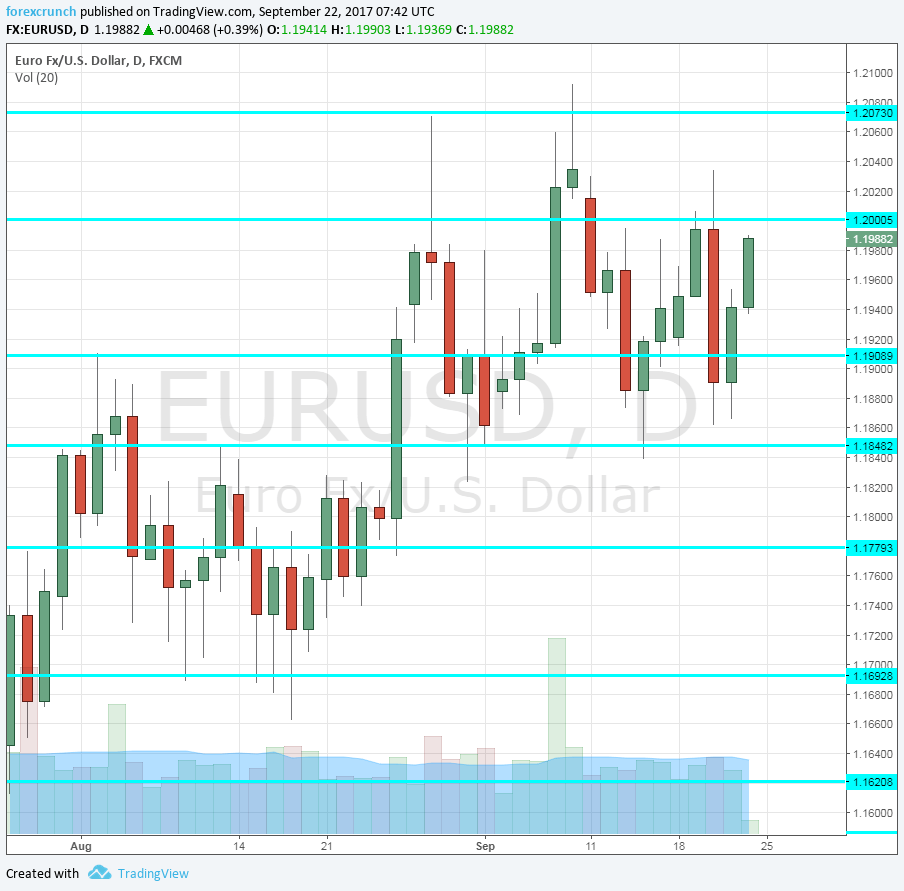 German elections: Sunday, results are due before markets open in Asia. All the polls suggest that Chancellor Angela Merkel is headed for an easy win into fourth and probably her last term, leading the center-right  CDU party. The German economy is doing well and her international standing is praised. Her opponent, center-left SPD leader Martin Schulz, is far behind in the polls. Both are pro-European and both have competed in lambasting Donald Trump. While the differences are small (and both parties are in coalition), markets prefer Merkel in the chancellory and they will almost certainly get it. A surprise win for Schulz, which is highly unlikely, could hurt the euro. A more open question is about Merkel's coalition: a repeat of the grand coalition with the SPD? Or a coalition with the business-friendly FDP, which is set to return to parliament. Markets prefer the FDP, but coalition negotiations take a lot of time in Germany, so it is hard to see an immediate reaction. All in all, a victory for Merkel would be positive for the euro, but this is mostly priced in.
German Ifo Business Climate: Monday, 8:00. Germany's No. 1 Think-tank's business climate measure has been beating expectations in the past few months, pointing to optimism about the economy. The figure stood at 115.9 points in August, sticking to the highs. A small increase to 116 is expected.
German Import Prices: Tuesday, 6:00. Prices of imported goods and especially energy, feed into consumer prices. Import prices fell by 0.4% in July. A more modest slide of 0.1% is predicted now.
Monetary data: Wednesday, 8:00. The amount of money in circulation, M3 Money Supply, slowed down to 4.5% y/y in July. So far, it is not too worrying for the ECB. A rise to 4.6% is predicted. Private loans are growing at a pace of 2.6%, a healthy level and expectations now stand on 2.7%.
German GfK Consumer Climate: Thursday, 6:00. German consumers are becoming more and more confident. The 2000-strong survey advanced to 10.9 points in August. Yet another increase is on the cards: 11.1 is projected.
Spanish CPI (preliminary): Thursday, 7:00. The fourth-largest economy in the euro-zone publishes y/y figures. In August, prices rose by 1.6%. An acceleration to 1.8% is projected.
German CPI (preliminary): Thursday: the German states release the data during the morning and the all-German figure is published at 12:00. Germany saw a modest rise in prices in August: 0.1%. A repeat of the same rise is forecast. The figure from Europe's largest economy has the biggest weight in the euro-zone CPI.
German Retail Sales: Friday, 6:00. Retail sales dropped by a disappointing 1.2% in July, but the data is quite volatile.
French CPI (preliminary)

: Friday, 6:45. The second-largest economy in the euro-zone releases its initial estimate a few hours before the all-European number. Prices rose by 0.5% m/m in August. A

lower

level is likely now: 0.2%.

French Consumer Spending: Friday, 6:45. Also in France, consumer spending is quite volatile: sales rose by 0.7% in July after a drop of the same scale in June. An increase of 0.2% is expected now.
German Unemployment Change: Friday, 7:55. Germany enjoys a consistent drop in unemployment. The number of the unemployed dropped by 5K in July and another drop of 5K is projected for August.
Italian CPI: Friday, 9:00. The third-largest economy in the euro-zone saw prices rising by 0.3% in August, better than early predictions.A drop of 0.1% is on the cards now.
CPI (preliminary): Friday, 9:00. After all four major countries released their data, we get the preliminary estimate for the full 19-country bloc. Headline CPI rose by 1.5% in August, higher than beforehand. 1.6% is expected  now. Core CPI held its ground at 1.2% and isn't forecast to change now.
* All times are GMT
EUR/USD Technical Analysis
Euro/dollar flirted with the 1.20 level, mentioned last week.
Technical lines from top to bottom:
1.2565 capped the pair back in late 2014. It is followed by 1.2240, another line from that time and 1.2170, quite close by.
1.2040 was the low point in 2012 and close to the round number of 1.20. It is followed by 1.1870, the trough in 2010, also seen in early August 2017.
1.17 is a round number that served as a cushion for the pair during the month of August. It replaces the 2015 high of 1.1712.  1.1620 was a swing high in May 2016.
1.1580 was a stepping stone for the pair on the way up in July 2017. It is followed by the round number of 1.15.
1.1445 is the June 2017 peak and immediate resistance. 1.1390 is the post-breakout low and works as support.
1.13 is the top line seen in November before the collapse. 1.1230 capped the pair in June.
I am bullish on EUR/USD
The German elections and upbeat inflation are likely to keep the euro bid. In the US, doubts about the next moves of the Fed persist.
Follow us on Sticher or iTunes
Further reading:
Safe trading!