The Euro enjoyed the low volume between Christmas and New Years' to improve positions, as no bad news came out of the old continent. We're now getting back to business, with an extremely crowded calendar – no less than 13 events are due. Here's an outlook for the events, and an updated technical analysis for EUR/USD, in the first week of January. Take a deep breath.
In the week prior to last week, we had a credit downgrade or another warning about the Euro almost every day. The week of holidays allowed everybody to take a break. But the debt doesn't go away, and big paydays are getting closer. Add the indicators, and you have a recipe for action.
EUR/USD daily chart with support and resistance lines marked. Click to enlarge: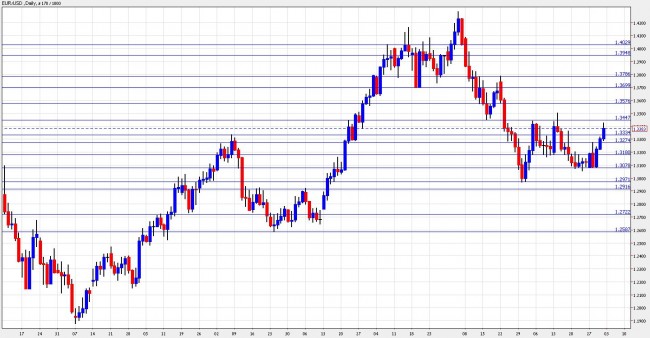 German Retail Sales: Publication time unknown at the moment. Europe's largest economy enjoyed a jump in the volume of sales last month – 2.3%, but this was a correction to a similar fall beforehand. A more modest rise is expected now.
Final Manufacturing PMI: Monday, 9:00. The manufacturing sectors of the Euro-zone countries are doing well – the index stood on 56.8 points according to the first release. This will probably be confirmed now.
German Unemployment Change: Tuesday, 8:55. The number of unemployed people dropped in the last 10 months, and another month of drops is expected now, helping the Euro. After "losing" 9K last month, a bigger drop in unemployment is expected now.
CPI Flash Estimate: Tuesday, 10:00. Inflation is definitely picking up in the Euro-zone. Consumer prices reached an annual rate of 1.9% last month, just below the 2% target. It's now expected to tick up to 2%, given the big rise Germany's CPI.
Final Services PMI: Wednesday, 9:00. Growth in the services sector is lagging behind the manufacturing sector, but is also OK – the PMI stood on 53.7 points according to the preliminary release. This will probably be confirmed now.
Industrial New Orders: Wednesday, 10:00. The volume of new purchase orders posted a very disappointing drop of 4.2% last month, and weakened the Euro. This came after a nice rise beforehand. This time, manufacturers are expected to show a rise in order volume.
PPI: Wednesday, 10:00. Producer prices are also on the rise, but play second fiddle to consumer prices, and usually meet expectations. A rise of 0.4% was recorded last month, and the same number is expected now as well.
Retail Sales: Thursday, 10:00. Despite the earlier release from Germany and France, this figure tends to surprise and rock the Euro. A small rise was seen last month – 0.1%, after two months of drops. Another small rise is due now, but at a slightly higher pace. Any result will shake the Euro.
German Factory Orders: Thursday, 9:00. The first industrial figure for Germany is expected to continue the steady climb from the previous month, that saw a 1.6% rise. A similar, perhaps somewhat smaller rise is expected this time.
German Trade Balance: Friday, 7:00. Europe's powerhouse enjoyed a very high surplus of 14.3 billion euros. An even higher surplus is expected now. Germany balances other Euro-zone countries.
Unemployment Rate: Friday, 10:00. The all-European unemployment rate reflects the big troubles that Europe has. It was around 10% during most of the year, and remains even above it in recent months, 10.1%. No change is expected here. Spain's unemployment rate is around 20%, Greece and Ireland also have more than 12%. Any result will rock the Euro.
Final GDP: Friday, 10:00. The first release has shown a modest growth rate of 0.4% in Q3, and this will probably be confirmed. The impact will be low due to the unemployment rate figure and the late release of this indicator.
German Industrial Production: Friday, 11:00. Just before the US Non-Farm Payrolls, Germany's second industrial indicator might help the Euro improve positions – a rise of 2.9% was recorded last month, and a similar and strong rise is predicted now.
* All times are GMT.
EUR/USD Technical Analysis
The common currency started was well supported by 1.3080, and made wild moves – a first swing halted around the 1.3267 (mentioned last week), but after a fall and another rise, it broke higher and bounced under 1.3440 to close at 1.3383.
EUR/USD is now between the minor support line of 1.3334 and the major strong resistance line of 1.3440, that worked as a distinct line many times in the past.
Looking down below 1.3334, the 1.3267 line provides support on the way down. 1.3180 is already stronger support, after working as the resistance line of a lower range.
Below, 1.3080, was the bottom border of the range and is very strong support now. Under the round number of 1.30, further support is found at 1.2970 – the lowest level since September.
It's closely followed by 1.2920, which capped the pair in the summer.  Below, 1.2722 worked in both direction during the summer. It's followed by 1.2587, the lowest level in 5 months – it was a bottom in August.
Looking up, 1.3575 is a minor resistance line after working as support in about a month ago.  1.37 is stronger line, after being a peak in the spring and a double bottom a few weeks ago.
Above,  1.3785 was a swing high before the big collapse and provides further resistance.  Even higher, 1.3950 worked as a pivotal line when EUR/USD was trading in a higher range.
Strong resistance appears just after the round number, at 1.4030. There are many more lines above, but they're still far.
I remain bearish on EUR/USD.
Though many traders were on holiday, the debt issues of the continent didn't go anywhere. With global slowdown and a big load of debt to pay at the beginning of 2011, the Euro faces significant downside pressure.
Here are some great EUR/USD articles:
Gregor Horvat analyzes recent moves in EUR/USD using the Elliot Wave technical perspective.
Kathy Lien has an outlook for the US dollar for 2011.
Andriy marks levels for the next week, and sees a sell trend.
James Chen reviews 2010 and focuses on EUR/USD – past and future.
Boris Schlossberg asks if we should write an obituary for the Euro in 2011.
TheGeekKnows writes a review of the past week looks forward.
Further reading on Forex Crunch: