There are numerous ways of making money with forex. One of such involves the use of forex options trading. In this guide, we explore how forex options trading works and the numerous strategies you can use to profit from them.
Best Forex Options Brokers List
Below you will find a list of the Best Forex Options Brokers currently available in the online investment scene. You can read our full review of each brokerage firm by scrolling down!
AvaTrade – Overall Best Forex Options 2021
CMC Markets – Best Forex Broker for Beginners
IG Markets – Best Forex Options Broker for UK Investors
Saxo Banka – Best Forex Broker with Intuitive Platform
CME Group – Best Forex Broker for Long-Term Investment Plans
Forex Binary Options Brokers Reviewed
Hundreds of online brokers allow you to trade forex options from the comfort of your home. To make things simple, we've created a mini-review of the best three focusing on how they set up, fees, minimum account balances, and so on.
1. AvaTrade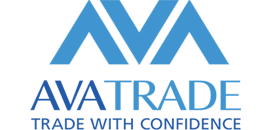 AvaTrade is currently the world's leader in forex and CFD trading. Founded in 2006, the broker is registered in three tier-1 jurisdictions – Japan, Australia, and Canada.
The minimum deposit on AvaTrade is just $100, making it one of the most affordable forex options trading services out there. You can make deposits in different options, so you're free to explore which suits you best.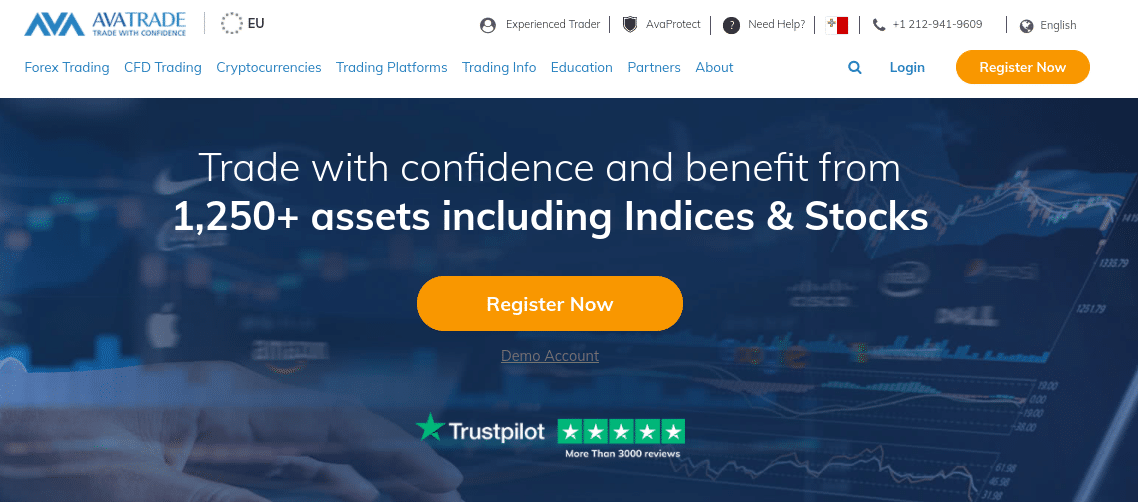 With AvaTrade, you get as many as 55 forex pairs. For beginner traders, spreads are close to the industry average – with 0.9 pips on the EUR/USD pair. However, if you qualify as a professional trader, you can pay as low as 0.6 pips on the same pair. The spread for USD/GBP is put at 1.6 making it one of the best platforms to trade this major FX pair.
Moving on, AvaTrade offers forex trading in different options. You can choose its proprietary platforms – called AvaTrade WebTrader, AvaOptions. As expected, you get to trade via MetaTrader (all suites), ZuluTrade, and DupliTrade as well.
Lastly, AvaTrade offers impressive research and educational tools. The platform is also popular for its social trading feature. You get daily market commentary, forex news, an economic calendar, price alerts, and much more.
Pros:
Competitive trading fees
Impressive research tools
Free deposits and withdrawals
Commission-free for CFD trading
Multiple trading platforms
Offers social trading with AvaSocial mobile app
24/5 customer support
Cons:
AvaTrade charges inactivity fees every three months
71% of retail investor accounts lose money when trading CFDs with this provider
2. CMC Markets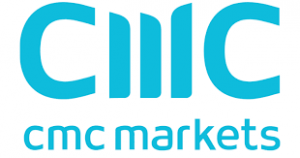 Next on our list of platforms for forex options trading is CMC Markets. Beyond just offering forex trading services, CMC Markets is actually publicly traded. It is listed on the London Stock Exchange (LSE), and it is especially popular because it has been around for a long time.
CMC Markets is regulated in four tier-1 jurisdictions, and it offers forex options trading. There are also cryptocurrency trading services available, but those are through CFDs and aren't available to retail traders.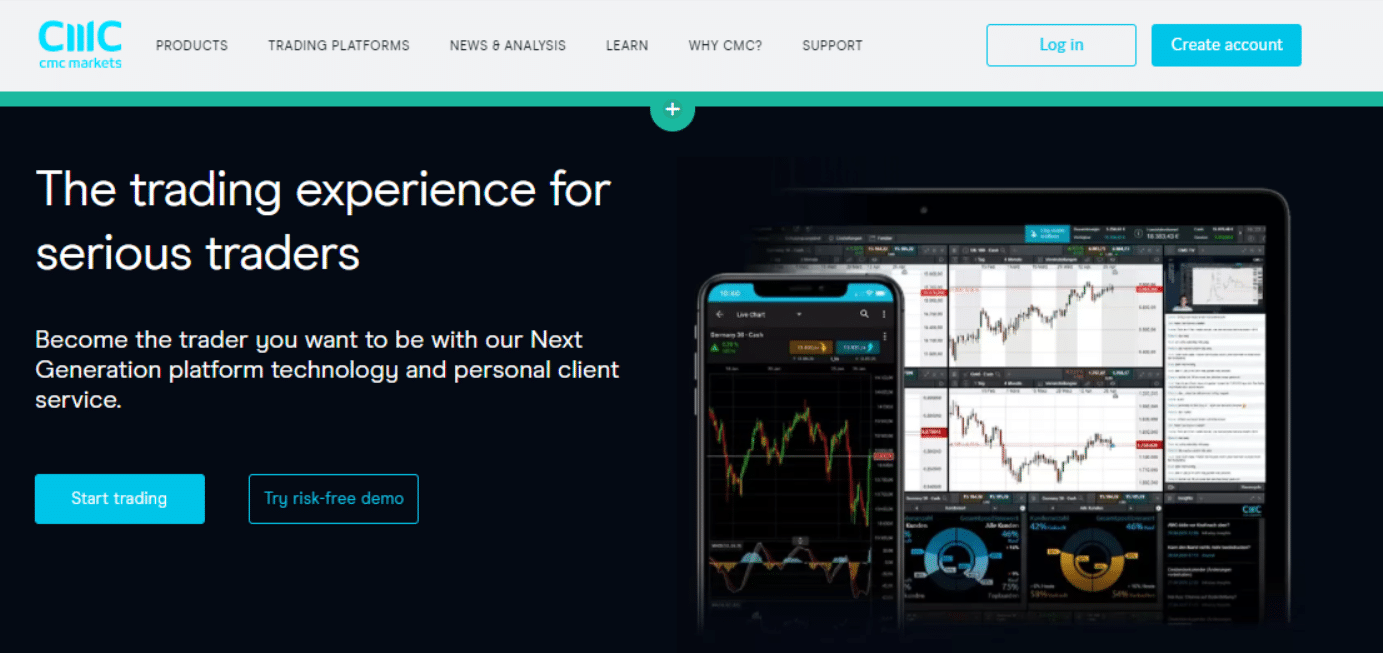 There are 158 forex pairs in total available on CMC Markets, with fees currently at 0.74 pips for the EUR/USD pair, while the minimum spread for the USD/GBP pair is 0.9 pips. That's on par with the industry average.
There is no minimum deposit for CMC Markets – another plus for the service, even though its user interface might be a bit too confusing for beginners due to its overly busy interface.
CMC Markets uses a proprietary trading system – its Next Generation platform. Alongside this, users can trade on a downloadable MetaTrader 4 (MT4) and a functional mobile app. However, users are more comfortable with its Next Generation platform.
In addition, CMC boasts dedicated sites for professionals and institutional traders. These "professionals" enjoy perks such as rebates and a free application programming interface (API) to aid their trading journey.
However, certain services are available for retail and institutional traders, like guaranteed stop losses (GSLOs), free bank wire transfer, and other useful features. It also offers support in different languages, and it provides a modern look with good customization features.
CMC Markets provides exposure to a wide range of CFDs and spread betting, alongside FX currency pairs, commodities, indices, government bonds, individual shares, and 14 cryptocurrency offerings.
Pros:
$0 in minimum balance
Impressive trading platform design
Competitive spreads
Research tools are top-notch
Regulated by the FCA
Large repository of investment offerings
Offers protection on client funds
Great educational tools and resources for new traders
Cons:
Long wait period to open an account – 2 to 3 days
Doesn't accept U.S. traders
Differences between its MT4 platform and Next Generation
71% of retail investor accounts lose money when trading CFDs with this provider
3. IG Markets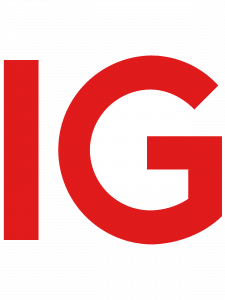 Although it isn't the most popular trading app out there, IG has many benefits to offer people who are into forex options trading.
Established in 1974, IG is also a publicly traded investment services provider. It's regulated in six tier-1 jurisdictions, including the United States, Australia, Singapore, and Japan. Like CMC Markets, IG offers trading in forex, crypto, and CFDs. IG Markets' offering of 104 forex pairs is definitely impressive. It also offers exposure to more than 19,000 tradable instruments.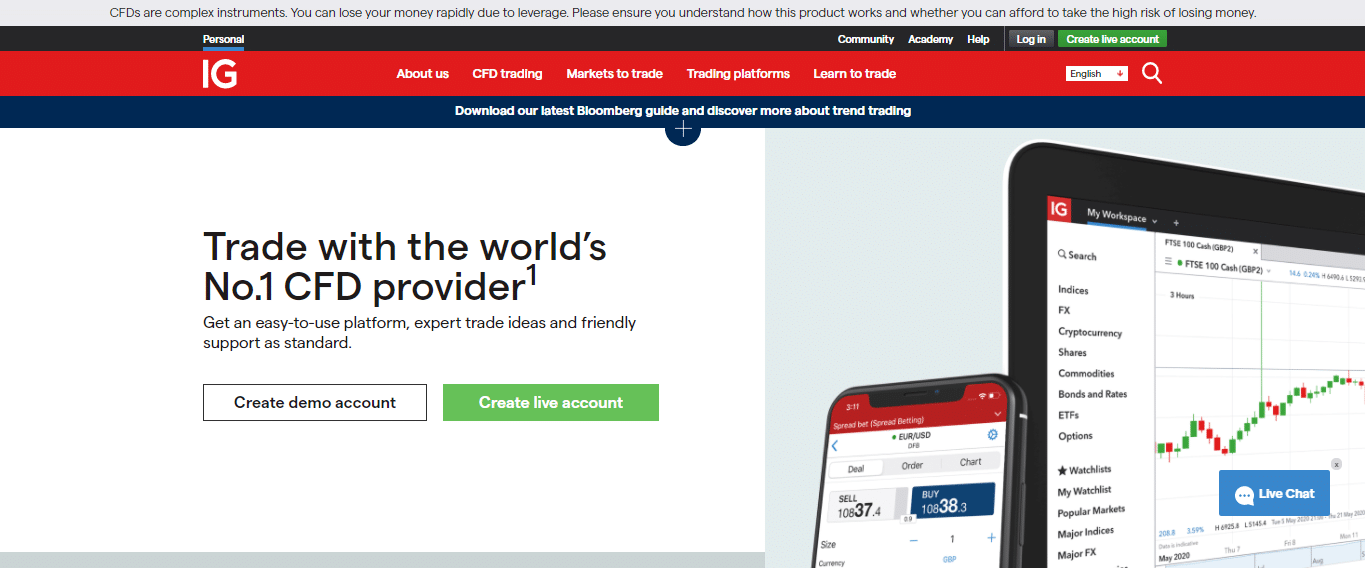 In terms of trading fees, IG offers about 0.6 pips on the EUR/USD pair. GBP/USD trades attract a 0.9 minimum spread. However, note that spreads increase during low-liquidity periods.
IG Market requires a minimum deposit of $346 to open a position. IG Market also offers rebates for large trades similar to CMC Market. Institutional traders can get up to 20% as a rebate when they meet a particular financial milestone.
For trading platforms, IG has its flagship platform and L2 Dealer, MetaTrader 4, and ProRealTime. Its proprietary platform provides impressive functionality, as well as extensive research and charting tools. But, if you're more used to the ubiquitous MT4 platform, you can use it too.
To help new traders familiarize themselves with the platform, IG Market has several resources on its trading platform. New traders can head to the Daily FX, where they can learn beginner courses on trading. IG Academy takes it up a notch and teaches eight advanced courses on understanding chart tools.
Pros:
Free deposits and withdrawals
$0 minimum deposit
Provides demo account for training
Great web-trading platform
Good educational resources for new traders
Fully digital
Cons:
Inactivity fee of $12 after two years of inactivity
Slow account opening
Limited investment offerings
Your capital is at risk when investing and trading with this provider. 
Forex Options Brokers Comparison
Below, we provide a simple comparison of our top forex options trading platforms, so you know which you can choose:
| | | | |
| --- | --- | --- | --- |
| Parameter/Platform | AvaTrade | CMC Markets | IG |
| Products Offered | CFDs, Crypto, Forex | CFDs, Crypto (CFDs), Forex | CFDs, Crypto (CFDs), Forex |
| Trading Platforms | AvaTrade WebTrader, AvaOptions, MetaTrader, DupliTrade, ZuluTrade | Next Generation(Proprietary), MetaTrader 4, Mobile App | Proprietary, MetaTrader 4, L2 Dealer, ProRealTime |
| Publicly Traded? | No | Yes | Yes |
| Deposit/Withdrawal Fees? | None | None | None |
| Account Opening | Few minutes | 1 to 2 business days  | 3 business days  |
| Minimum Deposit  | $100 | $0 | $346 |
| Spread for EUR/USD | 0.9 pips | 0.74 pips | 0.6 pips |
What is Forex Options and How Does it Work?
Forex options – or currency options – are derivative products that give traders the right to buy and sell FX at a specific price (known as the "strike price") on a specific date (known as the "expiry"). Keep in mind that forex trading itself is a way to speculate without actually owning assets.
Options are available in just about every marketplace. However, those for the forex market are unique on several fronts. Of course, most important is the fact that options allow traders to trade without taking actual delivery of the assets they work with.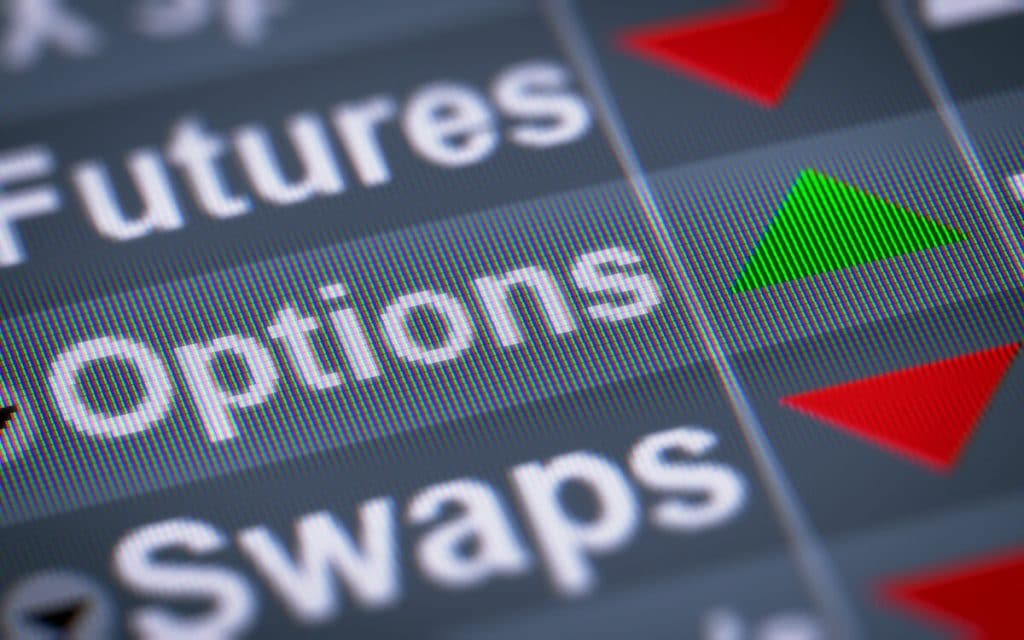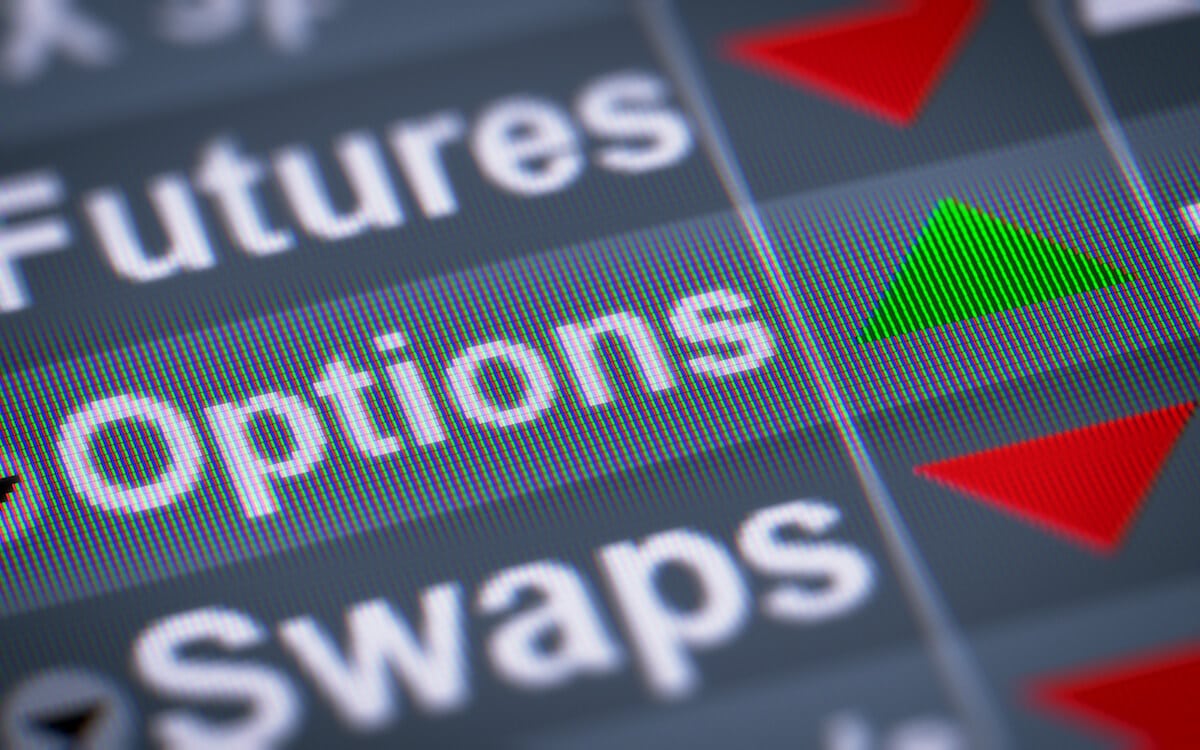 Forex options are usually available at over-the-counter (OTC) marketplaces. Traders can choose their preferred prices and expiration dates based on their preferences and strategies. Unlike futures, options traders don't have contractual obligations at expiration.
Forex options are primarily advantageous because they allow traders to limit their risk and downside. On the other hand, their upsides are unlimited. Spe traders can use FX options to hedge their open positions in the forex cash market. Unlike the futures market, the cash market settles transactions immediately.
Traders also like FX options because they can trade and profit on their predictions of the market based on their fundamental analysis.
How Forex Options Work
To understand Forex options trading, you should know some key terminologies:
Exercise: The act where the option buyer notifies the seller that they want to deliver on the options' contract.
Expiration date: The last date on which the buyer can exercise the option.
Delivery date: The date when the currencies will be exchanged when the option is exercised.
Call option: The right to buy a currency.
Put option: The right to sell a currency.
Premium: The cost of purchasing an option.
Strike price: The rate of currency exchange if the option is exercised.
Pricing Factors for Currency Options
Currency options' prices are usually determined by the specifications of the strike price, expiration date, and the nature of the option. Also, the following factors will determine the option's value:
The current spot rate
The interbank deposit rates for each currency
The implied volatility level of the expiration date
Binary Options and Forex
Binary options are another way to play in the forex market. While they are quite expensive compared to leveraged spot forex trading, they provide a capped maximum potential loss. So, investors find them somewhat safe.
In binary options, two outcomes are possible – they can settle at a predetermined price, or they can settle at $0.  The settlement will depend on whether the underlying asset's price is trading above the strike price or not.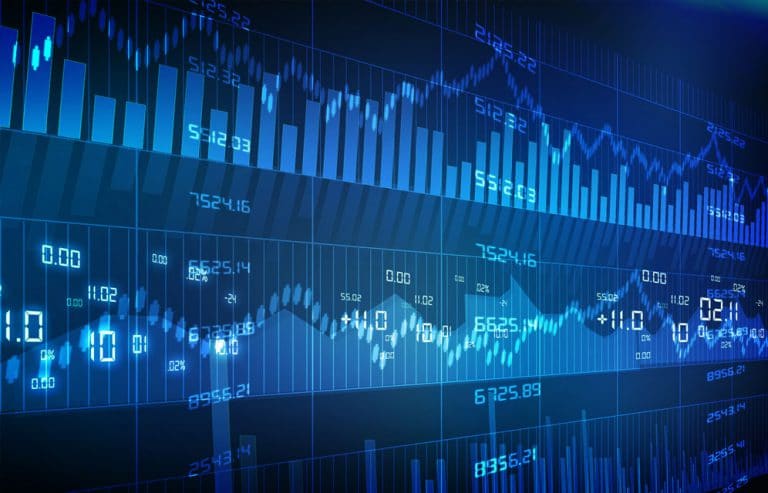 71% of retail investor accounts lose money when trading CFDs with this provider
Say gold is trading at $1,500 per ounce currently and you believe it will hit $1,900 by the end of the week. You can buy a binary option stating that it will trade at $1,900 by week's end, with the options trading at $57/$60. You spend $60 on the option.
If gold eventually closes at $1,900 or above like you predicted, you get a payout. On the other hand, if it doesn't, you lose your investment.
Binary options can be used to trade in different situations – the outlook for the Dow Jones Industrial Average, the United States' unemployment levels, or the outcome of a forex trading pair.
Benefits of Trading Forex Options
If you're looking to trade forex option, these reasons should motivate you:
You can trade forex by avoiding potential losses. Every option has an expiry date, so you can wait till that date if your currency pair hasn't met the target price
You can trade forex options with a low balance and still make a sizable profit
Forex options trading allows you to hedge your risks, so your losses are minimized
The forex market isn't easily manipulated, since it is so large
You can take your predictions based on political or economic news and trade based on those
Forex Options vs CFDs
Contracts for difference (CFDs) are agreements between traders and brokers to settle on the difference between an underlying asset's current and future price. As the name implies, the difference is in the current price and the asset's price when the contract closes.
Forex options and contracts-for-difference (CFDs) are both derivatives that allow you to speculate on the markets. But, they differ on several fronts. The main difference between forex options trading and CFDs is in how each works. With a CFD, you agree to exchange the difference in an asset's price from the opening date and the closing date. With an option, you're selling or buying the right – not the obligation – to trade the asset at a specific price.
Traders can use both options and CFDs to go long or short on the market without owning the asset. However, they are appropriate for different strategies and will require different skills.
Binary Options Forex Signals
As it is with every form of trading, forex options trading can be quite complex. However, you can find groups and platforms where you will get impressive signals. Learn2Trade is a great example of this. The platform offers lessons and signals, allowing beginner and professional traders to work more easily.
Signals are an important part of your trading journey, especially when you're a beginner. Give these a try.
Forex Binary Options Systems & Strategies
When it comes to forex binary options trading, it is important to have everything right. You need to be very careful, and you also need to watch all parameters to be sure of your trade.
A lot of the time, this will mean having a strong Forex binary options system or strategy. Below, we'll look into some of the most important strategies to help you optimize your forex binary options trading.
Momentum Strategy
Momentum is a technical indicator that compares an asset's current price to its price in the past. It can be calculated in different ways:
Absolute: This method compares the asset's price to one in the past and ignores bounces in between.
Process-oriented: This method considers every period and calculates the distance in which the average period has moved. The Average True Range is a technical indicator for this.
Relative: Some indicators compare the current market momentum to a historical average. They will help you understand whether the current market environment is ideal for binary options with higher payouts.
Following Trends
Following trends is a simple, secure strategy that is especially great for newcomers. Basically, a trend is a long movement in an asset's price.
When the price is rising consistently, we have an uptrend
When price falls consistently, we have a downtrend
When it comes to trends, always remember that they never move in a straight line. The forces of supply and demand will determine an asset's price, so there is no perfect movement where one exceeds the other.
Also, note that the market tends to break trends from time to time. These are called consolidation periods, and they show the market moving sideways until enough traders can invest in the main trend direction once more.
Trading Swings
Trading swings are a bit of a variation from the trends strategy. A swing is a single movement within a trend – whether upwards or downwards. Every cycle in a trend consists of two swings – one upswing and one downswing.
Trading swings is advantageous because it allows traders to enjoy multiple trading opportunities; not just one. This increases the chances of getting winning trades and earning. However, trading swings are also riskier than trading trends. So, instead of trading a trend as a whole, swing traders trade each swing individually in a trend.
How to Start Trading Forex Options
If you would like to begin trading forex options, we have a guide to get you started. For this guide, we will use AvaTrade – the best forex options trading platform out there. Let's jump right in.
Step 1: Open an Account on AvaTrade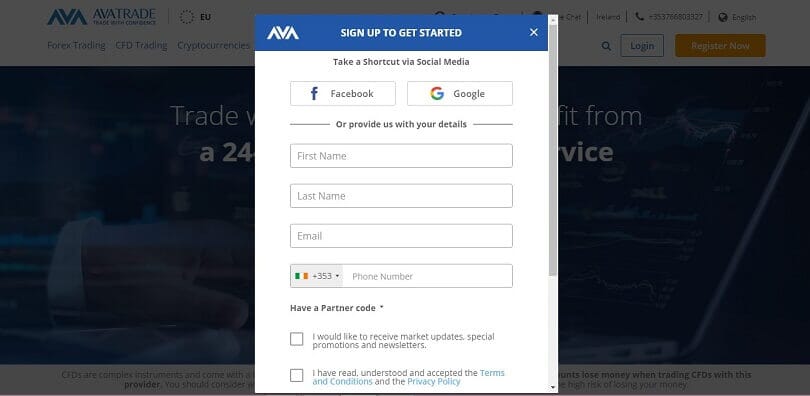 71% of retail investor accounts lose money when trading CFDs with this provider
Go to AvaTrade's website and click on "Register now." Fill in the appropriate details to get started.
As a regulated entity, new users on AvaTrade need to verify their identity before starting trading. To do so, upload a copy of your passport or driver's license along with proof of address. Once you're done with the verification process, it's time to deposit funds to begin trading your favorite forex pairs. The platform has a minimum deposit option of $100, which is quite affordable. You can fund your account using your debit or credit cards easily.
Step 2: Search for FX Pair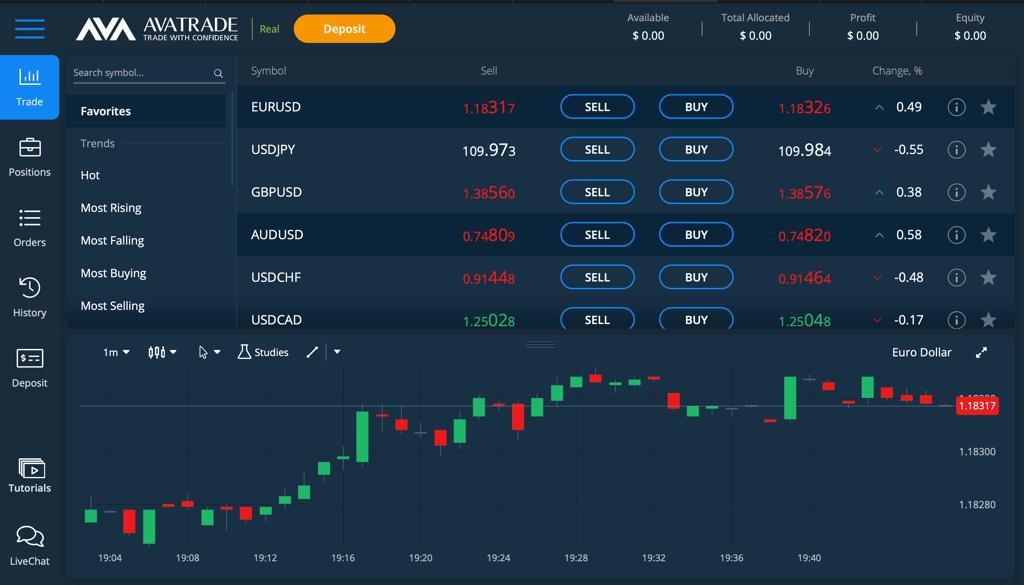 Once you're all set and ready, search for your preferred forex pairs to begin trading.
Conclusion
With all of this, you should have a clear understanding of binary options & forex, as well as how to navigate the market. However, always remember to conduct more research and learn more if you hope to be a professional trader. You can choose different types of trading apps and services, but AvaTrade is usually the most effective for beginners. Thanks to its easy-to-use platform and multiple investment vehicles, AvaTrade is the perfect landing spot for you to begin your journey into binary options & forex.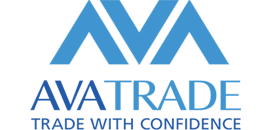 71% of retail investor accounts lose money when trading CFDs with this provider
FAQs
What is binary options trading in forex?
What is the difference between forex and binary options?
Why are binary options better?
What broker allows you to trade forex options?