GBP/USD  lost about  70 points  last week, as  the pair closed the week at 1.4356. This week  has 9  events on the schedule. Here is an outlook on the major events moving the pound and an updated technical analysis for GBP/USD.
In the US,  key numbers were mostly positive last week. Retail Sales  beat expectations and consumer confidence numbers surged higher. There were no surprises from the BoE, which continues to stand on the sidelines.
[do action="autoupdate" tag="GBPUSDUpdate"/]
GBP/USD graph with support and resistance lines on it. Click to enlarge: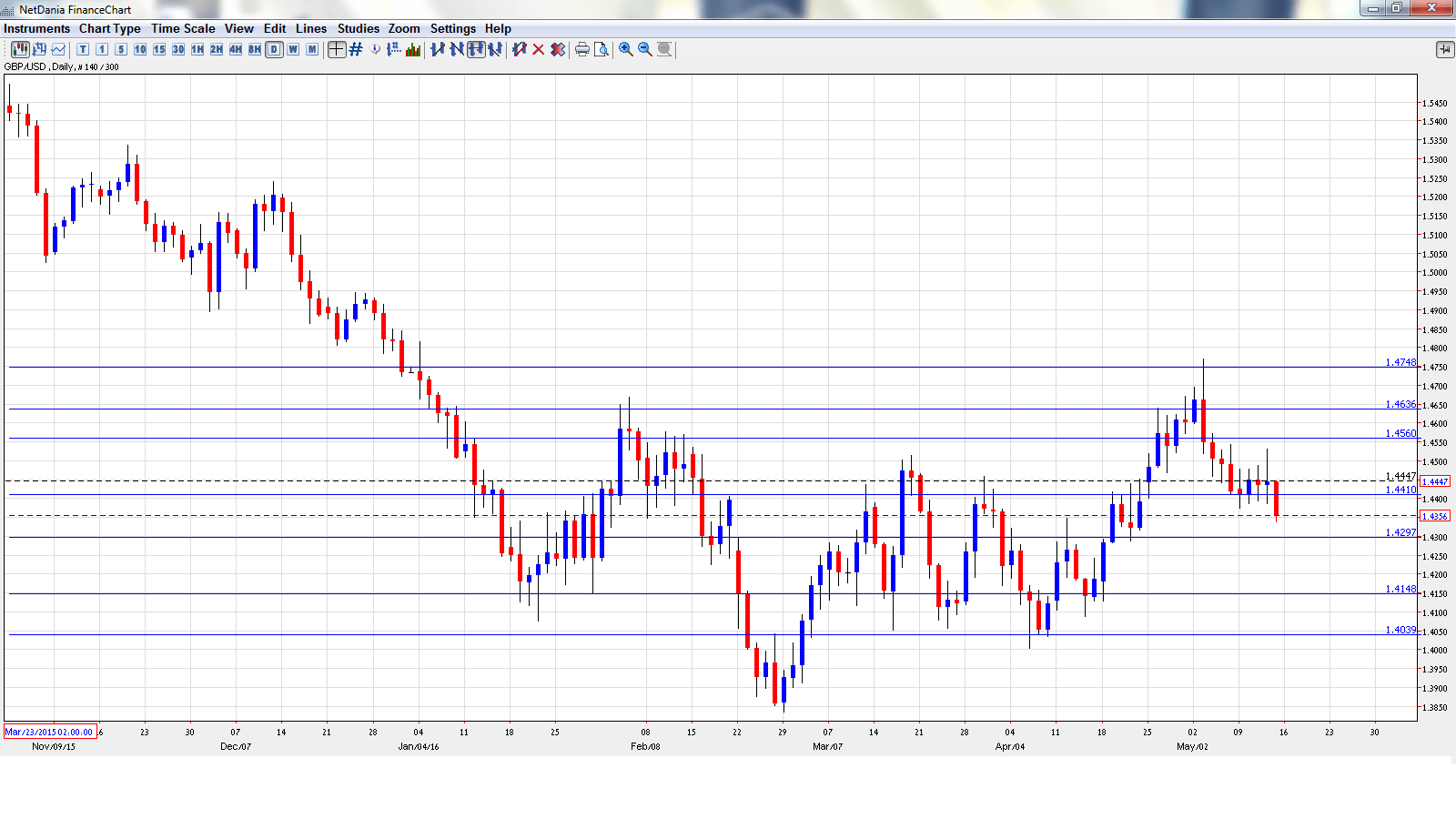 Rightmove  HPI: Sunday, 23:01. This housing inflation indicator provides a snapshot of the level of activity in the housing sector. The index has posted two straight gains of 1.3%.
CPI: Tuesday, 8:30. CPI is the most important inflation indicator. The index improved to 0.5% in March, above the estimate of 0.3%. The markets are expecting another 0.5% gain in the April report.
PPI Input: Tuesday, 8:30. This indicator is an important gauge of inflation in the manufacturing sector. The index jumped 2.0% in March, its sharpest gain in over 3 years. Still, this was below the forecast of 2.4%. The estimate for the April report stands at 1.1%.
RPI: Tuesday, 8:30. This consumer inflation indicator  includes housing data, unlike CPI. The index improved in March, posting 1.6% gain. An identical reading is expected in the April release.
Average Earnings Index: Wednesday, 8:30.  Wage growth is closely watched by analysts, so this indicator should be treated as a market-mover. The indicator dipped to 1.8% in February, which was within expectations. The downward trend is expected to continue in March, with an estimate of 1.7%.
Claimant Count Change: Wednesday, 8:30. This is one of the most important indicators. After three straight declines, the indicator disappointed in March with a reading of +6.7 thousand, compared to an estimate of -11.9 thousand. Another weak reading is expected in April, with the forecast at 4.1 thousand. The unemployment rate is expected to remain pegged at 5.1%.
CB Leading Index:  Wednesday, 13:30. This minor indicator has posted two straight gains of 0.2%. The indicator has managed to stay in positive territory throughout 2016.
Retail Sales:  Thursday, 8:30. Retail Sales is the primary gauge of consumer spending. The indicator has struggled, posting three declines in the past four months. The March release of -1.3% was well below expectations. Better news is expected in April, with the estimate standing at +0.7%.
CBI Industrial Expectations:  Friday, 10:00. The UK manufacturing sector continues to grapple with a weak global economy, and manufacturers remain pessimistic. The indicator is expected to dip to -13 points in May.
* All times are GMT
GBP/USD Technical Analysis
GBP/USD opened the week at 1.4424. The pair  showed climbed to a high of 1.4530 late in the week, as resistance held firm at 1.4562 (discussed last week). GBP/USD dropped to a low of 1.4339 and closed the week at 1.4356.
Live chart of GBP/USD: [do action="tradingviews" pair="GBPUSD" interval="60″/]
Technical lines from top to bottom

 We begin with resistance at 1.4752.
1.4635 has been a resistance line since early February.
1.4562 held firm as the pair posted gains before retracting.
1.4413 was a cap in January. It is a weak support line.
1.4297 is protecting the 1.43 line.
1.4148  is next.
1.4038 is the final support level for now.
I am  bearish on GBP/USD.
The US economy continues to outperform the UK, and  with  a June rate hike in the US a definite possibility, monetary  divergence will likely weigh on cable.
In our latest podcast we examine the  upbeat US consumer and oil prices
Follow us on Sticher or on iTunes
Further reading: