Employment data and King's report about inflation are the limelight of this week's events. Here's an outlook for the events that will rock the Pound, and an updated technical analysis for GBP/USD.
GBP/USD chart with support and resistance lines marked. Click to enlarge: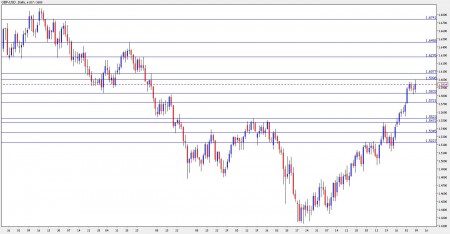 The British Pound made another nice week of rises. Will this continue? It seems that more serious moves about the interest rate are necessary. We could get them this week. Let's start:
BRC Retail Sales Monitor: Published on Monday at 23:00 GMT (midnight UK). This unofficial retail sales release shows that consumers bought more in the past two months. While this figure is not as wide as the official number, it has a strong impact. A rise in a smaller scale is expected now.
RICS House Price Balance: Published on Monday at 23:00 GMT. The Royal Institution of Chartered Surveyors has shown that the real estate market is cooling again, with less regions reporting an increase in prices. From a peak of 35%, the figure dropped to 9% and will probably drop once again to 5%.
Trade Balance: Published on Tuesday at 8:30 GMT. Britain's deficit rose to 8.1 billion last month, the highest level in 17 months, hurting the Pound, as it happened also beforehand. This deficit will probably squeeze now to around 7.7 billion.
CB Leading Index: Published on Tuesday at 9:00 GMT. The growth rate in this composite index dropped from over 1% to 0.3% last month, the lowest in a year. This time, the composite index built of 7 indicators will probably rise by more than 0.5%.
Nationwide Consumer Confidence: Published on Tuesday at 23:00 GMT – delayed from last week. This survey of 1000 consumers is "over the hill", dropping from 81 to 63 points. Another drop is expected now to 60 points. Note that in this case, the delay weakens the impact.
Employment data: Published on Wednesday at 8:30 GMT. Britain enjoyed a significant drop in the number of people claiming unemployment benefits in the past few months, exceeding expectations (Claimant Count Change). The drop of almost 21K last month will probably be followed by another drop of 17.9K this time, in the month of July. The unemployment rate for June will probably remain unchanged at 7.8% in June. Another drop will boost the Pound. This figure is accompanied by the Average Earnings Index, which will probably rise in a rate lower than last month's 2.7% rise.
BOE Inflation Report: Published on Wednesday at 9:30 GMT. While cable traders still analyze the employment data, Mervyn King, head of the BoE, will present the inflation report in a press conference. It will be very interesting to see how King relates to the rising inflation, after finally acknowledging its risks. Will we see hints of an upcoming rate?
GBP/USD Technical Analysis
The Pound began the week with a struggle around the minor resistance line of 1.5720. As it made an upwards breakout, it cleared 1.5833 quite easily. Then, 1.5833 turned into a support line, as the pair traded between 1.5833 and 1.60 (a new line that didn't appear on last week's outlook.), before closing at 1.5939.
The round number of 1.60 is the immediate level of resistance. It's followed by 1.6080 which was a support line in January and now works as resistance. Higher, 1.6270 last worked as a resistance line in January and beforehand as a support line.
The peak at 1.6450 works as the next minor line of resistance, and it's followed by 1.6720, which capped the pair several times at the end of 2009.
Looking down, 1.5833 turns into a strong support line. It's followed by the minor line of 1.5720 which was a support line in 2009 and then by 1.5520, which capped the pair in April and worked as support in February.
Below, 1.5470 is very close, holding the pair a few weeks ago. 1.5350 was a recent resistance line, and now serves as a line of support. It's followed by 1.5230 which was a stubborn line at the beginning of July.
I remain bullish on GBP/USD.
Fresh employment data and Mervyn King's talk about inflation can provide the pair with new strength to rise, after clearing the strong barriers.
Further reading:
Want to see what other traders are doing in real accounts? Check out Currensee. It's free..