Avery busy week expects cable traders, with many important PMI figures standing out. Will the pound continue falling? Here's an outlook for the British events and an updated technical analysis for GBP/USD, now below important support.
GBP/USD daily chart with support and resistance lines marked. Click to enlarge: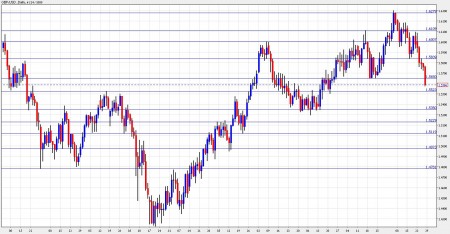 The crisis in Ireland reached its neighbor and the pound was severely pounded. The internal issues within the central bank aren't helping as well. Now we'll get a wide look on the economy. Let's start:
Halifax HPI: Publication time unknown at the moment. This is one of the most accurate house price indices in the UK, as it's based on HBOS' internal data. A surprising 1.8% jump was recorded last month, after a huge fall beforehand. We're now expecting a small rise of 0.3%. Any figure will rock the pound.
Net Lending to Individuals: Monday, 9:30. More borrowing means more economic activity and supports the currency. A disappointing drop to 0.4 billion was seen last month. This figure is now expected to double to 0.8 billion.
Pre-Budget Release: Monday afternoon. The relatively new British government will present its first budget, which includes austerity measures already laid out earlier this year. In this pre-budget release, the Chancellor of the Exchequer George Osborne will provide an economic outlook,  growth  expectations and tax hikes. The pound will shake throughout the session.
GfK Consumer Confidence: Tuesday, midnight. GfK surveys around 2000 consumers for this highly regarded poll. Consumers are rather pessimistic according to GfK, with the score being negative for many years. The negative -19 figure is likely to remain unchanged now.
Nationwide HPI: Wednesday, 7:00. This house price index also has a significant impact, due to its fresh data. In recent months, we've seen many drops in prices. And yet another drop in houses is likely to be published and to weigh on the pound – 0.4%, less than last month's 0.7% drop.
Paul Tucker talks: Wednesday, 8:00. King's deputy governor at the BoE will speak in a conference in London, and might express his opinion on the growing divide within the MPC – a rate hike to curb inflation, more QE to support the economy or no action.
Manufacturing PMI: Wednesday, 9:30. The manufacturing sector surprised with a strong score last month – 54.9 points, far enough from the 50 point mark that divided contraction and growth. Another rise is expected now, to 55.2 points. Any small surprise will move the pound.
Spencer Dale talks: Wednesday, 18:40. The chief economist of the BoE will appear in an event in Canterbury and will also have the chance to express his opinion. This is becoming more important, especially after seeing a public row between governor King and Adam Posen last week.
Construction PMI: Thursday, 9:30. Economists are building on the construction sector to help in growth, but this sector disappointed last month with a weak score of 51.6 points. Another drop is expected now to 51.3
Services PMI: Friday, 9:30. An important event will close the week – Britain's large services sector is expected to slightly more upbeat, with the score rising from 53.2 to 53.4 points, a few hours before the American Non-Farm Payrolls is released. Any result will add to tensions.
GBP/USD Technical Analysis
Early in the week, GBP/USD lost the 1.5840 line and traded between this line and 1.5720. It eventually dropped, losing the all-important 1.5650 line (mentioned last week) before closing at 1.5586, losing over 400 pips.
Looking down, immediate and strong support is found at 1.5530, which was a stubborn peak back in April, and also provided support in August. The next significant line is 1.5350, which held the pair in March also in the summer.
Below, 1.5230 capped the pair in July and is now a support line, followed by 1.5120, which provided support at around the same period of time.
Below the round number of 1.50, minor support is found at 1.4975 before 1.4780, which is the last line for now.
Looking up, 1.5650 is now a strong line of resistance. It worked as strong support in October. Minor resistance is at 1.5720 which worked in the past week, followed by 1.5840, which provided support earlier this month.
Higher, 1.60 is a round number and also was a peak in August. It's followed by 1.6110 and 1.6280, which are now in the far distance…
I am bearish on GBP/USD.
British exposure to Ireland, the presentation of austerity measures and the loss of the important support line all point downwards, as the high inflation isn't on the agenda now.
Further reading:
Want to see what other traders are doing in real accounts? Check out Currensee. It's free..