A busy week expects pound traders, with the rate decision being the key event. Here's an outlook for British events, and an updated technical analysis for GBP/USD.
GBP/USD daily chart with support and resistance lines on it. Click to enlarge: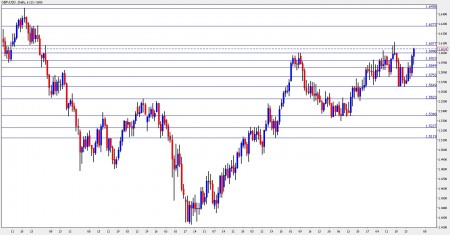 The first release of GDP for Q3 was very good – 0.8%, double the expectations. This boosted the pound in the past week. Will this trend continue, or was this a one time event? Let's stat:
Halifax HPI: Timing unknown at the moment. As it's considered one of the most accurate house price indices, it always rocks the pound. The internal data from HBOS showed a big plunge of 3.6% in prices last month, hurting the pound. Official expectations stand on a rise of 0.4%, but given the recent Nationwide figure, a drop is more likely.
Manufacturing PMI: Monday, 9:30. This important  purchasing  managers' index slid down in recent months. The survey of 600 PMs fell to 53.4 points and is now predicted to edge down to 53.2. A drop under 50 will mean economic contraction, but this isn't likely now.
Construction PMI: Tuesday, 9:30. The second PMI for this week took the other direction last month, rising unexpectedly from 52.1 to 53.8 points. It's now expected to edge down to 53.1
BRC Shop Price Index: Wednesday, 00:00. The unofficial retail price index has shown slower inflation than the official RPI released by the government. It rose to an annual rate of 1.9% and is expected to remain in this area also now.
Services PMI: Wednesday, 9:30. This PMI has the strongest impact of them all, as Britain's services sector is quite big. Also here, it's expected to slide from 52.8 to 52.3 points. Any outcome will rock the pound, and a figure under 50 will have a very strong impact.
Rate decision: Thursday, 12:00. The Bank of England is split between one member that wants a rate hike to fight inflation (Andrew Sentance), one member that takes the other side and suggests more quantitative easing (Adam Posen) and the majority that want no changes. The Official Bank Rate is expected to remain at 0.50% and no change in the QE program is expected. Last time, no statement was issued. If there is one now, it will be interesting to see where the central bank is leaning to.
PPI: Friday, 9:30. This inflation gauge surprised last month with a rise of 0.7%. PPI Input now joined consumer prices, showing that British inflation is real. A stronger rise in producer prices is expected now – 1%. The second figure, PPI Output, has a smaller impact. It's predicted to rise by 0.2%.
* All times are GMT.
GBP/USD Technical Analysis
The pound made a gradual and choppy climb up, and managed to end the week above the important 1.60 line, mentioned in last week's outlook.
1.60 is now the immediate and strong support line – the close above this line is important for the pound. Below, 1.5923 stopped the pair on the way up in recent months, and is the next and now minor support line.
Below, 1.5850 served as a pivotal line several times in the past weeks'  choppy  trading. It's followed by 1.5750. Stronger support is found at 1.5650 which was a stubborn support line two weeks ago.
Below, 1.5530 capped the pair in April and worked as resistance not so long ago.  Even lower, 1.5230 was a stubborn line of resistance back in July. It's followed by 1.5120, that first served as resistance in June and then worked as support in July.
Looking up, 1.6080 is the immediate line of resistance, after serving in both directions at the beginning of the year. Above, 1.6270 worked as support about one year ago, and is now resistance.
The 1.6450 line was a swing high at the beginning of the year and provides minor support. A break of this line will lead the pair towards the highs of 2009.
I am neutral on GBP/USD.
The good GDP number and the close above 1.60 are bullish signs, yet the situation in Britain isn't that good, as other figures such as employment show. There are still calls for more QE. 1.60 continues to be a key level. Wednesday's American quantitative easing decision should be closely watched.
Further reading:
Want to see what other traders are doing in real accounts? Check out Currensee. It's free..