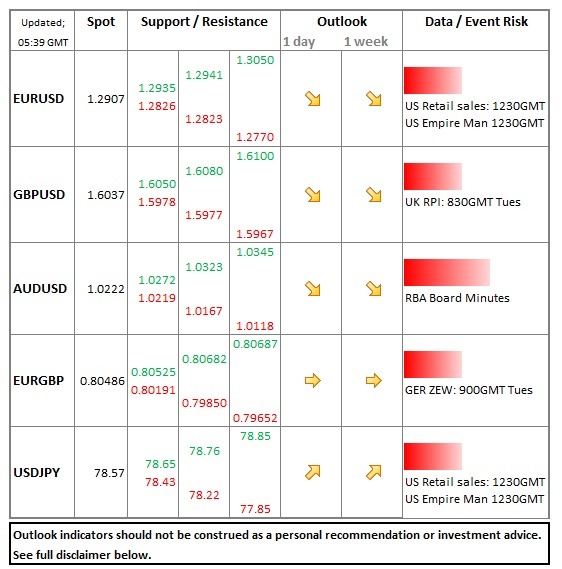 Data/Event Risks:
ALL: Global growth concerns persist. BoI Governor Fisher claims world economy is 'awfully close' to recession. In Europe, fears re Spain, Greece and Portugal are ongoing.
USD: Retail sales at 12:30 GMT likely to show a resilient US consumer. A raft of Fed speakers later today, including Bullard, Williams and Dudley.
Idea of the Day
Gold has lost some sheen over the past ten days after failing to penetrate USD 1,800. Since midday Friday, it has dropped another USD 30 to USD 1.744. Stronger China export data and speculation that the economy may not need further stimulus has weighed on gold overnight. The gold price could fall back to support at USD 1,710 over coming days.
Latest FX News
EUR: Euro weaker overnight amidst fresh concerns over Spain & Greece. Troika has asked eurozone finance ministers to give Greece two more years. EU leaders meet Friday to discuss. Chinese exports to EU fell 10.7% last month. Euro could retest support in the low 1.28s.
AUD: Weaker after Stevens claimed RBA has scope to move on interest rates. Risk-off backdrop overnight due to renewed European fears, but has held support at 1.02 once more.
CNY: Overseas shipments +9.9% YoY last month, suggesting worst may be over for the economy. Q3 GDP due out later this week, expected to show rise of 7.4%, the 7th straight deceleration. RMB still strengthening, now 6.27; suggests Beijing's confidence that economy is stabilising.
GBP: Strong house prices from Rightmove – up 3.5% MoM. Jobs data Wednesday is critical – has been surprisingly buoyant in recent months. Sterling still looks soft.