The  New Zealand dollar  suffered from the dovishness of the RBNZ. Can it recover? Retail sales stand out now. Here is an analysis of fundamentals and an updated technical analysis for NZD/USD.
The Reserve Bank of New Zealand did not  really acknowledge the strength of the economy and did not open the door to rate hikes. This weighed heavily on the kiwi, that plunged. The interest rate remained at 1.75% while inflation expectations have risen to 1.9%. Milk prices continued advancing with 1.3% this time. In the US, President Trump has not been so vocal this time.
[do action="autoupdate" tag="NZDUSDUpdate"/]
NZD/USD  daily graph  with support and resistance lines on it. Click to enlarge: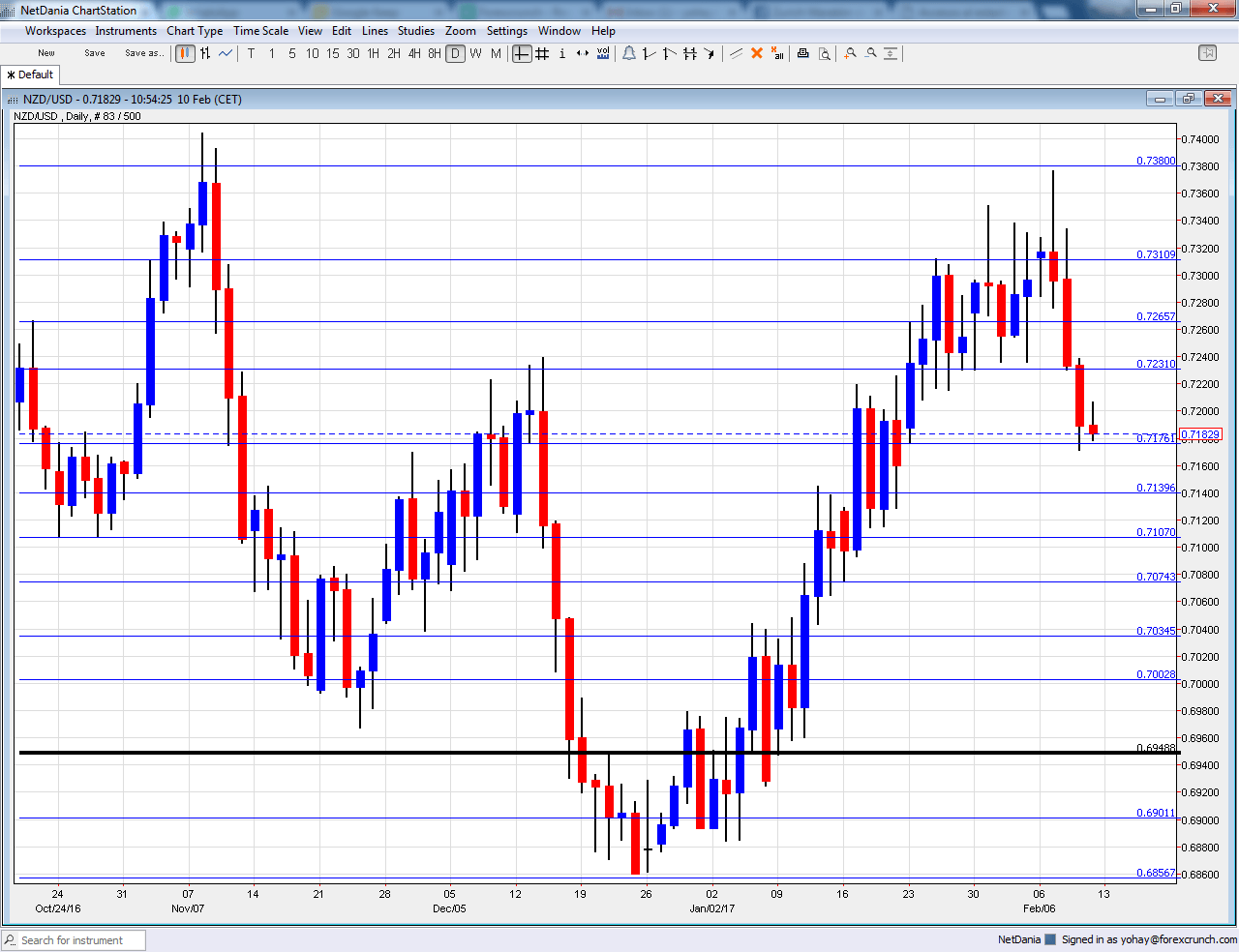 FPI: Monday, 21:45. The Food Price Index disappointed with a drop of 0.8% in December. A bounce is likely for  January. Note that the GDT Price Index tends to overshadow this publication.
Business NZ Manufacturing Index: Thursday, 21:30. The PMI-like  indicator has been quite stable of late, maintaining a safe distance from the 50-point line separating expansion and contraction. A similar score to last month's 54.5 points is on the cards.
Retail Sales: Thursday, 21:45. New Zealand publishes retail sales data only once per quarter, making the publication quite influential. In Q3, the volume of sales advanced by 0.9%, certainly a healthy level. Core sales lagged behind, with 0.3%.
NZD/USD  Technical  Analysis
Kiwi/dollar dropped and found support at 0.7160 mentioned last week.
Technical lines, from top to bottom:
The round number of 0.74 served as resistance and support back in 2015. 0.7310 was the high  point in January 2017.
0.7265 was a swing high in October 2016 and works as resistance. 0.7230 served as support in September 2016.
0.7160 is a pivotal line within the range. 0.7140 worked in both directions in the past months.
0.71, a round number, was a double bottom in October. 0.7075 was a swing low in August and had a role afterward as well. It is followed by 0.7035, the low seen in October 2016.
The round level of 0.70 is still important because of its roundness but it isn't really strong.  The low of 0.6940 allowed for a temporary bounce.
I am neutral on NZD/USD
The RBNZ disappointment could continue  curbing any potential recovery for another week. On the other side of the Pacific, the Donald could hurt the dollar after a break.
Our latest podcast is titled  Oil upside and euro underperformance
Follow us on Sticher or iTunes
Safe trading!