The kiwi continued rallying higher for another week. Is it unstoppable? Employment data are the major events this week. Here's an  outlook  for the events in New  Zealand, and an updated technical analysis for NZD/USD
Last week new housing approvals jumped 2.1% in December rising 13% in from a year earlier; however 2011 has been a bad year for the housing sector being the worst year for building since records started in 1965. Will we see an improvement during 2012?
Updates: NZD/USD lost its grip on the 0.8340 line and is retreating due to the troubles in Greece. The strong rise of 0.7% in  Labor Cost Index and the  Australian decision to keep rates unchanged sent NZD/USD above 0.8340, but this was short lived. With some help from Bernanke, NZD/USD made a new move higher, now closer to 0.84. See how to trade the job figures in New Zealand with NZD/USD. The unemployment rate dropped to 6.3%, but the details aren't too good: more part time jobs and not enough full time jobs. The drop in Chinese economic activity, as reflected in the trade balance figures, weighs heavily on the kiwi. Additional pressure comes from Greece, which is still struggling to get the second bailout. NZd/USD dropped to 0.8275.
NZD/USD  daily chart with support and resistance lines on it. Click to enlarge: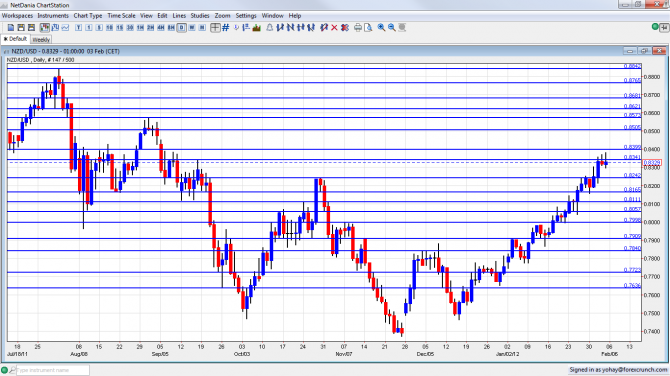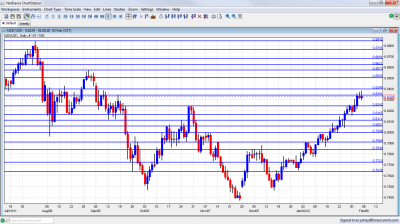 Labor Cost Index: Monday, 21:45. Total wages gained 0.5% in the third quarter the same as in the second quarter. Economists predict labor cost to remain put in light of the slow labor market. Labor cost is expected, once again, to increase by 0.5%.
 Employment data: Wednesday, 21:45.New Zealand's unemployment rate increased to 6.6% in the third quarter from 6.5% in the second while economists expected a decrease to 6.4%. Mean time, the labor market added 5,000 positions (0.2%) while analysts expected more than double indicating the job market is slow. An increase of 0.4% in the number of jobs is expected for the fourth quarter while unemployment rate is expected to decline to 6.5%.
* All times are GMT.
NZD/USD  Technical  Analysis
Kiwi/dollar traded in the low range of 0.8165 to 0.8240 (mentioned last week) before moving higher and struggling with 0.8340. After an attempt to move higher, the pair eventually fell and closed lower, at 0.8329.
Technical lines, from top to bottom:
The all time high of 0.8840 isn't too far away already. 0.8765 was a high line during August and is close to the all time high. It's followed by 0.8680 which was support on high ground.
0.8620 is close by and also was support on high ground during the summer. 0.8573 was a stubborn line of resistance during August 2011.
0.8505 was a peak on the way up during July. The 0.84 line separated ranges in August 2011, and earlier served as support when the kiwi traded higher. This line could be challenged on a move higher relatively soon.
0.8340 was a peak in September and now switches to stronger resistance after being a point of struggle in February 2012. 0.8240 was a peak in October and also back in May 2011.  It proved its strength in January 2012.
It is followed by 0.8165 provided support for the pair at several occasions, last seen in October. Its role is weaker now, after being crossed on the way up. 0.8110 switched positions from support in August to resistance later on and is a minor line, now on the way down.
0.8070 was resistance in October and support beforehand.. It was also tested in January.  The round number of 0.80 managed to cap the pair in November and remains of high importance, especially due to its psychological importance.
Another round number, 0.79, is now stronger resistance after capping a rise at the beginning of 2012. 0.7840 worked as cap for a range and earlier stopped the pair in October. It then became much stronger in December, holding the range. The pair approached in the last days of 2011, but couldn't really challenge it.
0.7773 was the bottom border of a range at the beginning of 2012, and also in December. 0.77 provided support in December and is now minor support. 0.7637 was a swing low in September and provided its strength in December as a swing low. It is a still strong, after capping a recovery attempt in December.
0.7550 now has a stronger role after working as a very distinct line separating ranges.  It had a similar role back in January.
I am neutral on NZD/USD
With the US enjoying strong job gains, QE3 in the US is now fading away and might take out some of the kiwi's steam, despite strong fundamentals. A lot depends on the job data.
Further reading: