It finally happened: WTI Crude Oil made a real break above the double-top around $52 and is settling at levels last seen in July 2015. OPEC members can finally reap the results of the Vienna Accord. During around 10 days, the price of crude was rising, but remained hesitant to make the larger move.
And now, with more assurances that the deal is real, oil gushes, and so does the Canadian dollar.
Commitment to cut
The weekend saw two developments. The agreement between an array of non-OPEC members to cut production. The group of 13 countries, spearheaded by Russia, announced a cut of 558K barrels. While this is marginally under the 600K that  the Saudis aimed for, it is probably good enough. An agreement that goes beyond the diminishing leverage of OPEC adds to optimism.
The second development comes from the Saudis.  The Kingdom  already told its clients that supplies will be cut in January, following the deal. This is a more practical move than just declaring cuts. And, they also added another declaration: Saudi  production will be cut to 10 million barrels per day, more than 10.05 they had committed to in Vienna.
We will still need to see the implementation of all these Saudi moves, but at least for now, they certainly mean business.
WTI is currently trading above $54 per barrel, a leap of over 5% on the day.  Trading opened with a Sunday gap, that hasn't closed, a bullish sign. The next big hurdle is $62,  the high for 2015.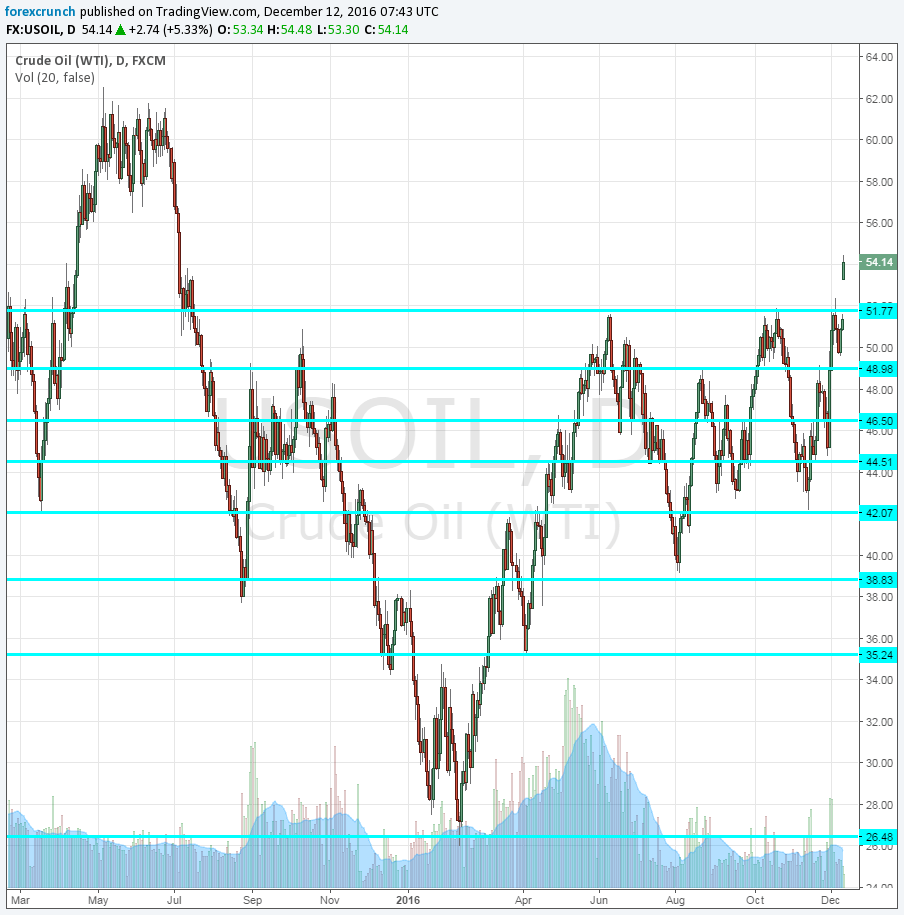 CAD is  climbing
The Canadian dollar did not ignore this move.  The Canadian economy is not only about the black gold and the C$ has oftentimes been reluctant to react positively to crude climbs. This time proves to be different.
USD/CAD  currently trades at 1.13125,  returning to levels seen in October. The clear line of support is at 1.30. Further cushions await on the way, but trading was quite choppy recently, making it hard to draw  other lines. Resistance awaits at 1.3265.
Will this  trend extend for the Canadian dollar? Not necessarily: 5 reasons to remain bearish on CAD following the BOC