The biggest sector in the UK is seeing  a big improvement: 55 points in the Services PMI. New orders are up to 56.6 from 54.7 points. This is an upbeat report reflecting robust growth and certainly an encouragement.
GBP/USD is moving up, reaching 1.2480. The pair has undoubtedly awoken from its hibernation.
Here is how it looks on the chart.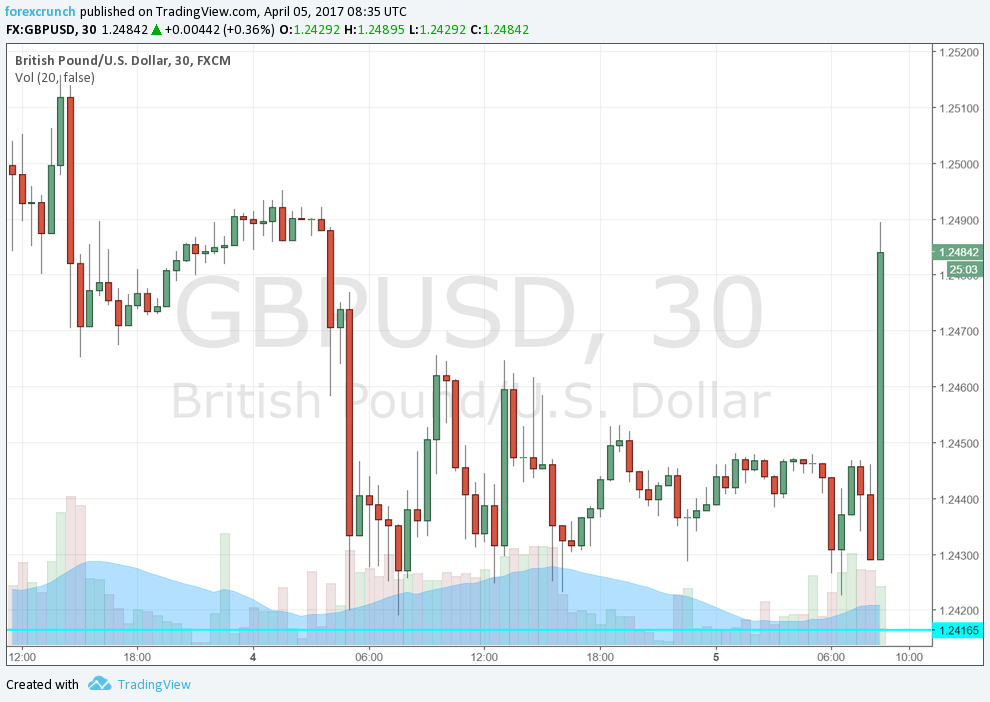 Preview:  GBP/USD: Trading the UK Services PM
Markit's purchasing managers' index for the  services sector was expected to show a small rise to 53.5 in March from 53.3 in February. The services sector is the largest in the  UK.
GBP/USD traded around 1.2440 ahead of the publication. The pair trod water in the past few sessions,  going nowhere fast. Support awaits at 1.2415, followed by the 1.2350. Resistance is at 1.2550.
Earlier this week, the manufacturing PMI fell short  of expectations, showing that the boost that the UK  sector received from the weaker pound is limited. The construction PMI published yesterday  dropped to 52.2 points. Like in many developed  economies, the largest sector is the services one.
It has already been a week since the UK triggered Article 50. Expectations for a short squeeze have not materialized and neither have we seen any straight selling.
More:  GBP: Uncertainty Has Only Just Begun;; Get Ready To Buy The Dip BofA Merrill