Dollar/CAD drifted to new highs but eventually dropped. Is the big correction over? The upcoming week features retail sales among other events. Here are the highlights and an updated technical analysis for USD/CAD.
Falling oil prices weighed on the Canadian dollar early in the week. In Canada, both foreign securities purchases and manufacturing sales missed expectations and this slightly weighed on the loonie. Oil prices also slipped but remained at the higher part of the $40-$50 range on WTI. In the US, the dollar suffered from the relatively dovish meeting minutes and Trump's troubles. However, the most important US data point was quite good: retail sales beat expectations.
[do action="autoupdate" tag="EURUSDUpdate"/]
USD/CAD daily graph with support and resistance lines on it. Click to enlarge: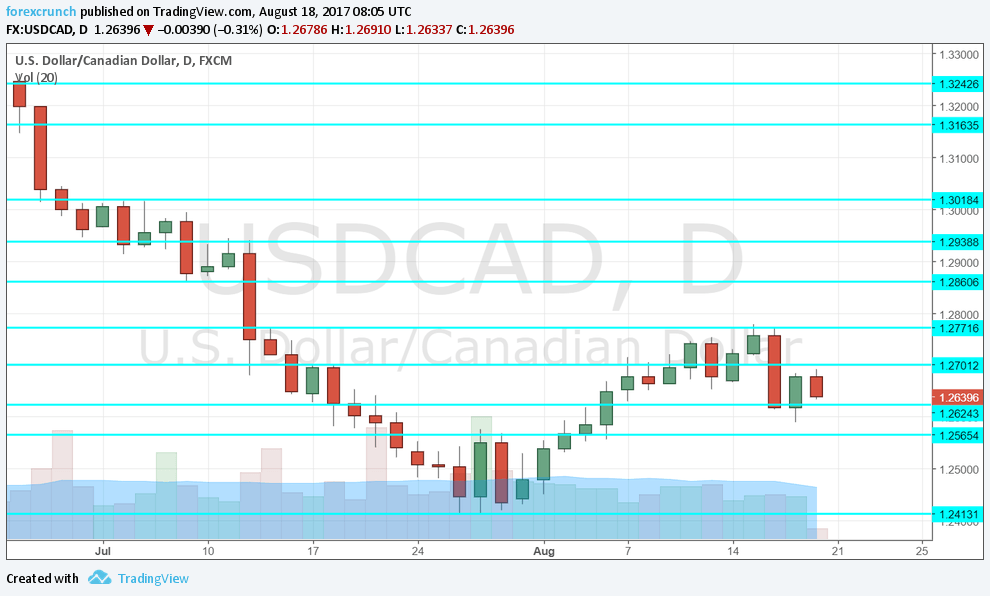 Retail sales: Tuesday, 12:30. Canadian consumers are buying more than expected, with a solid rise of 0.6% in May. Another rise is expected in June: 0.3%. Core retail sales already show a more mixed picture. The volume slipped by 0.1% after a big rise beforehand and is now estimated to rise by 0.3%.
Wholesale Sales: Tuesday, 12:30. The volume of sales at the wholesale level advanced quite nicely in the past two months, rising by 0.9% in May. Yet another rise is projected: 0.6%.
Corporate Profits: Thursday, 12:30. Profits of big corporations dropped sharply in Q1, by 7.4%, after two consecutive quarters of sharp rises. The volatile index could slide now.
* All times are GMT
USD/CAD Technical Analysis
Dollar/CAD made a break above the 1.27 level (mentioned last week) and reached resistance at 1.2770. Later, the pair dropped to lower ground.
Technical lines from top to bottom:
1.30 is towering above. It is followed by 1.2940 which capped the pair in July.
1.2860 was a relatively significant stepping stone on the way down, holding the pair for some time. It is followed by 1.2775, which marked a recovery attempt.
1.27 is a round number and also the top of a short-lived range. 1.2640 was the bottom of that range and a level where the pair reached after bouncing back.
1.2580 is a pivotal line and capped the pair temporarily on its recovery path. 1.2410 is a very strong line, serving as the low for 2017 (so far).
Further down, we find levels last seen in early 2015. These levels are 1.22 and 1.20.
I am neutral on USD/CAD
The consolidation of the pair has not ended quite yet. The US dollar is weak but the Canadian dollar is still consolidating its previous gains. Oil prices somewhat weigh on the C$. Perhaps another week of grinding the range is needed before the next meaningful move.
Follow us on Sticher or iTunes
Safe trading!