The Canadian dollar sparkled last week, gaining close to 200 points. USD/CAD closed the week at 1.3230.  There are four events this week.  Here is an outlook on the major market-movers and an updated technical analysis for USD/CAD.
It's been a busy start to the New Year. The ISM Manufacturing PMI improved and beat expectations. Employment numbers were a mix, as wages edged higher but NFP payrolls fell considerably. The Fed meeting minutes were cautious, as policymakers wait to see how the economy will respond to Donald Trump's economic policies. In Canada, employment change sparkled with a gain of 53.7 thousand.
[do action="autoupdate" tag="USDCADUpdate"/]
USD/CAD daily graph with support and resistance lines on it. Click to enlarge: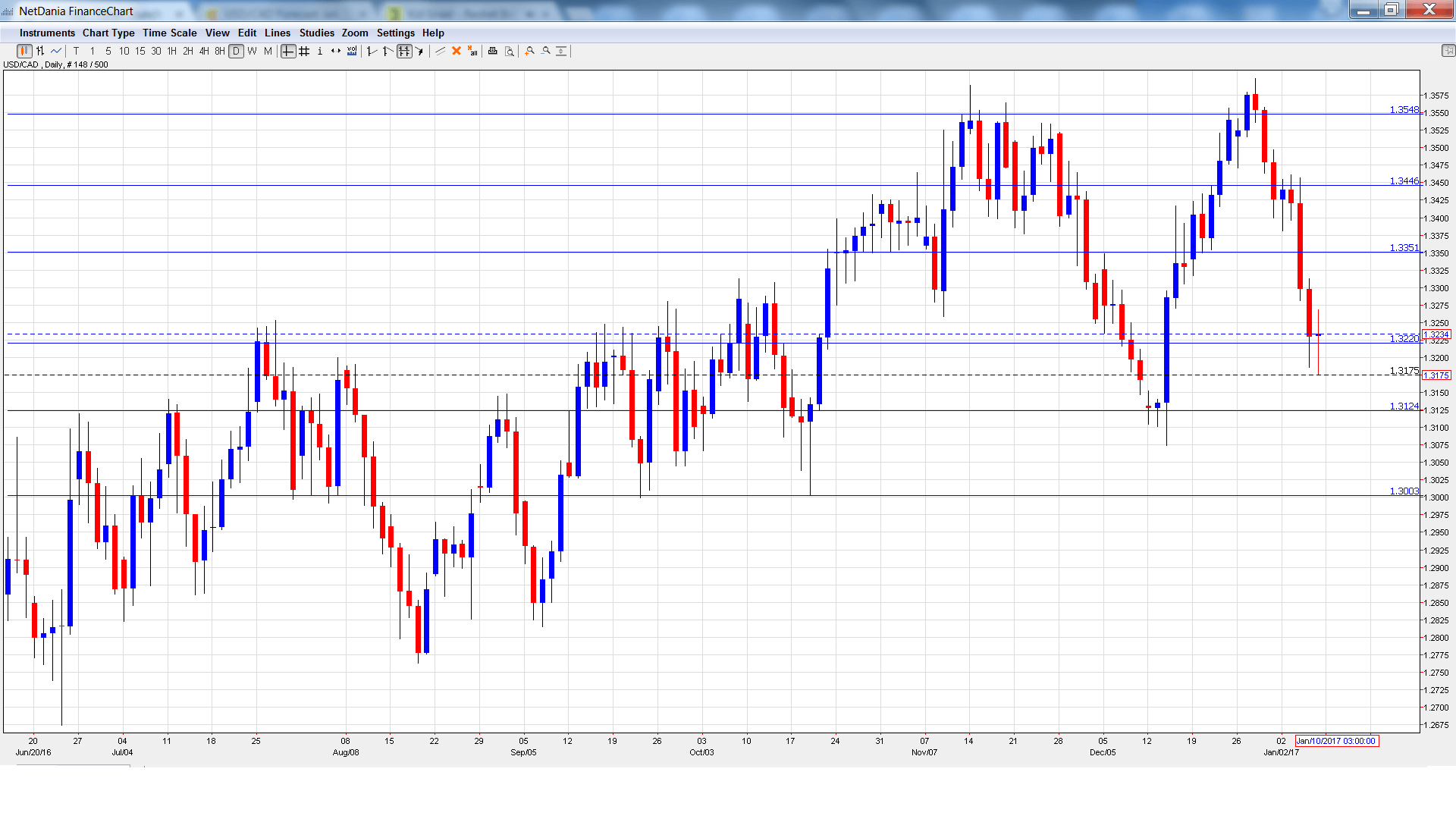 BoC Business Outlook Survey: Monday, 15:30. The survey provides a snapshot of general business conditions and the level of optimism in the business sector. It is released every quarter.
Housing Starts: Thursday, 13:15. Housing Starts dropped to 183 thousand in November, short of the forecast of 191 thousand. The estimate for December stands at 187 thousand.
Building Permits: Tuesday, 13:30. Building Permits tends to show strong fluctuation, making accurate estimates a tricky task. In October, the indicator bounced back with a strong gain of 8.7%, crushing the forecast of 1.6%. The forecast for November stands at 2.4%.
NHPI: Thursday 13:30. This housing inflation indicator improved to 0.4% in October, above the forecast of 0.2%. The estimate for the November release is 0.2%.
* All times are GMT
USD/CAD Technical Analysis
USD/CAD opened the week at 1.3425 and quickly climbed to a high of 1.3461. The pair then dropped sharply and dropped to a low of 1.3175, testing support at 1.3219 (discussed last week). USD/CAD closed the week at 1.3234.
Live chart of USD/CAD:
Technical lines, from top to bottom
We start with resistance at 1.3648.
1.3551 is next.
1.3433 was the high point in October.
1.3351 has switched to resistance role following strong gains by USD/CAD last week.
1.3219 was tested in support. It is currently a weak line.
1.3124 is next.
1.3003 is protecting the symbolic 1.30 level.
1.2908 is the final support level for now.
I am bullish on USD/CAD
The US economy enters 2017 in excellent shape, and monetary and fiscal divergence is bullish for the greenback ahead of the Trump inauguration later this month.
Our latest podcast is titled Is the FED Data or Donald Dependent?
Follow us on Sticher or iTunes
Further reading: