The Swiss franc gained about 140 points against the US dollar, as USD/CHF, as the pair ended the week below the 0.93 line. The upcoming week has just two events –  the Unemployment Rate and CPI.  Here is an outlook for the Swiss events, and an updated technical analysis for USD/CHF.
Swiss Retails Sales were strong, easily beating the estimate with a 5.9% jump. As well, strong US employment numbers helped bolster the Swiss franc this week. Non-Farm Employment Change was up, and the Unemployment Rate looked very sharp, dropping to 7.8%, its lowest level in over three years.
Updates: The Unemployment Rate remained steady at 2.9%. The market estimate stood at 3.0%. CPI, a key release, gained 0.3%, matching the market estimate. USD/CHF is steady, as the pair was trading at 0.9351.
USD/CHF daily graph with support and resistance lines on it. Click to enlarge: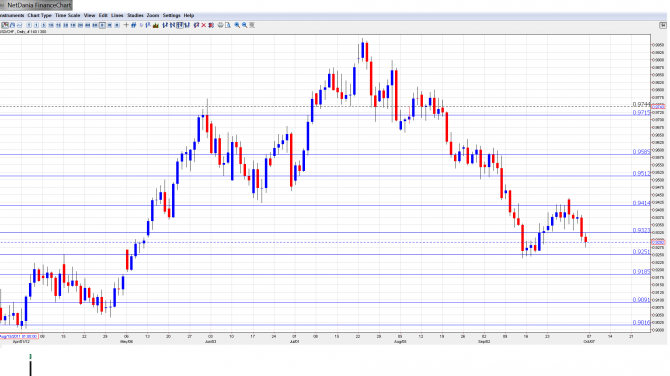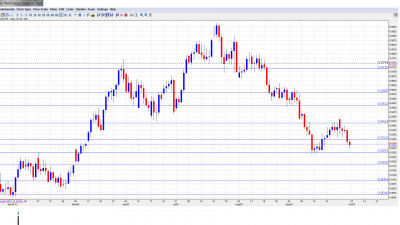 Unemployment Rate: Monday, 5:45. The Unemployment Rate remains very steady, as the employment indicator has been at 2.9% for the past three readings. The markets are not expecting much change in the October release.
CPI: Monday, 7:15. After two straight declines, CPI posted a flat 0.0% last month. Will the key inflation index push into positive territory in October?
*All times are GMT
USD/CHF Technical Analysis
USD/CHF opened the week at 0.9434, and touched a  high of 0.9438. The pair then dropped all the way to 0.9275 as it broke easily through resistance at 0.9317 (discussed last week). USD/CHF closed the week just below 0.93, at 0.9391.
Technical lines from top to bottom:
With the gains by the Swiss franc this past week, we begin our analysis at lower levels. There is resistance at 0.9719, which was last tested in  August.  This is followed by 0.9584, which saw a lot of action through most of August and in early September. Below, there is resistance at 0.9510. This line held firm throughout September.  The next line of resistance is at 0.9412. This line was  serving as weak support at the start of the week,  but  was quickly breached and reverted to a resistance role. This is followed by 0.9317, which was breached as the pair surged below the 0.93 line.
USD/CHF is receiving support at 0.9250. The pair pushed close to this level this week, and it could be further tested if the Swiss franc continues to improve. Further support can be found at 0.9182. This line has not been tested since May. Below, there is support at 0.9093.
There is further support at 0.9016, just above the crucial 0.90 level. This line has held firm since April. We find support at 0.8918, which was last tested in February. This is followed by 0.8805, which is protecting the 0.88 line.  The final support level for now is at  0.8683.
I am bullish on USD/CHF.
As the  pair pushes lower, it  is approaching levels not seen since May. There are signs of an improvement in the US economy, such as recent employment and consumer confidence numbers. If this continues, investors will feel more comfortable with opportunities outside the US, and the swissie could continue to make inroads against the greenback.
Further reading: