Idea of the Day
It's been a long time coming, but the yen is starting to look interesting once again, at least on some of the charts. There was nothing major to emerge from yesterday's BoJ meeting, but there is a growing perception that the Bank of Japan will be undertaking quantitative easing for longer than anticipated as the 2% inflation target looks ever harder to achieve. From nearly 1% mid-year, ten year government bond yields have falling to just above 0.60% and this, together with changes to legislation on savings accounts, is building a belief that more cash from Japan is going to find its way abroad in the early part of next year. Both USDJPY and more recently EURJPY have broken out of established ranges and the coming few days will be key in determining whether this marks a start of a fresh leg of yen weakening, which has been lacking for the past 4 months.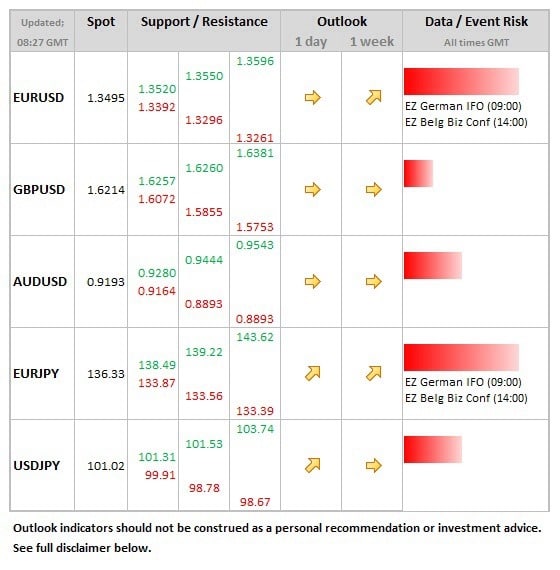 Data/Event Risks
EUR:  German IFO data released at 09:00 GMT with the market expecting a small rise in both the expectations and current assessment components. Headline index is seen rising from 107.4 to 107.7, with a number higher than this sending the headline index to level last seen in the middle of 2012.
CAD:  The data focus is on Canada today, with the release of both CPI and retail sales data. As with the US, headline CPI is seen being dragged lower by lower energy prices, which will help pull down inflation to around 0.8%, from 1.1%. Core inflation (leaving out these effects) is seen falling to 1.2% (from 1.3%). USDCAD broke through last week's highs overnight, now at levels seen nearly 3 months ago above the 1.05 level. Weaker data could put August high of 1.0568 into the spotlight.
Latest FX News
AUD:  Again weaker, weighed down by the persistent salvo of remarks from the RBA on the level of the currency. Comments from Stevens yesterday mentioned intervention (he was "open-minded" on it) and although not initially weighting that much, the increase in tempo has soured the tone. A low was seen in Asia of 0.9168.
EUR:  The single currency was initially knocked lower to below 1.34 on the back of the weaker than expected PMI data in France. Comments from ECB President Draghi helped the recovery as he essentially undermined a story the previous day speculating on the possibility of a negative deposit rate from the ECB.
Furthre reading:
Germany's IFO Business Climate surprises to the upside – EUR/USD breaks 1.35
EUR/USD Nov. 22 – Steady Ahead of German Business Climate