AUD/USD  reversed directions last week and dropped 100 points. The pair closed at  0.7584. It's a light week, with only three events on the calendar.  Here  is an outlook on the major market-movers and an updated technical analysis for AUD/USD.
In Australia, a downbeat rate statement from the RBA weighed on the Aussie. Australian Retail Sales softened to 0.6%, but still beat expectations. In the US, the Federal Reserve minutes pointed to division over  the timing of the balance sheet reduction  and concerns about low inflation. There was mixed news on the employment front, as Nonfarm Payrolls rebounded to 222 thousand, but wage growth remained weak.
Updates:
AUD/USD daily graph with support and resistance lines on it. Click to enlarge: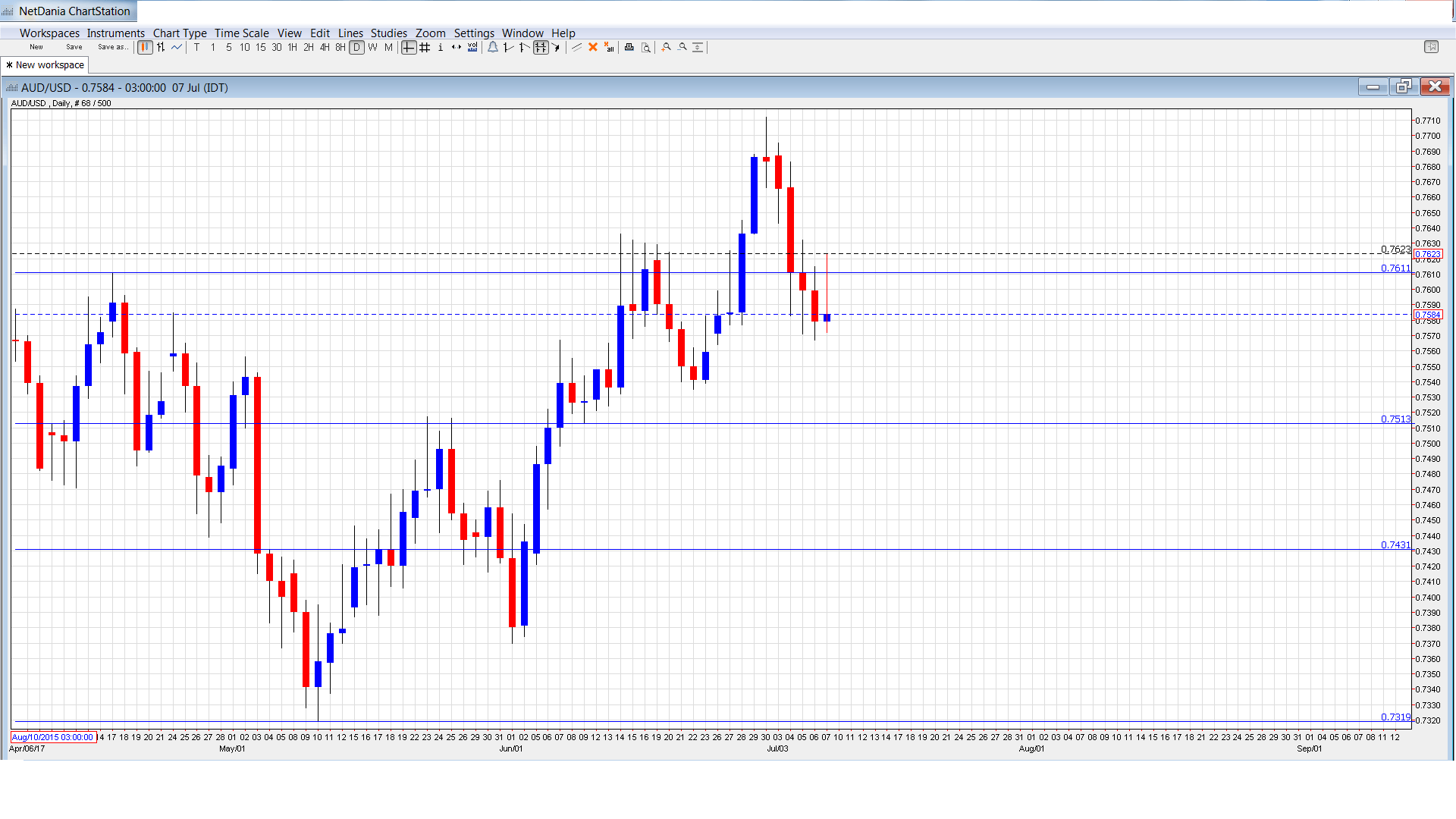 NAB Business Confidence: Tuesday, 1:30. The indicator softened to 7 points in May, down from 13 points a month earlier. Will we see a rebound in the June report?
Westpac Consumer Sentiment: Wednesday, 00:30. Consumer confidence has been dropping, with the indicator posting three straight declines. In June, the indicator dropped to 1.8%, the weakest reading in 2017.
MI Inflation Expectations:  Thursday, 1:00. Analysts keep a close look at this indicator, as inflation expectations can turn into actual inflation readings. The indicator softened to 3.6% in June, down from 4.0% a month earlier.
AUD/USD Technical Analysis
AUD/USD  opened the week at 0.7687 and quickly touched a high of 0.7695. It was all downhill from their, as the pair reversed directions and dropped to a low of 0.7567, as support held firm at 0.7513 (discussed last week). The pair closed the week at 0.7584.
Technical lines from top to bottom:
We start with resistance at 0.7938.
0.7835 was the high point in April 2016.
0.7749 has been a resistance line since March.
0.7611 has switched a resistance role after sharp losses by AUD/USD. It is a weak line
0.7513 is an immediate support line.
0.7429 is next.
0.7319 has been a cushion since early May.
0.7200 is the final support line for now.
I am bullish on AUD/USD
The Fed is on record that it will raise interest rates a third time in 2017, but the markets have their doubts, as inflation remains weak and second quarter numbers in the US have not impressed. If there are signs from the Fed that it will remain on the sidelines until 2018, the US dollar could lose ground.