For the second straight week, AUD/USD was almost unchanged, closing at 1.0383. The upcoming week has six releases. Here is an outlook of the Australian events, and an updated technical analysis for AUD/USD.
The RBA continues to surprise the markets, as it  did not  lower interest rates, which remained    at 3.25%. This gave the Australian dollar a short boost, but the currency surrendered most of these gains by the end of the week. Employment data was strong, as Employment Change was well above the estimate, and the Unemployment Rate dipped to 5.4%.
Updates: Home Loans rose 0.9%, slightly lower than the estimate of 1.1%. NAB Business Confidence dipped back into negative territory, posting a reading of -1 point. Consumer Sentiment looked sharp, jumping 5.9%. This was the highest rise since last November. Wage Price Index rose 0.7%, close to the estimate of 0.8%. MI Inflation Index fell to 2.2%, its lowest level in over five years. New Motor Vehicle Sales disappointed, declining by 2.8%. It was the indicator's sharpest drop since January. The aussie is edging downwards, as AUD/USD was trading at 1.0329.
AUD/USD graph with support and resistance lines on it. Click to enlarge: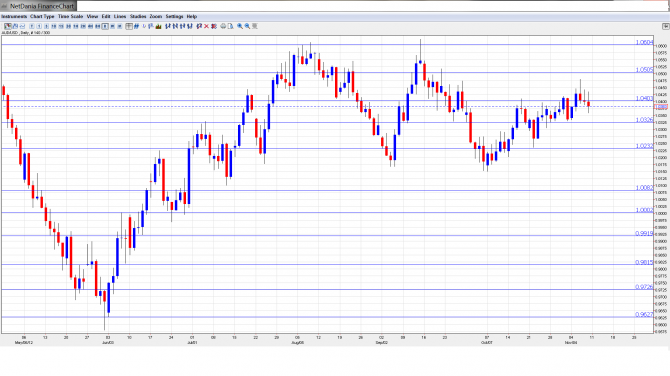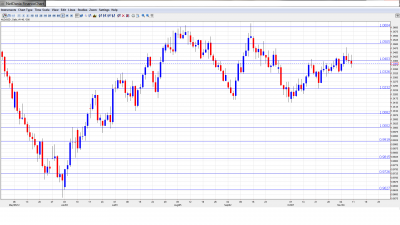 Home Loans: Monday, 00:30. This  release is an important indicator of consumer spending and confidence in the economy. Home Loans looked sharp in the October releases, jumping by 1.8%. The markets are expecting a lower increase of 1.1% in November.
NAB Business Confidence: Monday, 00:30. Business Confidence improved last month, climbing to the zero level. Will the indicator push into positive territory in the November reading?

Westpac Consumer Sentiment: Tuesday, 23:30. This important consumer indicator has shown improvement, and posted a 1.0% gain last month. The markets are hoping for another strong showing this month.

Wage Price Index: Wednesday, 00:30. This inflation index has hovered around the 1.0% for the past three readings. The estimate for November stands at 0.8%.

MI Inflation Expectations: Thursday, 00:00. Analysts use this indicator to help predict actual inflation figures. The indicator was up slightly in October, posting a gain of 2.6%.

New Motor Vehicle Sales: Thursday, 00:30. This important consumer indicator has posted strong gains for the past two readings, with an impressive 4.7% gain last month. The markets will be hoping for more of the same in November.
* All times are GMT
AUD/USD Technical Analysis
AUD/USD opened at 1.0341,  and  touched a  high of 1.0428.The pair then  retracted, dropping to low of 1.0359, as the  support  line of 1.0326 (discussed last week) held firm.  AUD/USD closed the week at 1.0383.
We  begin with resistance at 1.0874. This line has held firm since July 2011. We next encounter resistance at 1.0718, which has not been tested since March. Next, there is strong resistance at 1.0605, just above the round figure of 1.06. This is followed by resistance at 1.0508, which has held firm since mid-September. Next, there is resistance at 1.0402. This line was again breached this week as AUD/USD pushed upwards, but remained in place by week's end. It is a weak line, and could see further action this week as well.
AUD/USD continues to receive support at 1.0326.  This line held firm as the aussie weakened after posting some gains early last week.The next line of support is at 1.0230. Next, there is support at 1.0174, which has held firm since early October. This is followed by 1.0080, which is protecting the psychologically important parity level. The parity line, last tested in June, is the next line of support. We next encounter support at 0.9917.
This is followed by 0.9815, which has held firm since June. Next, there is support at 0.9726. The final line for now is at 0.9627. This line was last tested in early June, when the Australian dollar started a strong rally.
I am  bullish on AUD/USD.
After two quiet weeks, is  AUD/USD ready for a breakout? The RBA did not lower interest rates, and employment data looked very sharp last week. As well, the US economy has shown some improvement, and the US election is now behind us, which could lead to investors feeling more comfortable moving away from the greenback and taking on more risk.
The Aussie sometimes moves in tandem with gold. You can trade binary options on gold using this technical analysis.
Further reading: