Employment figures are the highlight of this week's loonie trading. Here's an outlook for the Canadian events, and an updated technical analysis for USD/CAD.
USD/CAD daily graph with support and resistance lines on it. Click to enlarge: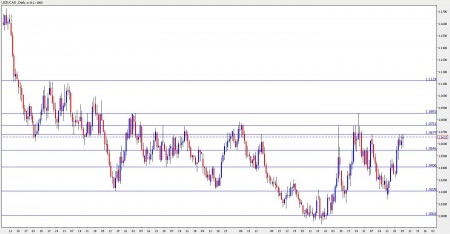 The Canadian dollar continues to be sensitive to the price of oil, as well as the troubles in Europe. GDP released last week was very disappointing – 0% growth. This hurt the loonie badly. Another jump in jobs will remind us about the strength of the Canadian economy. Let's start:
Building Permits: Published on Tuesday at 12:30 GMT. After a few months of drops, this important yet volatile indicator leaped in the past few months: 12.3% and 5.4%. A smaller rise in building permits is expected this time. A drop will hurt the loonie.
Ivey PMI: Published on Wednesday at 14:00 GMT. The Richard Ivey Business School has shown a very positive number last time – 62.7 points. This survey of 175 senior purchasing managers is expected to show a small drop this time, but the number is expected to stay above 50 points.
NHPI: Published on Thursday at 12:30 GMT. The New Housing Price Index is a very stable indicator. It showed that prices ticked up by 0.3% in the past two months. Another similar rise is expected this time. This figure is often overshadowed by other releases, and now we can see its full impact.
Employment data: Published on Friday at 11:00 GMT. We saw great number in the past two months. The rise of 108,700 jobs seen two months ago was confirmed last month, and we also saw another positive surprise with a rise of 24,700 jobs then. Employment change is expected to show a similar gain this time. The unemployment rate, which stabilized on 8.1% in the past two months, is expected to edge down to 8%.
Housing Starts: Published on Friday at 12:15 GMT. This figures might be disregarded if there's a big surprise in the employment data. After topping 200K, the number of starts slowed down and dropped to 189K last month, causing some worries. We'll now see if this was a one time drop or a change of trend.
USD/CAD Technical Analysis
After starting the week in a narrow range under 1.04, USD/CAD leaped after the weak GDP. After a struggle with 1.0550, the pair continued climbing and peaked at 1.0680, a line added on last week's outlook.
USD/CAD is bound between 1.0550 and 1.0680, a higher range than in previous weeks. Looking even higher, 1.0750 was the resistance line of a wide range in the past, and has an important role also now.
Above, 1.0850 is the next line of resistance -serving as the 2010 high and also as a resistance line in the past. 1.1130 is the next significant line in the horizon.
Looking down below 1.0550, 1.04 is now a line of support, returning to this role over and over again. Below, the 2009 low of 1.02 is the next line of support, and it's followed by parity, which seems far now.
I remain bearish on USD/CAD.
The pair gained a lot on the weak Canadian GDP, and could make a comeback on the job figures.
Further reading:
Ready to connect with real Forex traders? Currensee is the first Forex trading social network.