The Canadian dollar expects another rather calm week, but with one key event to rock it – GDP. Here's an outlook for the Canadian events and an updated technical analysis for USD/CAD, now on higher ground.
USD/CAD daily chart with support and resistance lines marked. Click to enlarge: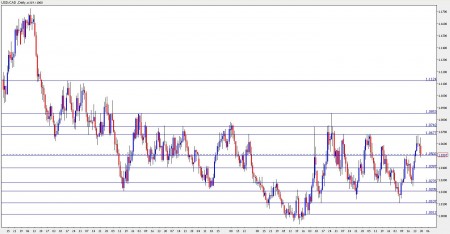 Weak retail sales and the growing notion of a double dip recession in Canada's main trade partner – the US, hurt the Canadian dollar. Will it recover? Let's start:
Current Account: Published on Monday at 12:30 GMT. This is a late figure in comparison in comparison with the related trade balance figure, but as its scope is wider and it's released only per quarter, the loonie tends to shake on this release. Canada's deficit has significantly squeezed in the past two months and reached 7.8 billion. It's expected to widen once again to 9.8 billion.
RMPI:Published on Monday at 12:30 GMT. As Canada is highly dependent on export of commodities, the Raw Materials Price Index is significant and rocks the currency. A disappointing drop of 0.3% hurt the Canadian dollar last month. It's expected to be corrected with a rise this time.
GDP: Published on Tuesday at 12:30 GMT. Canada's unique monthly release of the GDP provides action for the USD/CAD more frequently. After a  great first quarter, the Canadian economy slowed down in Q2 – stalling in April and only rising by 0.1% in May. The release for June, closing the second quarter and is of high importance. A 0.2% rise is expected. Only a leap back to 0.5% will boost the currency.
USD/CAD Technical Analysis
The Canadian dollar had a bad start to the week – USD/CAD broke above the 1.05 resistance line (mentioned in last week's outlook) and challenged the 1.0680 twice. Towards the end of the week, USD/CAD dropped and closed just above the 1.05 line.
Looking up, the 1.0680 line became a stronger line of resistance after being tested twice in the past week. It was also a stubborn resistance line at the beginning of July.
Above, the 1.0750 line was the top border of long term resistance line, and also a swing high in May. Another swing high in May, the 1.0850 line, serves as the next line of resistance, after working as such back in 2009 as well.
Above, the next significant line is rather far – 1.1130, which capped the pair back in 2009. It's quite far now.
Looking down, 1.04 is a veteran line of support and resistance, and currently works as support. Below, the 1.0280 proved to be rather strong in recent months, and is the next line of support.
Lower, the 2009 low 1t 1.02 serves as the next line of support. Lower, 1.01 capped the pair after it reached parity in April, and also was a low point a few weeks ago.
The ultimate line of support is parity – which seems far now.
I turn neutral on USD/CAD.
The Canadian economy cannot keep pushing forward as its main trade partner is still behind. Recent retail sales showed it. While the situation is still OK in Canada, more range trading seems likely at the moment.
Further reading:
Want to see what other traders are doing in real accounts? Check out Currensee. It's free..