Inflation Data is the main event this week. Here is an outlook on the major market movers for the Canadian dollar, and an updated technical analysis for USD/CAD.
Canadian housing starts rose   slightly by 0.8 % in January signaling the housing sector will continue to weigh on economic growth. It is forecasted that the housing market   which led the country out of the recession will moderate through 2011 hindering economy's growth.
USD/CAD daily chart with support and resistance lines marked. Click to enlarge: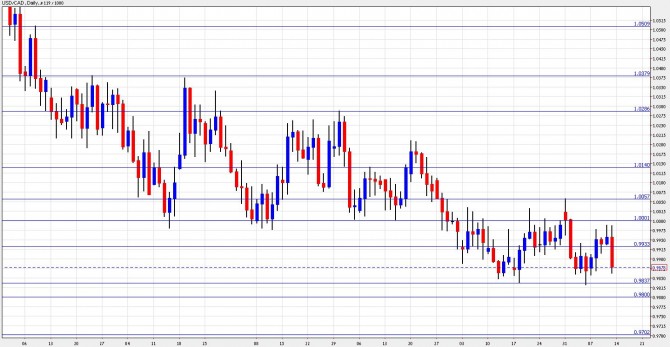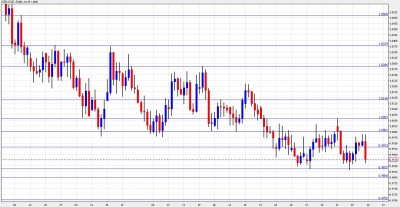 New Motor Vehicle Sales: Monday, 13:30. Canada's new motor vehicles sales climbed 0.3% to 135,823 units in November following 0.3 drop in the prior month. Stronger truck sales were responsible for the increase. A similar gain is expected now,
Foreign Securities Purchases: Wednesday, 13:30. Foreign investors' acquisitions of Canadian securities unexpectedly declined to a seasonally adjusted CAD 8.01 billion in November, after falling to CAD 9.71 billion in October. Analysts had expected foreign investment to increase to CAD 10.42 billion. Meanwhile Canadian acquisitions of foreign securities reached an eight month high of CAD 5.8 billion in November, led by the largest investment in foreign bonds since March 2007. Another drop to CAD 7.22 billion is forecasted this time.
Leading Index: Wednesday, 13:30. Leading indicator rose 0.5% in December thanks to a rise in stock market prices and household spending while analysts had forecasted an increase of 0.3%. Another encouraging sign is the climb of 0.6% in the   U.S. leading index suggesting strengthening demand in the United States, Canada's largest trading partner. Leading Index is expected a 0.3% climb this month.
Manufacturing Sales: Wednesday, 13:30. Canadian manufacturing sales fell unexpectedly in November by a seasonally adjusted 0.8% in November to CAD44.9 billion, after rising by 1.5% in October while analysts had expected manufacturing sales to rise by 0.6%. An increase of 2.3% is expected now.
Wholesale Sales: Thursday, 13:30. Wholesale sales in Canada rose better than expected by 1.2% to $45.7 billion in November following 0.3% gain in the previous month. The increase was led by higher sales in the machinery, equipment and supplies subsector. Economists had expected wholesale trade to rise by around 0.2%. A further rise of 1.9% is predicted now.
Inflation Data: Friday 12:00. Core CPI fell more-than-expected in December by 0.3% after a flat reading in November while analysts forecasted 1.0% decline. The report also showed that CPI, which includes more volatile food and energy costs, was unexpectedly flat in December, after rising by 0.1% in November. Nevertheless on a year-on-year bases CPI rose by 2.4% in December, after increasing by 2.0% in November. Core CPI is expected to rise by 0.2% while CPI is expected 0.3% climb.
G20 Meetings: Friday-Saturday. France hosts the finance ministers and heads of the central banks of the G20 bloc of developed and major emerging economies. The ministers will follow up on the pledges made by the leaders at the close of the G20 summit of November in Seoul, particularly regarding exchange rates. They will also hear France's priorities for the G20 as its 2011 president. These focus on global monetary system reforms, the enhancement of global governance and the stabilization of prices for raw materials.
All times are GMT.
USD/CAD  Technical  Analysis
The Canadian dollar began the week with a retreat. USD/CAD rose but bounced off the parity line (mentioned last week) before falling down and closing at 0.9878, almost unchanged from last week.
Looking down, 0.9840 serves as immediate and strong support – a double bottom that prevented further falls. It's followed by0.98, which was a support line back in 2008 is very close by.
Lower, 0.97, which had the same role at 2008, is another important support line. There aren't many lines until the all-time low of 0.9056 back in November 2007.
Looking up, 0.9930 is the immediate resistance line after being a bottom in 2010.  Above, USD/CAD parity is the obvious line of resistance, working in both directions in the past few months.
Higher, 1.0060, the highest level in the past month or so is another resistance line.  It's followed by 1.0140, which  served as resistance in December and also as support in the past.
Above, 1.0280 also worked in both directions, being resistance recently. 1.0380 was another resistance line, that capped a break more than once, and is strong resistance.  Further above, the next line is    1.05.
I remain bearish on USD/CAD.
The Canadian dollar enjoys a stronger Canadian economy as well as a stronger US one and rising commodity prices.
Further reading: