Euro/dollar  enjoyed some consolidation and correction, but this was eventually lost as a Greek default remains high on the cards. Time is running out. In addition to Greece, we have a very busy week for the beginning of Q3. The highlight will be the last rate decision for Jean-Claude Trichet, in which he might reverse his policy and cut the rate. Here is an outlook for the upcoming events, and an updated technical analysis for EUR/USD,  
The Slovak finance minister joined the voices calling to prepare for a Greek default. He probably has a good reason. The troika demands job cuts in Greece, and constitutional complications might prevent it. Leaders will meet towards the end of the week to discuss the situation. If they act too slowly, the default will not be orderly. Let's start:
EUR/USD daily chart with support and resistance lines on it. Click to enlarge: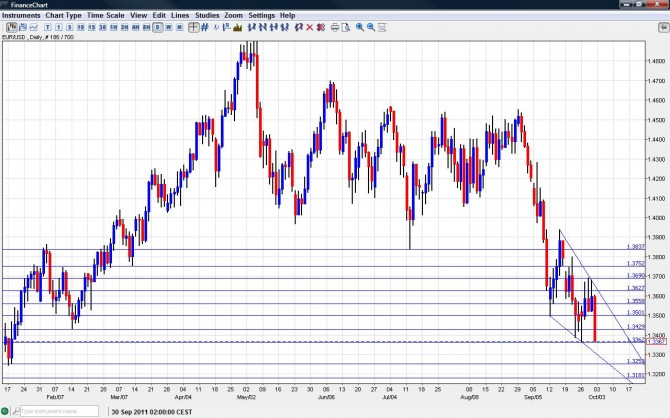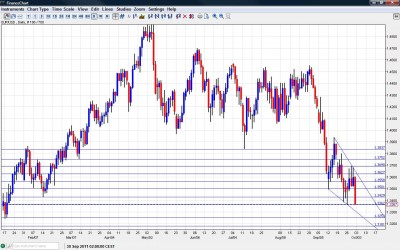 Final Manufacturing PMI: Monday, 8:00. Europe's manufacturing sector contracted at a faster pace in September according to the preliminary release. The score of 48.4 will likely be confirmed now. Note that last month saw a significant downwards revision from 49.7 to 49 points.
PPI: Tuesday, 9:00. Trichet and his colleagues already acknowledged that inflation is less of threat. Nevertheless, it can still have an impact on the rates. The rise of 0.5% last month will probably be corrected with a small drop this time in producer prices.
Final Services PMI: Wednesday, 8:00. The services sector was doing OK until September, still growing. The drop under 50 points to 49.1 was a disappointment. This contraction level will likely be confirmed now.
Retail Sales: Wednesday, 9:00. Germany already published its retail sales volume. Nevertheless, the number for the whole euro-zone is still of importance. After a small rise of 0.2% this time, a marginal drop is expected now.
Final GDP: Wednesday, 9:00. The euro area's growth rate of 0.2% will likely be confirmed for Q2. Note that this quarter saw stagnation in France and an insignificant growth rate of 0.1% in Germany.
German Factory Orders: Thursday, 10:00. Europe's powerhouse saw a big drop of 2.8% in the volume of orders during July. This came after 3 months of rises, so there's no need to get too excited. A small rise is likely now. If we'll see another big drop, this will already be worrying.
Rate decision: Thursday, 11:45. Press conference at 12:30. This is Jean-Claude Trichet's last decision. Given the turn of tables in the global economy, the European Central Bank is likely to reverse its policy and lower the interest rate by 0.25%. The ECB already made a big shift in its forecasts last month, seeing significant downside risks to growth and no inflation fears. A cut to 1.25% may provide the euro some room to rise before the press conference. Some market participants are expecting a sharp cut of 0.50% in the rate to 1%, but given the stubborn approach of the bank that hiked just in July, this is unlikely. The recent jump in European inflation also weighs against this option. A big cut will weaken the single currency. In any case, the press conference is of high importance. Trichet will likely give a great show, as he did last time. Any talk about the debt crisis will rock the euro.
German Industrial Production: Friday, 10:00. Last but not least, Europe's No. 1 economy still enjoyed an excellent rise in industrial output in August, 4%. This will probably be followed with a big drop this time.
* All times are GMT.
EUR/USD Technical Analysis
Euro/$ began the week with a new 8 month low at 1.3362. It then managed to recover and was capped again and again by the 1.37 line (mentioned last week) before collapsing and closing just above the trough with which it started the week: 1.3367.
Technical lines from top to bottom:
The swing low of 1.3838 held the pair and after EUR/USD fell to a six month low was a distinct line separating ranges during September and is important resistance on a recovery attempt.  1.3750 managed to cap the pair on a recovery attempt during September and is minor resistance.
The round number of 1.37 is is now stronger after preventing further gains. It also served as resistance early in the year.  The low of 1.3630 seen in September is weaker now, after being run through.
1.3550 provided support early in September and then switched to resistance after the fall. It worked better as support, but is now resistance.  The round number of 1.35 was a trough early in September. The break below this line was significant and it is important resistance now.
It is followed by 1.3430 which provided some support, and had a greater role at the beginning of the year. The new bottom at 1.3360 is the next line. The pair is very close to this line, but it is important to remember that it was reached at the late hours of the week. This is a pivotal line.
More important support is at 1.3250 which held the pair early in the year. It's followed by 1.3180 which worked as significant support in December 2010 and is now weak.
A key line before the round number of 1.30 is  support at 1.3080. Towards the end of 2010, it prevented deeper falls. The round number of 1.30 is eyed by many. Although it wasn't a significant line of struggle in the past, a break below this line will have a big psychological effect.
The ultimate trough of 2011 at 1.2873.
Downtrend channels
As seen on the graph, downtrend support and sharp downtrend resistance are beginning to emerge. These should be noted as well.
I am bearish on EUR/USD.
Markets are moving faster than politicians. Denials to a Greek default and approvals to the EFSF can continue slowing the fall. Hopefully plans are being made to prevent a disorderly default of Greece that will be terrible for the whole world. But even the best case scenario of an orderly default at the beginning of November  still means a struggling Europe and a struggling euro. As end of month / quarter adjustments and corrections are over, the dollar has room for more strength, and the euro has room for more weakness.
If you are interested in an alternative way of trading, check out the  weekly binary options setups, including EUR/USD of course.
Further reading: