AUD/USD  lost ground  for a fifth  straight week, posting modest losses. The pair closed at 0.7169, its lowest level since late February. This week's highlights are GDP and Retail Sales. Here is an outlook on the major market-movers and an updated technical analysis for AUD/USD.
In the US,  last week was a mixed  bag,  as housing data was solid  but durable goods orders was weak. GDP  posted a lukewarm  gain of 0.8%.  Fed Chair Yellen kept the door open to  a June  rate hike  and this  boosted the dollar. In Australia, Private Capital Expenditures posted a sharp decline, missing expectations.
[do action="autoupdate" tag="AUDUSDUpdate"/]
AUD/USD graph with support and resistance lines on it. Click to enlarge: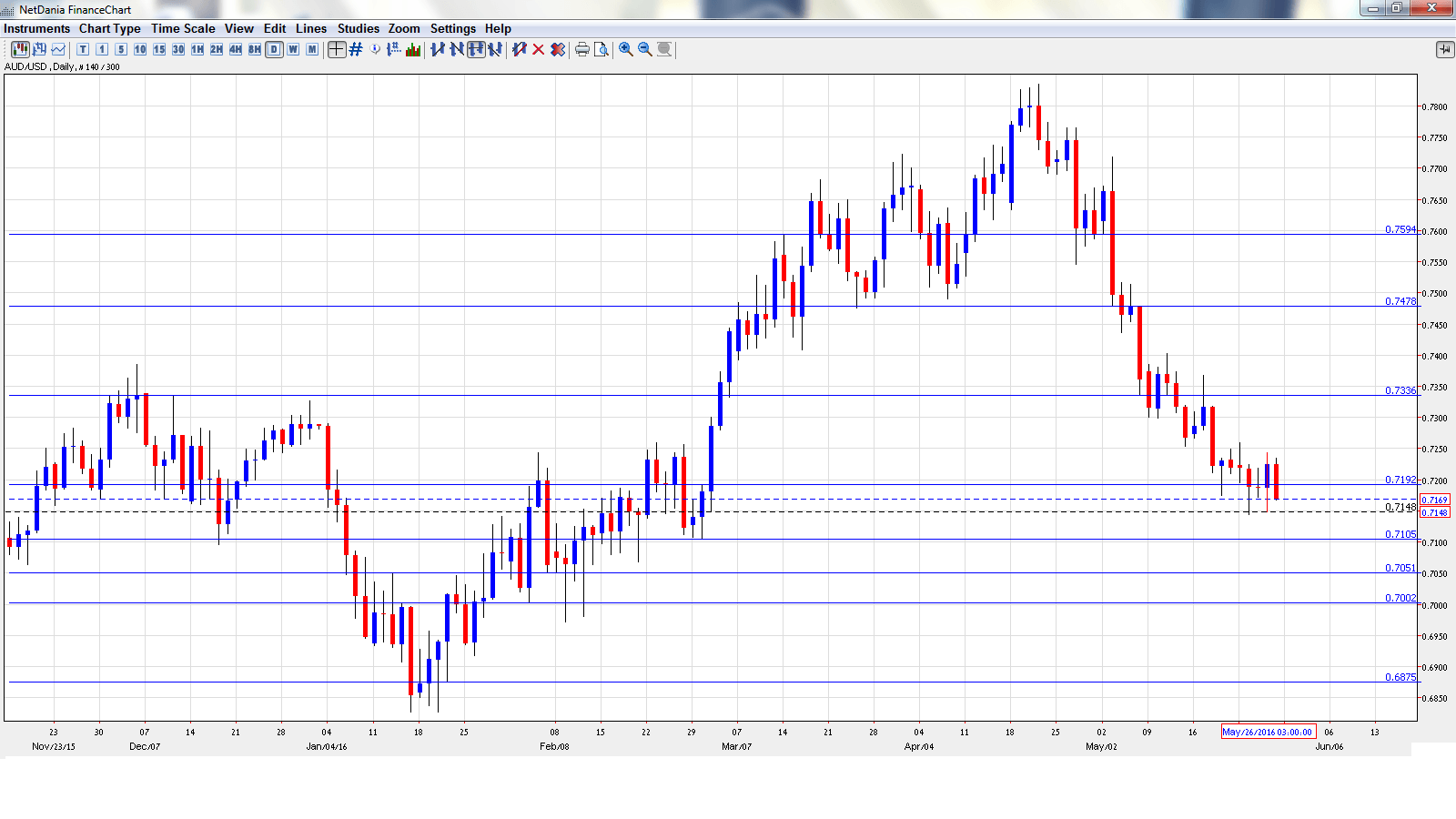 HIA New Home Sales: Monday, 1:00. This indicator provides a snapshot of the health of the housing sector. The  March reading rebounded with an excellent gain of 8.9%. Will we see another strong release in April?
Company Operating Profits: Monday, 1:30. This indicator,  released each quarter,  continues to alternate between gains and declines. The indicator declined 2.8% in the fourth quarter, weaker than the forecast of -1.7%. The markets are expecting better news in Q1, with an estimate of +0.5%.
Building Approvals:  Tuesday, 1:30. This is the fist key event in a busy week. The indicator has posted two straight gains, beating the estimate each time. The markets are bracing for a downturn in the March report, with an estimate of -2.8%.
Current Account:  Tuesday, 1:30.  Current Account is published each quarter and is closely linked to demand for Australian dollars. In Q4, the deficit widened to A$21.1 billion, larger than the estimate of a deficit of A$19.8 billion. The forecast for Q1 stands at A$-19.3 billion.
Chinese Manufacturing PMI: Wednesday, 1:00. Chinese data can have a strong impact on the movement of the Aussie, as the Asian giant is Australia's number one trading partner. The PMI pointed to a stagnant manufacturing sector, with a reading of 50.1 points, within expectations. Little change is expected in the April report.
GDP: Wednesday, 1:30. GDP is one of the most important indicators, and an unexpected reading can have a sharp impact on the direction of AUD/USD. GDP posted a gain of 0.6% in Q4, and an identical gain is expected in Q1.
Chinese Caixin Manufacturing PMI: Wednesday, 1:45. The PMI continues to record readings below the 50-point, indicative of contraction in the manufacturing sector. The April release stands at 49.3 points.
Commodity Prices: Wednesday, 6:30. Commodity Prices continues to post declines, although the March reading improved to -9.4%. With the global economy continuing to struggle, we're likely to see another decline.
Retail Sales: Thursday, 1:30. This key indicator can have a sharp impact on the movement of AUD/USD. In March, the indicator posted a 0.4% gain, edging above the forecast of 0.3%. The estimate for April stands at 0.3%.
Trade Balance: Thursday, 1:30. The trade deficit narrowed to A$2.16 billion, below the forecast  of A$2.95 billion. The deficit is expected to dip to A$2.11 billion.
AIG Services Index: Thursday, 23:30. The services sector has been struggling. In 2016, the indicator has posted only one reading above the 50-level, which separates contraction from expansion. The  March reading was almost unchanged, with a reading of 49.7 points.
* All times are GMT
AUD/USD Technical Analysis
AUD/USD  opened the week at 0.7223. The pair quickly touched a high of 0.7260, testing resistance at 0.7334. AUD/USD then  changed directions and dropped to a low  of 0.7144, as support held at 0.7105 (discussed last week). AUD/USD closed the week at 0.7169.
Live chart of AUD/USD: [do action="tradingviews" pair="AUDUSD" interval="60″/]
Technical lines from top to bottom:
We begin with resistance at 0.7597.
0.7438 has held firm since early May.
0.7334 was a cap in December 2015.
0.7192 has switched to a resistance line following losses by AUD/USD last week. It is a weak line.
0.7105 has been a cushion since the end of February.
0.7002 is providing support just above the psychologically important level of 0.7000.
0.6875 is the next support line.
0.6742 is the final support level.
I am  bearish on AUD/USD
In the US, a June rate hike  isn't likely, but a move in July is  certainly an option.  With the  RBA hinting at a rate  cut this summer,  monetary policy favors the US dollar.
In our latest podcast we  talk stocks, oil and preview the big week.
Follow us on Sticher or on iTunes
Further reading: